TLC Bi-Weekly Newsletter for Thursday January 23, 2020
Good morning, K-State!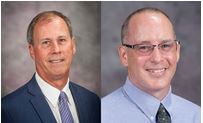 Welcome to the new semester! Here is an update about what is going on in the Teaching & Learning Center (TLC):
Check out our TLC Professional Development Series!
Do you want to earn a TLC Professional Development Certificate or be selected as a TLC Fellow? You can, by participating in our series!
We have offered 12 events to date, and over 380 people have attended the events in person! We have explored many domains of teaching and learning and will explore many more. Zoom participation is available by request if you can't attend in person.
It is not too late to participate! All of the events will be cataloged on our TLC Canvas page, and you can catch up at your convenience.
Please email us (teachingandlearning@k-state.edu) if you would like an invitation to our TLC Professional Development Series Canvas Page. This will provide access to the videos of our professional development events, information about our Professional Development Series, and provide a forum for discussing topics related to teaching and learning.
Our First Professional Development Event for the Spring Semester Is Today!
The TLC is proud to announce our first professional development event of the new semester. This event is scheduled for Thursday, January 23rd from 2:00-3:00PM and will take place in College of Business Administration room 4061. Please join us as Dr. Traci Brimhall (Associate Professor, English) presents on strategies you can use in your classes to enhance your in-class discussions.
Click HERE to view our promotional video for this event.
Click HERE to register for this event.
Martin Luther King Jr. Observance Week at K-State Starts this Weekend!
Kansas State University will celebrate the 52nd annual Martin Luther King Jr. Observance Week Saturday, Jan. 25, through Friday, Jan. 31.
Click HERE for a list of scheduled events.
The 7th Annual Big XII Teaching and Learning Conference
The Big XII Teaching and Learning Conference will be June 10-12, 2020 at the University of Kansas – Edwards Campus. This is just down the road, and is a wonderful opportunity to share and learn teaching methods and practices. The theme this year is "Advancing Student Learning & Retention." This is an important topic and we hope to see you there! Please consider not only attending, but submitting a proposal to present your ideas!
More information about the Big XII Teaching and Learning Conference can be found here.
K-State First Is Seeking Instructors to Teach EDCEP 111 or DAS 100
K-State First and the Academic Achievement Center are looking for qualified instructors to teach EDCEP 111 University Experience or DAS 100 Introduction to K-State Culture.
In Fall 2020, the university will offer 11 sections of EDCEP 111 University Experience as a high energy, active-learning First-Year Seminar that meets twice a week. For first-year students only, this course is designed to introduce students to K-State and teach them the skills they will need to thrive in a college learning environment.
Next fall's Introduction to K-State Culture schedule will include six sections of DAS 100. These First-Year Seminars provide an introduction to the intellectual and cultural life of the university and support in the transition to college-level learning and college life.
We are looking for faculty, student life professionals, or advisors at K-State who have experience working with new students and an interest in new student success. Instructors of EDCEP 111 will receive professional training, a stipend of $2,000 that can be taken as professional development funds or salary, and the support of an undergraduate learning assistant. DAS 100 faculty will also receive training, a stipend of $2,000 that can be taken as professional development funds, and complimentary admission to all of the performances and events on the Fall DAS 100 schedule.
If you're interested in the position or would like to nominate someone, please complete a short application online — Fall 2020 UE and DAS 100 Hiring — and submit there also a short — one-page — curriculum by Thursday, Jan. 30. Alternatively, you may apply by sending a one-page letter of interest and CV to Gregory Eiselein at eiselei@k-state.edu prior to the deadline.
The Office of Assessment Is Partnering with the TLC to Offer an Assessment Series
We will be offering, with Fred Burrack and Dorothy Thompson from the Office of Assessment, a series of workshops in a partnership with the Teaching & Learning Center to discuss the all-important topic of assessment. Teaching, learning, and assessment are three core components of the K-State educational mission, and together we will be offering workshops on:
Using Canvas for Assessment in Courses
Thursday, January 30th from 1:30-2:30PM in CBA 4061
Assessing Undergraduate Learning Outcomes (Critical Thinking, Communication, Diversity)
Friday, March 6th from 2:30-3:30PM in CBA 4061
Power BI Training
Thursday, April 9th from 1:00-4:00PM in CBA 4061.
We look forward to you joining us in this exciting series!
TLC Canvas Discussion of the Week
Our discussion question of the week is:
What is your teaching goal this Spring semester?
Let us know if you have other questions you would like us to post.
TLC Highlighted Teacher January 2020
In each newsletter we will feature a K-Stater who is doing something special related to teaching and learning. This time, our TLC Highlighted Teacher is Julie Pentz.
Julie's contributions to the field have traveled in the international dance community with guest teaching and performance appearances at the Theatro Libero in Rome, Italy, Taiwan, Chinese Cultural University, National Taiwan University of the Arts, Tsoying Performing Arts, Koahsiung Performing Arts, the Interdansa in Banyoles-Girona, Spain, Ghana Africa, and Kuwait. She has performed with The National Tap Ensemble and with master tap teachers Gregory Hines and Savion Glover. Julie holds a BFA in Dance Education from Shenandoah Conservatory and an MFA from the University of Arizona.
Click HERE to view a video on Julie and her teaching.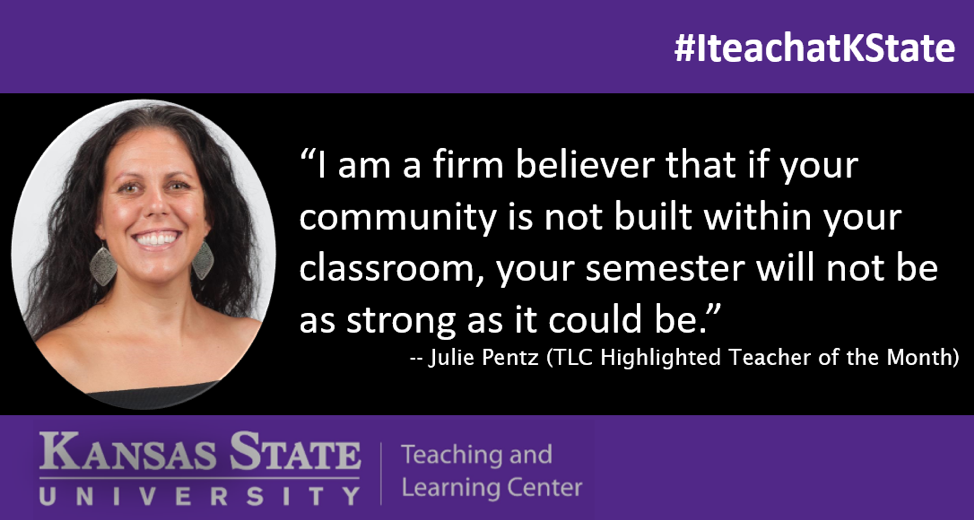 Congratulations to the TLC Twitter Teacher of December, 2019!
Dr. Rachel Levitt (Assistant Professor, Gender, Women, and Sexuality Studies)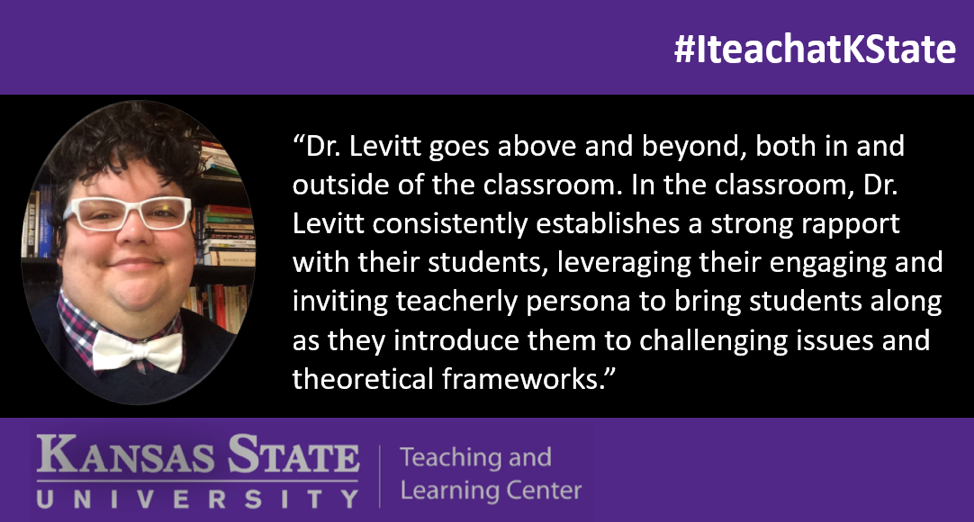 Call for TLC Twitter Teachers of January
Each month we will collect nominations for TLC Twitter Teachers of the Month. Please click here to nominate someone you would like us to recognize for their contributions to teaching and learning at K-State this month.
We look forward to continuing this exciting year! #IteachatKState
Sincerely,
Brian Niehoff
Director, Teaching & Learning Center
Don Saucier
Associate Director, Teaching & Learning Center
Like us on Facebook and follow us on Instagram and Twitter! We will be using this hashtag to identify our posts – please use it as well when you post about your teaching, mentoring, and advising activities:
Upcoming Events Hosted by the TLC:
Professional Development Series
"Bring Your "A" Game: Leveling Up Class Discussion" by Traci Brimhall (English)

Thursday, January 23rd from 2:00-3:00pm in CBA 4061
Professional Development Series
"The Point of PowerPoint is to Use All Its Power" by Mick Charney (Architecture)

Friday, February 7th from 11:00-12:00pm in CBA 4061
Faculty Exchange in Teaching Excellence (FETE) – Spring 2020 Teaching Workshop
"Rekindling Your Love of Teaching"

The Faculty Exchange for Teaching Excellence (FETE) is an opportunity to learn about high impact teaching practices and trending topics from fellow faculty and staff members. FETE also provides opportunities to network and build connections.
Friday, February 14th and Saturday, February 15th
SPOTLIGHT K-State

More information coming soon!
Tuesday, March 3rd
Professional Development Series
"Teaching Practices in STEM Courses & Labs: A Panel Discussion with Experienced Faculty"

More information coming soon!
Exact Date TBD
Professional Development Series
"Enhancing Critical Thinking in the Classroom" by Pat Ackerman ( Communications, Humanities, & Social Sciences)

Wednesday, March 25th from 3:00-4:00pm in CBA 4061
Need to Know Series
"Overcoming Barriers to Student Success" by Stephanie Bannister (Assistant Vice Provost of Student Success), RJ Youngblood (Academic Achievement Center), & Brian Lindshield (Food, Nutrition, Dietetics, and Health)
Professional Development Series
"The Embodied Student" by Sally Bailey (School of Music, Theatre, and Dance)

Friday, April 3rd from 11:00-12:00pm in CBA 4061
Professional Development Series
"Teaching: One Size Does Not Fit All"

GTA Panel Discussion
Exact Date TBD
Other Upcoming Events Related to Teaching and Learning:
Global Campus is holding the annual "Peer-to-Peer Distance Learning Exchange" on January 30 at 2:30PM

The Peer-to-Peer event features faculty who either have completed the Online Essentials course that equips instructors with best practices and innovative technology tools for online teaching, or have attended a professional development conference related to effective online instruction. Presenters will share what they learned and how they intend to utilize this knowledge to improve their online course and teaching methods. Presentations will be around five minutes each and the presentations will be recorded and archived in order to use the presentations for future professional development activities for K-State faculty.
The following faculty will be featured in the Jan. 30 Peer-to-Peer event.

Rebecca Adams, College of Business
Robert Hachiya, College of Education
Junehee Kwon, College of Health and Human Sciences
Aziah McNamara, College of Arts and Sciences
Suzanne Porath, College of Education
Cynthia Shuman, College of Education
Deepak Subramony, College of Education
Kelly Whitehair, College of Health and Human Services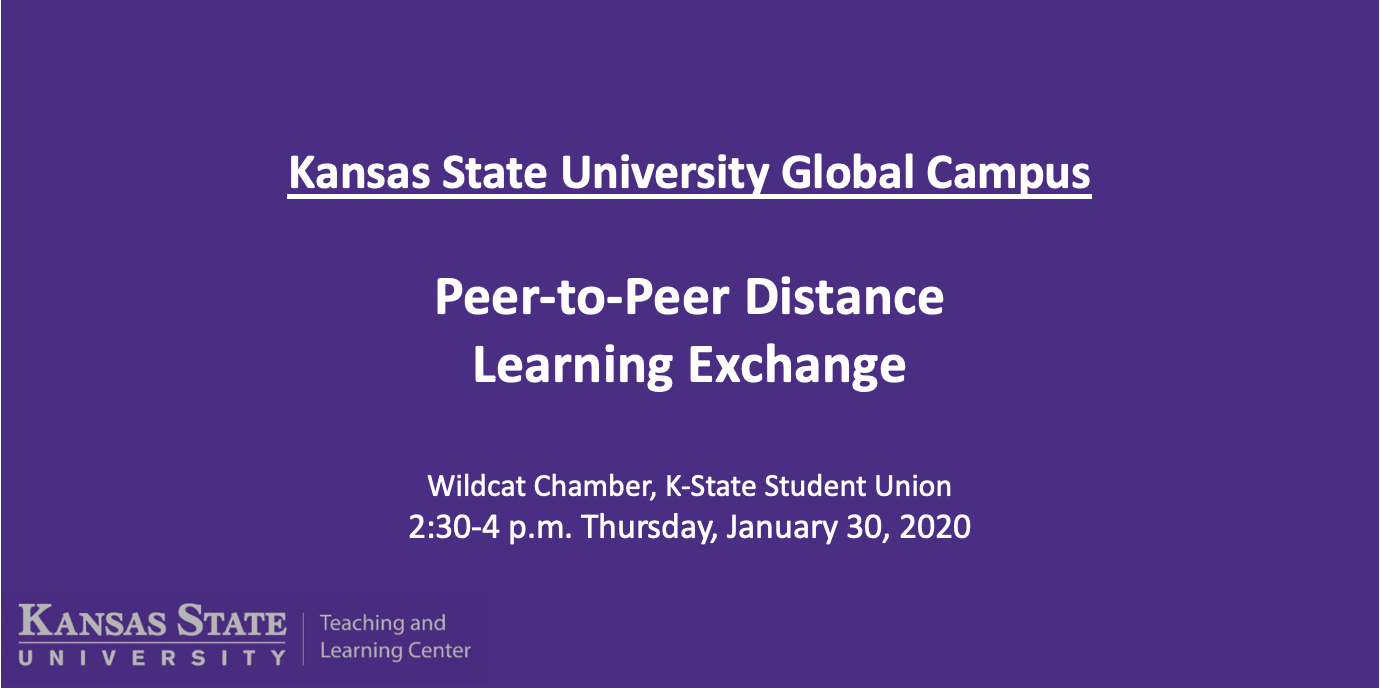 Upcoming Award Deadlines & Requests for Proposals:
In FY 2021 Global Campus will provide two funding cycles, one in the spring and one in the fall. The updated format will provide flexibility and accelerate project development. Priority is given to proposals that:

Revise existing and develop new, student-focused programs or courses
Reduce course gaps in online curricula or time to degree
Focus on learner-centered scheduling (accelerated courses and multiple start dates during a year)
Promote interdisciplinary approaches
Expand learning opportunities in areas of university strength