TLC Bi-Weekly Newsletter for Tuesday, February 8th, 2022
Good morning, K-State!
We are now in the fourth week of the Spring 2022 semester, and the Teaching & Learning Center (TLC) would like to remind you of our commitment to support your efforts in teaching, mentoring, and advising. We are excited to announce the various priorities, events, and resources that are designed to advance teaching and learning at K-State. This video explains what the TLC can do for you.
TLC Highlighted Teacher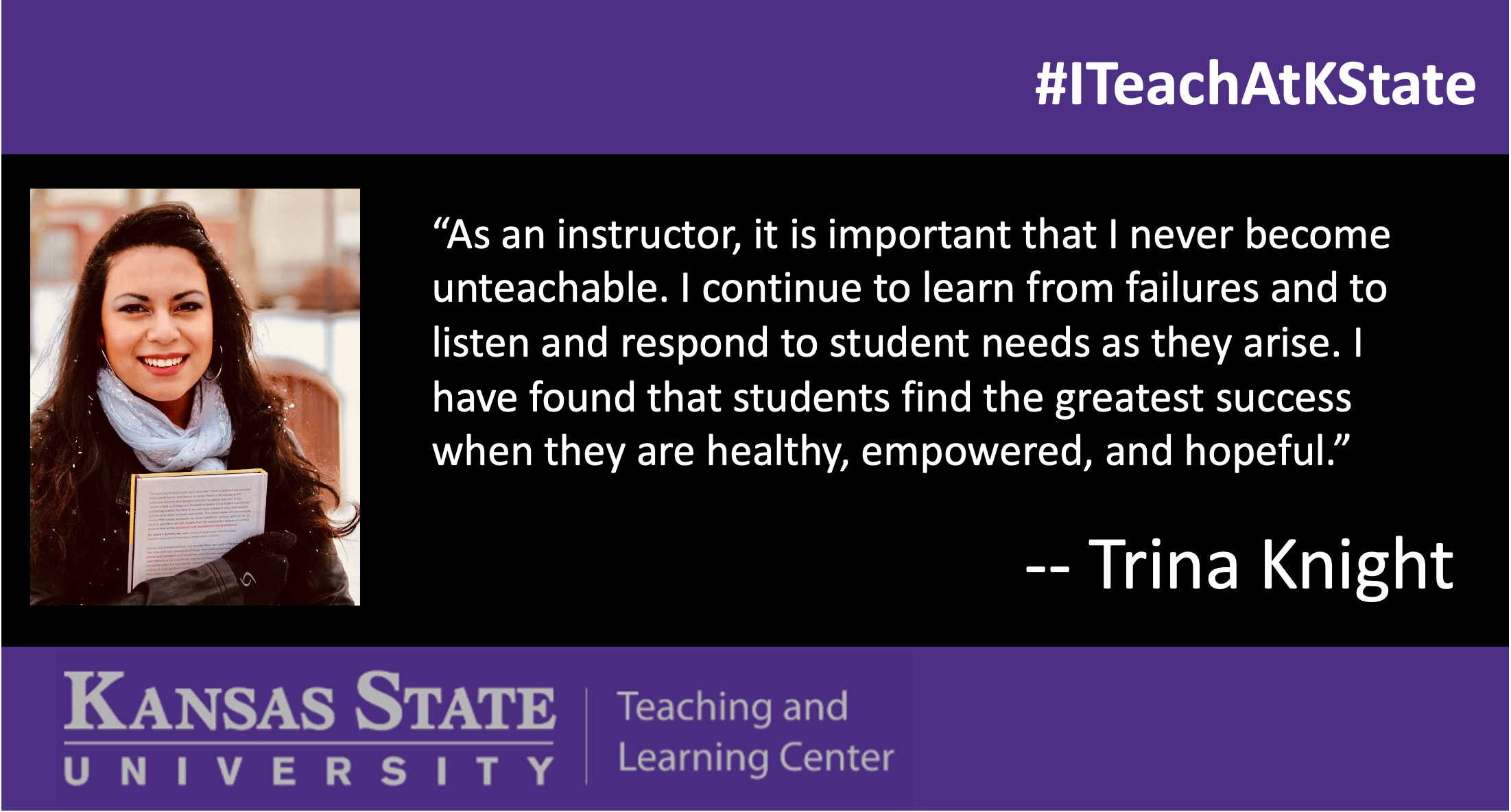 This week's TLC Highlighted Teacher is Trina Knight. The following is how Trina approaches her teaching. I approach teaching with four main goals. First, I seek to motivate students to apply concepts to their lives and to the lives of others. Second, consistency remains key as we continue to muddle through the COVID-19 pandemic. I seek to be a source of stability and empathy for students. Third, I prompt students discover sources of knowledge beyond the traditional academic setting through music, film, and literature. Lastly, I acknowledge the limits of my own knowledge, experiences, and expertise and invite community and campus guest speakers to share their unique knowledge with students beyond what I can offer them. As an instructor, it is important that I never become unteachable. I continue to learn from failures and to listen and respond to student needs as they arise. I have found that students find the greatest success when they are healthy, empowered, and hopeful.
Click here to see a video of Trina discussing her teaching.
Free Class on Black History, Black Freedom, & Black Love
MasterClass is offering a free three-part class on Black History, Black Freedom, and Black Love that will examine the past, present, and future of race relations in America. This class spans 54 weeks, click here for the episode guide. The class is available on IMDb TV or Prime Video for Prime members.
Academic Achievement Center
The first weeks of the new semester are important for all faculty, staff, and students and the Academic Achievement Center (AAC) provides services that engage, equip, and empower students to be academically and personally successful. Faculty, staff, and student organizations can request either in-person or virtual workshops and presentations designed to help students improve key skills related to academic success. We provide options that range from quick and informational to in-depth sessions with resources and strategies that help students achieve their academic goals. Options include:
Presentations (5-15 minutes): Presentations from the AAC cover a specific topic without a lot of hands-on work or engagement. The intent is to raise awareness about free campus resources.
Workshops (50-minutes): Workshops introduce a typical student experience, take a deep dive to understand challenges, and present several strategies or ways to make progress on those challenges. These sessions are hands on with a high level of student engagement.
Skill Builders (10-minutes): A spin-off of highly requested workshops. In our skill-building sessions, we highly-engage students to dive into a specific challenge and offer a AAC Success Tool that students might use.
Utilizing this AAC service will be beneficial to students as they start off the spring semester. Please make workshop or presentation requests at least one week in advance to allow for scheduling. To find out more or request a presentation, visit the AAC website.
Programs & Events
The theme for our Professional Development Series this year is "Mindful Returns." The events in our PD Series are free and no registration is required. Events occur on Wednesdays at 12 noon via Zoom: https://ksu.zoom.us/j/91689499348. We hope to see you there.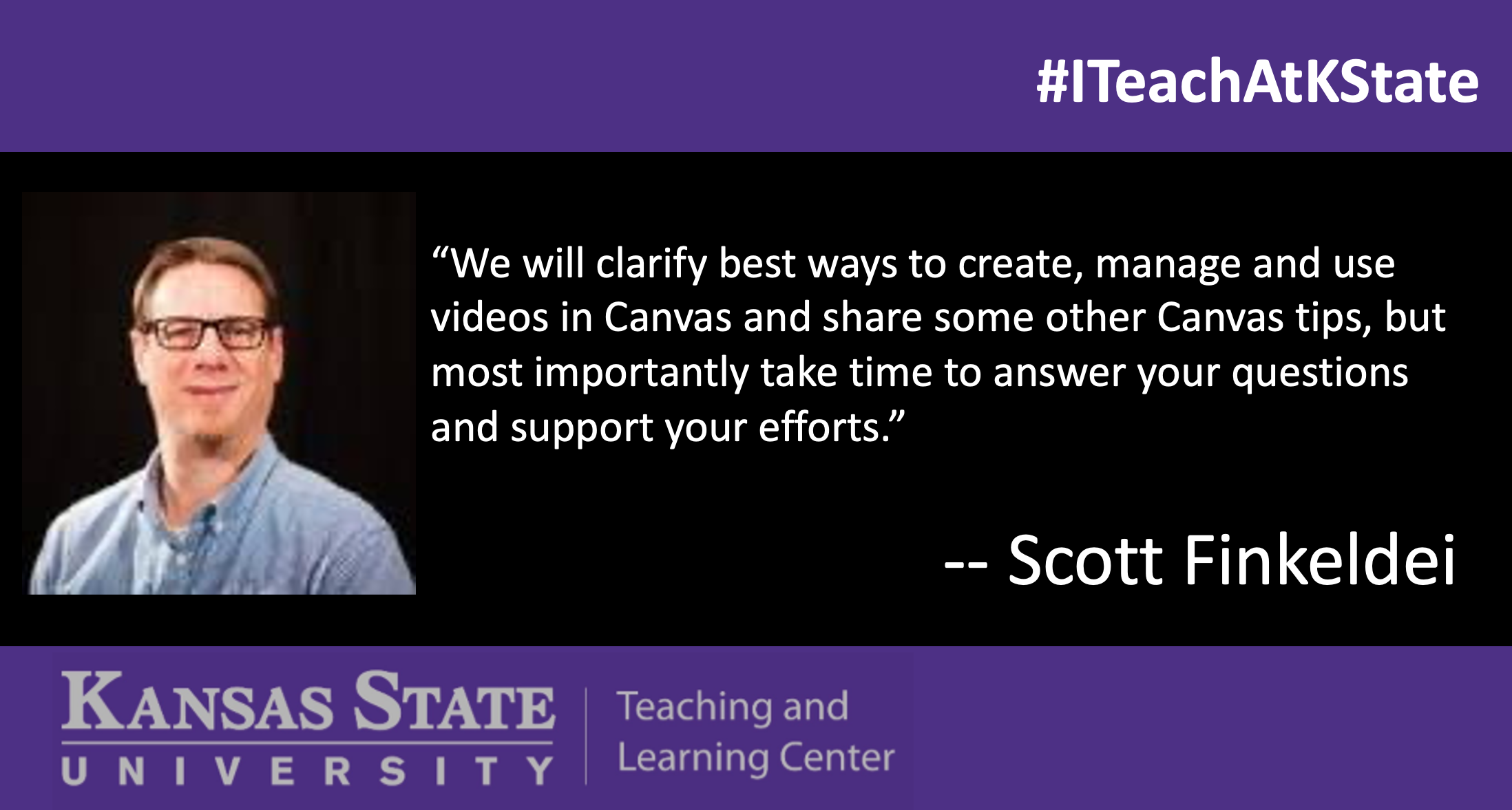 On Wednesday, February 16th, Pat Ackerman will lead an event entitled "Online Learning & Plain Language Principles."
Engage the Sage Videos to Support Excellent Teaching
As we begin the Spring 2022 semester, we would like to remind you of several video resources as part of Dr. Don Saucier's YouTube channel, Engage the Sage:
Our latest video is designed to help students prepare for interviews (e.g., for grad school). Feel free to share our "Rocking Your Interviews" with any students who may benefit!
Social Media
To stay in touch with new resources and events, like us on Facebook, follow us on Instagram and Twitter, and subscribe to our YouTube channel. To let us know how your semester is going, please use the hashtag #ITeachAtKState when you post about your teaching, mentoring, and advising activities.
Thank you for all you do for your colleagues and our students. And thank you for advancing K-State's teaching and learning mission with energy and optimism. We look forward to partnering with you this academic year.
Sincerely,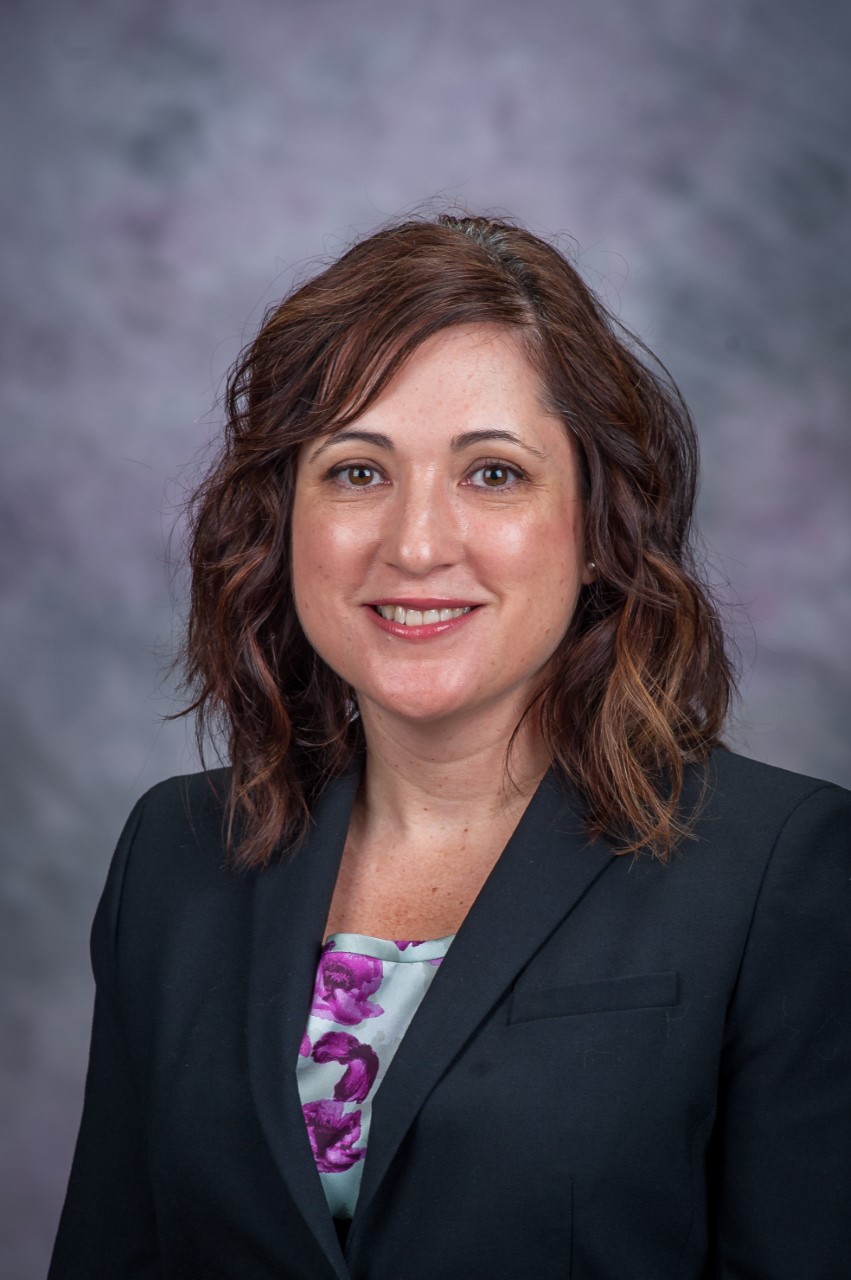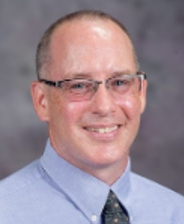 Tanya González Don Saucier
Interim Director of the TLC Associate Director of the TLC