TLC Bi-Weekly Newsletter for Tuesday, April 13th, 2021
Good morning, K-State!
We are twelve weeks into the Spring semester and the Teaching & Learning Center (TLC) would like to remind you of our commitment to support your efforts in teaching, mentoring, and advising. We at the TLC are excited to announce the various priorities, events, and resources that are designed to advance teaching and learning at K-State!
Click HERE to see what the TLC can do for you!
TLC Highlighted Teacher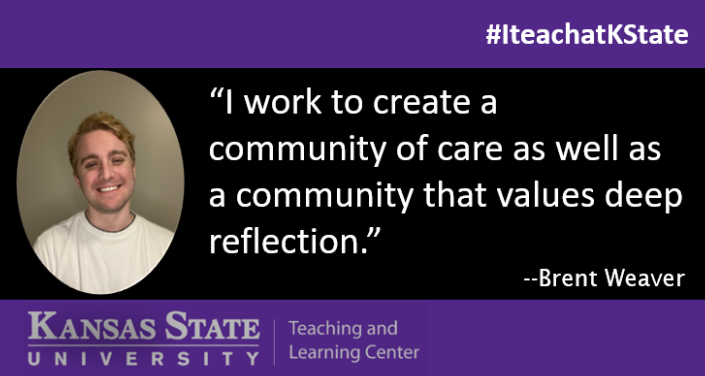 Our TLC Highlighted Teacher this week is Brent Weaver. Brent Weaver is the Learning Assistant Coordinator with K-State First, the University's first-year experience program and is the 2021 recipient of the President's Award of Excellence of Unclassified Professionals in the category of Team Building, Community Building, and Service to the University. Through his work, he teaches both a first-year experience course and a training course for the peer mentors who support first-year students. As a teacher, he strives to create a community of care that also values deep reflection. Outside of K-State, Brent has been involved in over 12 theatrical productions since 2017 as an actor, writer, and composer, and co-hosts a podcast called Snarkcast.
Click here to see a video of Brent Weaver discussing his teaching.
Programs & Events
To show our support for K-State instructors, we have designed a professional development series for the Spring 2021 semester that will help you power through and finish strong in May! The theme for our professional development series this year is "Caring, Connections, and Community." In our 33 events this academic year, 494 people have synchronously attended our events and over 531 people have participated asynchronously! More specifically, in our 15 events in 2021 thus far, 210 people have synchronously attended our events and 179 people have participated asynchronously. See our Professional Development Series page for more information. Be sure to check out our Events page for upcoming events and/or our Archived Events and Canvas pages for recordings of past events.
Professional Development Certificate & TLC Fellow Information
The TLC offers a Professional Development Certificate that reflects your commitment to teaching and learning excellence. To be eligible for this certificate you must participate in 12 of our events over the course of the academic year, complete post-event surveys afterward, and complete a Final Reflection. Becoming a TLC Fellow reflects your commitment to your teaching and learning excellence as well as others'. To be eligible for TLC Fellowship, you must complete the Professional Development Certificate requirements and some additional information. See the full requirements for the certificate and Fellowship here. The deadline for application submissions is Friday, May 21st.
Upcoming Professional Development Events in the Next Two Weeks
All events will occur at 12 noon via Zoom: https://ksu.zoom.us/j/93106034653. We hope to see you there!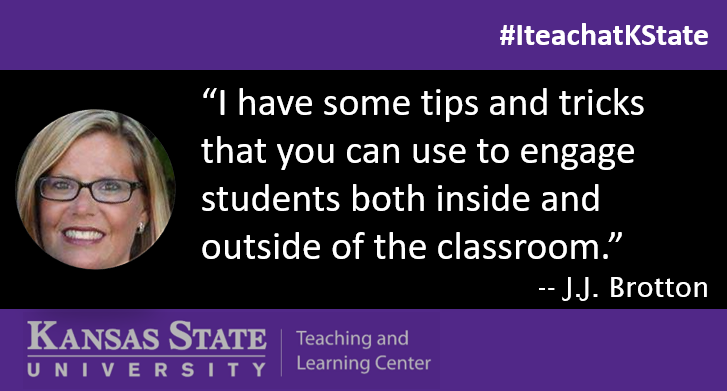 On Wednesday, April 14th (TOMORROW!), JJ Brotton will present an event entitled, "Student Engagement in the Classroom and Beyond". Click here to see a promotional video for this event.
On Wednesday, April 21st, Kodee Walls will present a "Need-to-Know" event entitled, "Just-in-Time Conversations on Mental Health". Click here to see a promotional video for this event.
Teachers Telling Stories Video Series
We are creating a new video series called "Teachers Telling Stories". We are looking for short videos on a story you tell in class to emphasize a particular point or a story that has a teaching lesson. Ideally, these stories are funny and/or have a feel-good message. If you are interested in participating or would like more information, please contact us! See below for the stories released thus far.
Linda Yarrow's Duct Tape Story
Chardie Baird's Cultural Script Story
Don Saucier's Hit and Run Story
Spotlight Preview
SPOTLIGHT will be Monday, October 25th, and we will start releasing promotional videos this semester for the speakers. Stay tuned!
Engage the Sage
On Don Saucier's YouTube channel, Engage the Sage, he releases videos targeted toward instructors. The following videos are particularly relevant as we approach the new semester:
The Problem with Academic Rigor
Five Things to Do Mid-Semester
Empathetic Assignments & Assessments
Empathetic Course Structure & Policies
Empathetic Syllabus Statements
The Empathetic Course Design Perspective
Excellent Email Etiquette for Students and Instructors (this one is great to have your students watch!)
Three-Minute Thursday Tips
Global Campus is releasing quick tips via K-State Today on Thursdays. Thus far, they have released tips on course navigation, creating a course welcome, and using groups in Canvas. Be on the lookout for these informative tips every week! For a full archive of these tips, click here for a YouTube playlist.
Follow Us on Social Media!
Like us on Facebook, follow us on Instagram and Twitter, and subscribe to our YouTube channel! Please use the hashtag #ITeachAtKState when you post about your teaching, mentoring, and advising activities!
Please email us (teachingandlearning@k-state.edu) if you would like access to our TLC Professional Development Series Canvas page!
We look forward to this exciting semester as we advance K-State's teaching and learning mission, as always, with energy and optimism! We are proud to say, "I teach at K-State!"
#ITeachAtKState
Sincerely,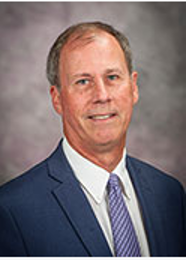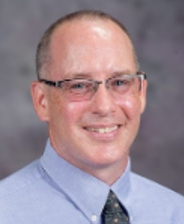 Brian Niehoff Don Saucier
Director, Teaching & Learning Center Associate Director, Teaching & Learning Center