TLC Bi-Weekly Newsletter for Tuesday, March 21st, 2023
Greetings, K-Staters!
We are now in the ninth week of the Spring 2023 semester, and the Teaching & Learning Center (TLC) would like to remind you of our commitment to support your efforts in teaching, mentoring, and advising. We are excited to announce the various priorities, events, and resources that are designed to advance teaching and learning at K-State. This video explains what the TLC can do for you.
SoTL Showcase: Call for Submissions
Our second annual Scholarship of Teaching and Learning (SoTL) Showcase will be held Monday, May 8th from 1:30pm to 4:30pm in Hale Library Room 181. The goal of this showcase is for K-Staters to share ideas and/or research pertaining to teaching and learning. Poster and oral presentation options are available. If you are interested in participating, please fill out this Qualtrics survey by the end of the day Wednesday, April 12th: https://kstate.qualtrics.com/jfe/form/SV_6yU7yBd6thKxmwS
Programs & Events
The Professional Development (PD) Series will occur on Wednesdays at 12 noon via Zoom. All events are free, and no registration is required. The schedule is periodically updated on the Upcoming Events page of our website and on our social media: Facebook, Twitter, and YouTube. We hope to see you there.
On Wednesday, March 22nd, Melissa Glaser will lead a professional development event entitled, "More Than Kindness: Practical Ways to Support Students with Empathy and Boundaries." Click here to view the promotional video.
On Wednesday, March 29th, we will host another Teaching CHAT. Feel free to bring questions to ask the group or to just sit back and listen. We hope to see you there!
The 2023 TLC book club will read & discuss Cathy Davidson and Christina Katopodis' "The New College Classroom" (2022). Join us on Friday, April 7th from 4-5pm at Union Station by JP's and cover Chapter 3: "Teaching is Mentoring." You can register here and find more information in the K-State Today announcement.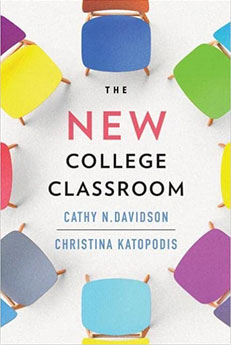 If you are interested in earning a PD Certificate or in becoming a TLC Fellow for this academic year, check out the requirements on our website.
Engage the Sage Videos to Support Excellent Teaching
We would like to remind you of several video resources as part of Dr. Don Saucier's YouTube channel, Engage the Sage, that are particularly relevant toward the middle of the semester:
Thank You & Encouragement
As a K-State community, we continue to offer grace and compassion to one another during these challenging times. We are grateful for your continued support of your students and colleagues and hope you take advantage of the resources available to you at K-State, including us, throughout the upcoming semester. Thank you for all you do for your colleagues and our students. And thank you for advancing K-State's teaching and learning mission with energy and optimism.
Sincerely,