Henry C. Gardiner Global Food Systems Lecture Series
The Henry C. Gardiner Global Food Systems Lecture Series aims to provide science-based education about the global food system. The series allows university students, faculty, staff and Kansas citizens to interact with U.S. and international food industry leaders. Kansas State University and Gardiner Angus Ranch initiated the lecture in 2015. The lectures are held at McCain Auditorium on the Kansas State University campus in Manhattan, Kansas. They are free and open to the public.
"Rethinking Methane: Animal Agriculture's Path to Climate Neutrality" by Frank Mitloehner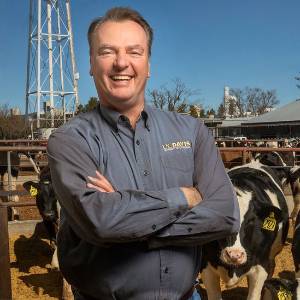 A sustainability expert who has spent nearly two decades studying the relationship between the livestock industry and air quality has been the featured speaker for the Henry C. Gardiner Global Food Systems lecture at Kansas State University's McCain Auditorium.
Understanding the impact of livestock emissions on the climate is more complex than is often understood, according to Mitloehner.
"You frequently see global averages being quoted, but a global average really doesn't tell you anything," he said. "A steer in the U.S. is totally different compared to a steer in Ethiopia or Australia and other places."
Once livestock emissions and mitigation processes are better understood, Mitloehner said, the world can move closer to turning what can be viewed as a liability into an asset.
"When you reduce a gas like methane, for example, something really beautiful happens," he said. "You can actually pull carbon out of the atmosphere, which can have a positive impact on our climate."
"So," Mitloehner said, "educating farmers and ranchers how to reduce their impacts can reduce overall warming impacts and can lead to the opposite: a cooling effect."
The lecture series is funded by the Gardiner family of Ashland, Kansas. Henry C. Gardiner was known as a visionary leader who dedicated his career to improving the beef industry through science and technology.
Past lectures:
Dennis Dimick, National Geographic magazine

Sara Menker, founder and CEO of Gro Intelligence

Jason Clay, Senior Vice President for Markets and Food at World Wildlife Fund

Jay Famiglietti is a hydrologist and professor of earth system science and of civil and environmental engineering at the University of California

Robert Fraley, Monsanto Executive Vice President and Chief Technology Officer
View all past lectures
https://preview.web.k-state.edu/research/global-food/events/past/past-lectures/
Y
purple
medium-basic
View all past lectures