Connect with Global Food Systems
Make an appointment with the Office of Research Development to review interdisciplinary funding opportunities: Email molewnik@k-state.edu or ord@k-state.edu.
Volunteer to host a grant development seminar or workshop for your research team or department: Email molewnik@k-state.edu or ord@k-state.edu.
Global Food Systems Leadership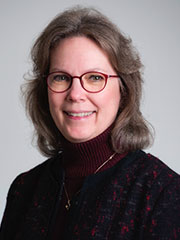 Maureen Olewnik is coordinator of Kansas State University's Global Food Systems Initiative. The initiative is focused on expansion of interdisciplinary research and educational activities at K-State and with collaborators to enhance problem solving in the complex food system.
Prior to joining K-State, Olewnik was key industry leader in cereal chemistry and food safety based activities for the food industry.
Olewnik began her career as a cereal chemist studying the biochemical components of wheat. She held various positions of increasing responsibility with AIB International, culminating in the position of vice president of research and technical services, with oversight of work on ingredient interactions, rheology, product development and food labeling. Olewnik later served as senior vice president of food safety services, with oversight of food safety and regulatory activities worldwide.
Olewnik has been an active member of the American Association of Cereal Chemists/Cereal & Grains Association, participating in many phases of the association, including serving as the 2019 international president and the 2020 board chair for scientific societies. Olewnik was presented the William F. Geddes Memorial Award in 2012.
In addition to the Cereal & Grains Association, Olewnik has been active with the American Bakers Association Food Technical Regulatory Affairs Committee, the Institute of Food Technologists, Women in Baking, American Society of Bakers, Global Cold Chain Alliance/World Food Logistics Organization, International Association of Food Protection, and the Council on Food Protection.
Olewnik has published several peer-reviewed and industry articles and book chapters and presents often at trade association and technical meetings on baking and food safety topics.
Olewnik may be contacted at molewnik@k-state.edu.