Undergraduate Program Overview
The Psychology major offers a broad-based foundation for the study of psychology while providing our students flexibility and choice in their undergraduate experience. Students have an opportunity to learn about the complex and multifaceted aspects of thoughts and behaviors while being presented with many opportunities to participate in our department's wealth of ongoing research. The major can be completed in little more than 30 credit hours allowing our students to explore double majors, minors, and even dual degrees. A degree in Psychology is often chosen by students who are interested in pursuing careers in research, therapy, human services, or a variety of careers that only require a bachelor's degree.
Psychology Major & Career Possibilities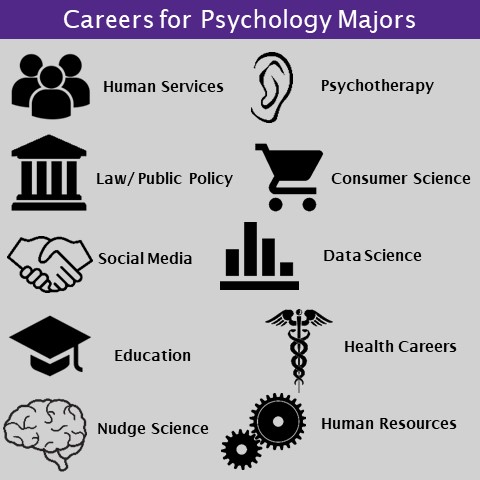 The Psychology major allows our students to examine the fundamentals of the field of psychology. Our students complete their undergraduate education with either a Bachelor of Arts or a Bachelor of Science degree. Here are just a few possible careers:
Human Services Manager
Mental Health Technician
Police and Law Enforcement Officer
Corrections Officer
Life Skills Specialist
Victim Advocate
Human Resources Manager
Case Manager
Account Executive
Additionally, many of our students continue their education into graduate school focusing on a wide variety of disciplines both inside the field of psychology and out. Some of those include:
Cognitive Psychology
Behavioral Neuroscience
Industrial/ Organization Psychology
Social Psychology
Clinical Psychology
Counseling Psychology
Medical School
Occupational Therapy
Law School
Physical Therapy
Psychology Satisfaction
Not all jobs are created equally. Some jobs have a higher pay relative to others, however salary may not reflect other factors like overall job satisfaction. The graph below illustrates how Psychology measures against other fields in both salary and satisfaction.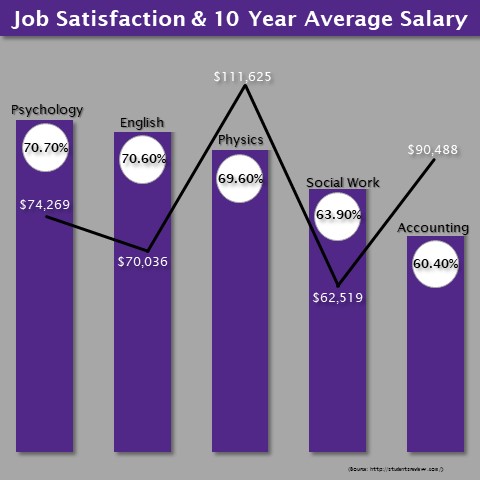 You can also visit our undergraduate Careers Page for more information.
Also, check out these informative websites:
American Psychological Association's information on jobs for Bachelor's degree in Psychology.
O*Net Online Resource for occupations in Psychology.
Career Profiles for jobs for those with bachelor's degrees in Psychology.
Core Course Selection
Psychology is a dynamic discipline with a variety of unique areas of specialization that stem from a firm foundation. The undergraduate degree program provides our students with the core education each psychology student needs to be successful while allowing them to explore areas of specialization.
Students choose two (2) of the following courses after completing PSYCH 350:
Students also choose one (1) of the following courses after completing PSYCH 350:
Students must also choose one (1) of the following courses from Applied or Health Psychology:
Students also complete twelve (12) hours of Psychology electives of their choice. Those hours can also be used to select an area of specialization.
Areas of Specialization
The courses presented in these specializations represent possible course combinations for students who may be interested in a specific area of psychology. The titles featured below do not represent degree designations.
Behavioral Neuroscience
Cognitive
Industrial/ Organizational
Social/Personality
Clinical
Psychology Minor
Students now have the opportunity to pursue a Minor in Psychology.
A Psychology minor offers students a variety of unique areas of study to enhance their existing major. Our minor consists of 18 hours and includes:
Please note: PSYCH 351, 460, 475, 480, and 605 are for Majors Only. Minor students will not be eligible to take these classes. Additionally, no more than 3 credit hours of PSYCH 599 Research may be used toward the minor.
Add or Drop the Psychology Minor
Fill out this form to declare (add or drop) your Psychology Minor.
Questions?
Contact Sarah Buchanan at buchs@k-state.edu for more information
Undergraduate Research Opportunities
The Psychological Sciences department at Kansas State University is dedicated to a variety of research areas. Our undergraduates have a unique opportunity to work alongside our faculty and graduate students while employing the skills they have learned in the classroom.
Psychological Sciences Research can be taken for credit toward graduation as PSYCH 599. Students can achieve 0-6 credit hours per semester for their work in one of our many research labs. If you are a Biology student working in a neuroscience lab, PSYCH 599 credits can be accepted as equivalent to BIOL 698.
If you are interested in joining a research lab, check out the different labs below to find out more about what each lab is doing. Choose a lab that aligns with your interests and career goals and reach out to the lab contact to let them know your interest in joining their lab.
Undergraduate Research Laboratories
Dr. Heather Bailey Lab
Dr. Christopher Barlett Lab
Dr. Natalie Barlett Lab
Dr. Laura Brannon Lab
Dr. Gary Brase Lab
Dr. Mary Cain Lab
Dr. Maria Diehl Faryna Lab
Dr. Julio Hernandez Pavon Lab
Dr. Carrie Lane Lab
Dr. Jin Lee Lab
Dr. Lester Loschky Lab
Dr. Sarina Maneotis Lab
Dr. Charles Pickens Lab
Dr. Bethany Plakke Lab
Dr. Donald Saucier Lab
Dr. David Schmitt Lab
Dr. Jennifer Smith Lab
Dr. Tianjun Sun Lab
Dr. Matthew Wisniewski Lab
Dr. Michael Young Lab
Dr. Ali Zakrzewski Lab
Undergraduate Advising
The Psychological Sciences department shares K-State's passion for student success. Our department has a dedicated faculty and staff to ensure our students' needs are met. One of the key components to students' success is effective and timely advising. Psychological Sciences has two enthusiastic and knowledgeable advisers who help our students through the entire process of their undergraduate education in psychology.
Meet Our Undergraduate Alumni
The K-State Department of Psychological Sciences is proud of all of our alumni. In this section, we would like to introduce you to some of our Alumni Advisory Council that earned their undergraduate degrees from K-State. They represent a wide variety of career choices one can make with a Psychology degree!
Mr. Milt Ahlerich (BS 1968)
President, Ahlerich Consulting Group
Alexandria, VA
Ms. Gail Antenen (BS 1980)
Court Services Officer, State of Kansas
Ness City, KS
Ms. Lindsey Firebaugh Bock (BS 2004)
Neuropsychometrician, University of Missouri-Kansas City
Kansas City, MO
Mr. Thomas Clark (BS 1971)
Executive in Residence, KSU College of Business
Manhattan, KS
Dr. Michelle Coker (Binkley) (BS, 1984)
Clinical Psychologist, Bariatric Center of Kansas City
Lenexa, KS
Mr. William Conaway (BS 1990)
Chief Information Officer & Vice President, Prime Healthcare
Los Angeles, CA
Mr. Richard Felton (BS 1976)
East Cleveland (Ohio) City Schools
East Cleveland, OH
Dr. Sandi McCoy Kramos (BS 1988)
Clinical Psychologist, Private Practice
Manhattan, KS

Dr. Desirae McKenzie Moreno (BS 2003)
Clinical Psychologist, Private Practice
Wichita, KS
Mr. Mark Raggett (BS 2002)
Investment Manager, Creative Planning, Inc.
Leawood, KS
Dr. Kenneth Sewell (BS 1986)
Vice President for Research, Oklahoma State University
Stillwater, OK
Ms. Lisa Way (BS 1993)
Senior Director, Commitment Management
Granger; Chicago, IL
Alumni Spotlight
Kenneth Sewell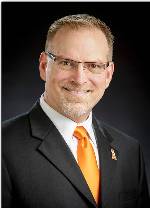 Kenneth Sewell graduated from Kansas State University with his Bachelors of Science in 1986. He is currently Vice President for Research at Oklahoma State University and serves as President of the OSU Research Foundation. Ken stated that his undergraduate psychology experience in systemic task analysis and decision-making, (research methods, problem solving and decision making) as well as developing people skills continue to help him in his work. Additionally he stated he gained a deep understanding of how life-changing undergraduate research can be for students, especially first-generation college students.
Thomas Clark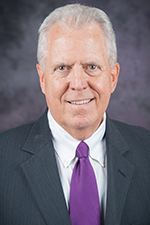 Thomas Clark graduated from Kansas State University with his Bachelors of Science in 1971. He is currently a part-time adjunct professor in the National Strategic Selling Institute at KSU. Tom is also a retired sales executive from the high technology industry having worked a variety of leadership roles in direct sales, channel sales, strategic alliance management and global business development for many Fortune 500 companies. He stated that his undergraduate psychology experience learning critical thinking skills, gaining understanding of different personality types, and how to effectively work with many different types of people was essential. Finally, he suggests undergraduate students take a business class if they think they may have an interest in that career path.