Staff
Marty Vanier, DVM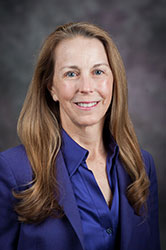 Marty Vanier, Director, joined NABC in 2003. She recently served as the senior program manager for strategic partnership development for the National Bio and Agro-Defense Facility through an inter-agency personnel agreement between the U.S. Department of Homeland Security and K-State.
Vanier received a Bachelor of Science in agriculture (animal science) and Doctor of Veterinary Medicine degree from K-State. Upon completion of her DVM, Vanier served as science coordinator for the Animal Health Institute in Washington, D.C. She also has served as deputy director for information and legislative affairs in the Food Safety and Inspection Service, research assistant for the Food Safety Consortium in the Department of Animal Sciences and Industry at K-State, executive director of the Kansas Agricultural Alliance. She has been principal investigator for multiple NABC projects and, as director, has coordinated research teams, monitored legislative and federal agency activities, and led activities in support of relationship development between NABC and state and federal agencies, industry groups, emergency management, law enforcement, and the intelligence community. She received the 2002, 2012, and 2014 President's Award and the 2009 Veterinarian of the Year Award from the Kansas Veterinary Medical Association. She served as KVMA President in 2015–2016.
Anna Pees, DVM, MPH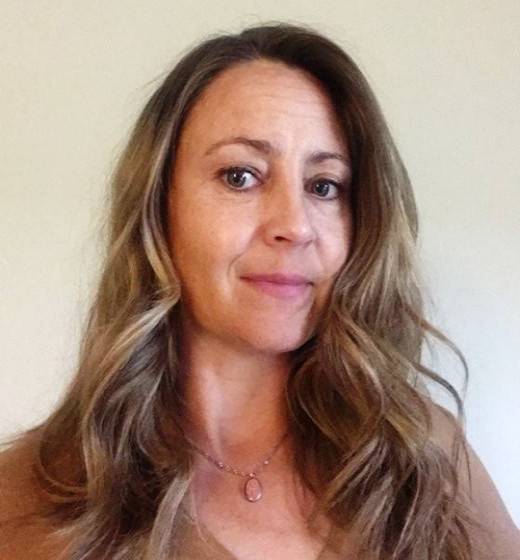 Anna Pees graduated from University of Arizona with a Bachelor of Science in Animal Science and later graduated from Kansas State University with a Doctor of Veterinary medicine degree and Master of Public Health degree with an emphasis in zoonotic and infectious disease. Following the completion of her DVM, Pees practiced small animal medicine for seven years in Colorado, Kansas, and the United Kingdom. Pees transitioned into the field of public health by accepting a position with the USDA-APHIS Veterinary Services where she served as a Veterinary Medical Officer in Veterinary Export Trade Services. She then joined the NABC in 2022 to serve as project manager where she assists in the development of research projects and training programs. Pees has received supplemental training in emergency management especially as it pertains to animal disease outbreaks.
Savannah Greiner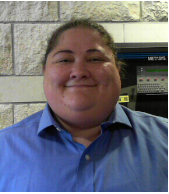 Savannah Greiner joined NABC in 2021, and shares a dual role as an emergency manager for Kansas State University providing expertise for NABC projects. As the coordination lead for the University's Emergency Management Advisory Group, she manages the efforts to link multiple operational layers of the university and bridge the decision support needs across the operating footprint of all its locations.
She graduated from the University of Kansas with a Masters in Homeland Security and worked for KU emergency management. She has received significant training with various FEMA certifications and KDEM training. Greiner provides expertise in Incident Command System, exercise development and training, county level preparedness, and university-community outreach.
Adrian Self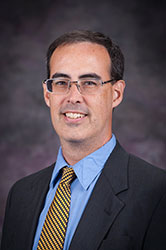 Adrian Self is an Operations Research Analyst providing management for advanced technological research and development with multiple NABC projects. He contributes expertise in project/proposal analysis, scheduling, scoping, and resource coordination for multiple contracts/grants within the center's portfolio.
Self brings far-reaching know-how to NABC projects in the areas of academic research documentation for audit, inspection, and accreditation; interfacing with various levels of university administration/faculty and industry in advancing research work products; and organizing broad resources for institutional land grant missions. He supports safeguarding research enterprise programs detailed with maintaining issue awareness for security requirements associated with processing sensitive info/data supporting sponsored contracts, projects, and programs.
His industry and academic background include practice in economics research, investment analysis, risk underwriting and risk analytics as well as knowledge technology, communications, and overseas languages and cultures. Prior to joining the NABC, Self was with the University Research Compliance Office at K-State, where he served to coordinate multiple compliance committees for research across the university in the Office of the Associate Vice President for Research. He has served since 2011 in a variety of roles at NABC including preceding positions of Administrative Director and Prospect Researcher.
Notable alumni
David Hogg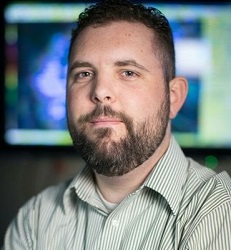 David Hogg served as Project Director for the NABC, located in Pat Roberts Hall. Projects included serving as a trainer for the Animal Disease Response Training (ADRT) curriculum for non-traditional FAD response personnel, foreign animal disease response exercise development, facilitation, and evaluation, serving on the Kansas Department of Agriculture foreign animal disease working group, and acting as an emergency management subject matter expert for ongoing university and NABC projects.
Prior to working for KSU, Hogg served as the Emergency Management Coordinator for the Kansas Department of Agriculture, overseeing the agency's preparedness and response efforts, including serving as the state lead for ESF-11 and the development, play, and after-action process of the annual KDA Foreign Animal Disease exercise. Hogg has previously served as the program manager for the newly formed Kansas Agriculture Emergency Response Corps and led the Kansas Secure Food Supply project. Prior to joining KDA, Hogg held emergency management positions in both Kansas and Oklahoma. Hogg has a diverse background including experience in farming, ranching, non-profit and volunteer management, emergency planning and response, and television severe weather coverage.
Ken Burton, DVM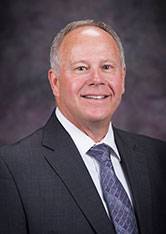 Ken Burton was program director. He retired from K-State in fall of 2018 and transitioned to USDA to become the NBAF Coordinator (subsequently Deputy Director). He was a principle investigator and co-principle investigator on multiple projects involving transboundary animal disease (TAD) response planning and training, identification of lessons learned from livestock emergency response exercises and events, and risk analysis of high-consequence TAD significant to the U.S. livestock industry. Completed projects include comprehensive veterinary response capability and foodborne disease templates, country profiles assessing capabilities of selected foreign countries' response to outbreaks of zoonotic and non-zoonotic high-consequence livestock or foodborne diseases, and technical information reporting guides used by non-scientific field personnel to provide high-impact foreign animal/zoonotic disease information.
Burton's responsibilities included coordinating activities of technical consultants and research teams, training and managing graduate student researchers, technical writing and review, coordinating project activities of subcontractors and subject matter experts, and providing communications to a variety of project stakeholders within government agencies and the livestock industry. Burton received a Bachelor of Science in Biology and a Doctor of Veterinary Medicine from Kansas State University. Prior to employment at K-State in 2010, he owned and operated the Lyons Veterinary Clinic in Lyons, Kansas, providing rural Rice County residents with companion animal and food animal production veterinary medicine and surgery for 29 years.
Craig Beardsley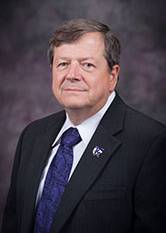 Craig Beardsley was program administrator. He retired in spring 2019. His career spanned 3 decades of working with federal, state and local first responders, law enforcement, and emergency management through the Kansas National Guard. Beardsley retired from the Kansas National Guard in 2005 as a Lieutenant Colonel and was a trained instructor in the Incident Command System. As Director of Military Support for the Kansas National Guard, Beardsley collaborated with the Kansas Division of Emergency Management to synchronize the Kansas Emergency Management Plan with the National Response Plan. Beardsley received his bachelor's degree in business management from Park College and his master's degree in environmental planning and management from K-State.
Beardsley served as co-principle investigator on NABC U.S. Department of Defense and U.S. Department of Agriculture projects and was principle investigator on Kansas National Guard projects. He has established and managed a classified communications and operations center, served as the Kansas point of contact for intelligence to the U.S. Department of Homeland Security (DHS), and served on the FBI Joint Terrorism Task Force Executive Board. He supervised the establishment and employment of a military civil support team for Weapons of Mass Destruction (WMD) response, established and supervised the Kansas Threat Integration Center for analysis and dissemination of terrorism-related information to appropriate Kansas agencies and officials, and designed and participated in numerous WMD and foreign animal disease exercises involving all levels of military and civilian response.
Joe Fund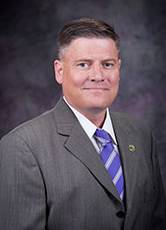 Joe Fund served as project manager. He passed away in winter of 2020 after after a courageous battle with brain cancer. Prior to joining NABC, Fund served as the chief fiscal officer for the Kansas Water Office. Other positions he held include assistant to the Secretary for Research and Governmental Affairs, Kansas Department of Health and Environment; human resource consultant, Kansas Department of Administration; business management/planning consultant; special projects trainer, Department of Social and Rehabilitative Services; and labor relations/contract administration and regulatory compliance specialist, City of Topeka, Economic Development and Housing. His experience working in state and local government positions performing managerial, team-building and sensitive communications functions allowed him to respond to a broad range of matters for NABC as they relate to projects sponsored by agencies within the state and federal governments as well as the media and diverse stakeholder communities. Specifically, his expertise in project management as well as legislative, planning, policy analysis, and implementation of complex strategies has been invaluable to the development and management of NABC projects. Joe received a Bachelor of Science in political science from Kansas State University.