Welcome to the K-STATE SYMPHONY ORCHESTRA!
The Kansas State Symphony Orchestra is a community of musicians representing many major fields of study including music performance, music education, engineering, architecture, computer programming, business, foreign language, and many more. All musicians are welcome! The orchestra performs five concerts a year in McCain Auditorium under the direction of Dr. Rachel Dirks. The orchestra frequently collaborates with colleagues throughout the school of Music, Theatre, and Dance, and performs a wide array of literature from modern selections to classical favorites.
I want to join the orchestra!
For more information about becoming a member of the KSUSO, click on the picture below...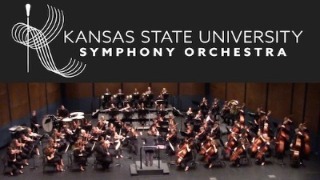 K-12 Music Teachers - We're here to help!
Members of the K-State String Division and Symphony Orchestra are excited to provide a wonderful variety of presentations, clinics, and other outreach projects for music programs of all ages. Visit the String Education Resources page for more information on how we can support you and your students this school year.
Looking to Major in Music or Music Education?
To pursue a music major, you must complete an audition for admittance into the program on one of the dates listed above or by appointment. This audition will also serve as your scholarship audition. All auditions must be completed by February 15 in order to be considered for a preferred scholarship.
For specific audition requirements, click here.
Summer Masters Program - String Education Track
Start earning your advanced degree in Music Education through our 3-summer graduate school program. Our hybrid course design offers the benefit of on-campus instruction for one week each summer followed by the convenience of online instruction and program development. Check here or more information and to enroll. If you have specific questions about the string track, please feel free to contact Rachel Dirks: rdirks@ksu.edu