Welcome to the K-STATE SYMPHONY ORCHESTRA!
The Kansas State Symphony Orchestra is a community of musicians representing many major fields of study including music performance, music education, engineering, architecture, computer programming, business, foreign language, and many more. All musicians are welcome! The orchestra performs five concerts a year in McCain Auditorium under the direction of Ms. Rachel Dirks. The orchestra frequently collaborates with colleagues throughout the school of Music, Theatre, and Dance, and performs a wide array of literature from modern selections to classical favorites.
University String Orchestra - Calling All String Players!
Do you miss playing in an orchestra? We invite you to join us on our December 3 concert! Rehearsals will be held:
Monday, November 18 (7:30-8:30 pm), Thursday, November 21 (8:30-9:30 pm), and Monday, December 2 (7:30-8:30 pm), with the concert on Tuesday, December 3 at 7:30 pm.
Need an instrument? Can't make all the rehearsals? Nervous about playing again? Don't worry! For more information and to join in the fun, please contact Director, Rachel Dirks (rdirks@ksu.edu) and include your name, your instrument, and if you need an instrument for some or all of the rehearsals. We hope to see you soon!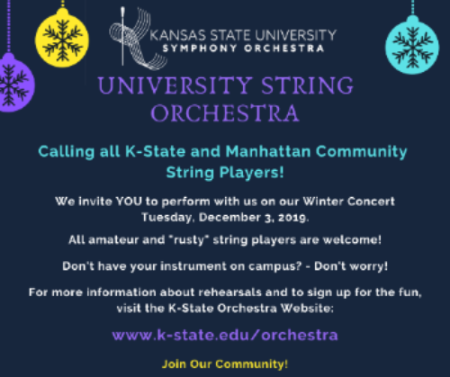 I want to play in orchestra!
All students, regardless of major, are welcome and encouraged to audition for the orchestra. Auditions for orchestra placement will be held the weekend of August 24-25, 2019. Audition excerpts are now available on the August Placement Audition page. We hope to see you this fall!
Looking to Major in Music or Music Education?
To pursue a music major, you must complete an audition for admittance into the program on one of the dates listed above or by appointment. This audition will also serve as your scholarship audition. All auditions must be completed by February 15 in order to be considered for a preferred scholarship.
For specific audition requirements, click here.
I want to support the orchestra!
There are a variety of ways in which you can support the Kansas State University Symphony Orchestra! If you are interested in supporting the orchestra's outreach projects for the 2019-2020 season, purchasing advertisement space in the 2019-2020 orchestra programs, or helping fund scholarships for future musicians, please contact Rachel Dirks, Director of Orchestral Studies.