---
For updates and info on SMTD events, in response to the national COVID-19 virus situation, please click here.
---
K-State Dance
Click HERE for information about Spring Dance Concert auditions.
Winter Dance Concert 2020, presented virtually.
K-State Dance will present Winter Dance Concert 2020, virtually, on November 12-13, 2020 at 7:30pm. The show will feature Jazz, Modern, and Tap choreography developed by K-State Dance faculty, and guest artists from New York City's Sokolow Theatre/Dance. To register, follow THIS LINK register at least 24 hours in advance.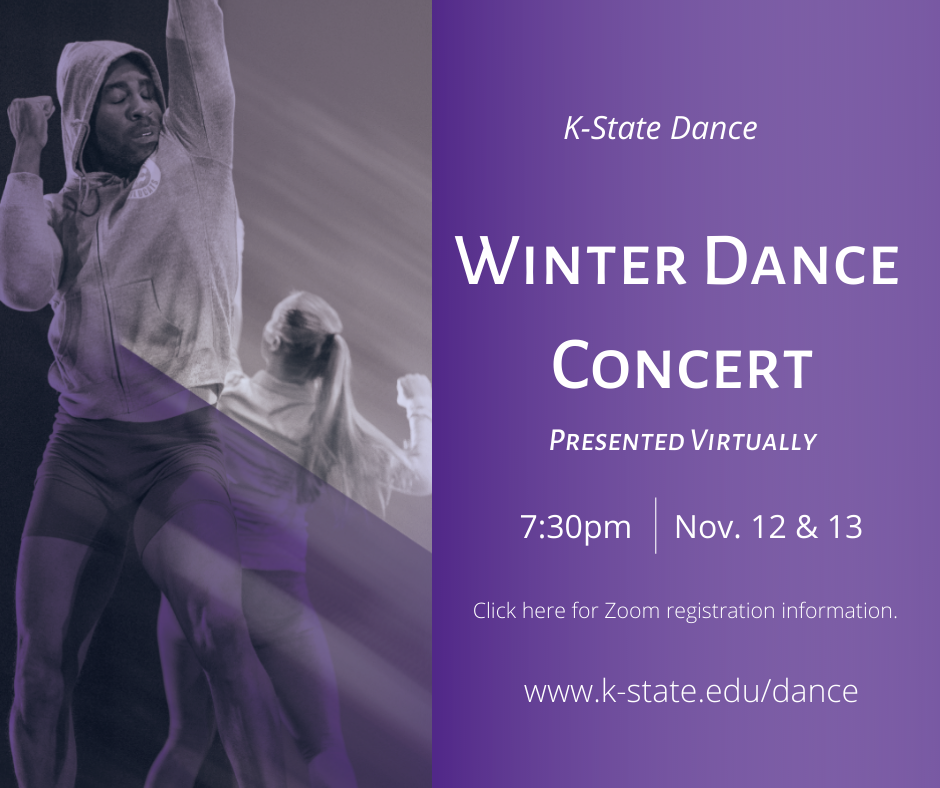 Welcome to the K-State Dance Program!
The dance program at Kansas State University offers a minor and a certificate in dance with extensive performance opportunities through faculty concerts, student concerts, and ensembles.
Our faculty are dedicated teachers and professionals engaged in inter disciplinary performance and research, who will help you develop skills in performance, creation, pedagogy, and research. The training experience is further enriched by the master classes and performance residencies of guest artists.
If you would like to learn more about the K-State Dance Program, please contact us to set up a campus visit and be sure to join us for Dance Day.
Mission Statement
The K-State Dance program is dedicated to nurturing strong, well-rounded, and versatile dance artists and educators. While honoring the importance of a broad, liberal arts curriculum, the Dance program provides quality training in dance technique, choreography, pedagogy, and production. Central to the Dance program is the performance of well-danced, quality choreography, collaboration across disciplines, and the vitality of human diversity.