K-State travels to Allen County region for community visit on Oct. 4 and 5

Tuesday, Sept. 12, 2023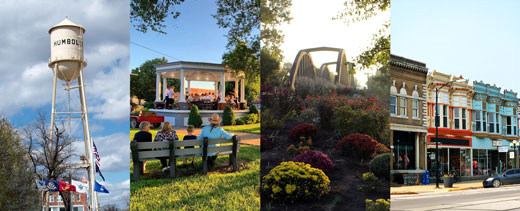 K-State will host a community visit in the Allen County region on Wednesday, Oct. 4, and Thursday, Oct. 5. (Photo credits: Chris Bauer, the Humboldt Chamber of Commerce and the Iola Area Chamber of Commerce and Tourism)
MANHATTAN — Kansas State University will visit the Allen County region on Wednesday, Oct. 4, and Thursday, Oct. 5, as part of the second year of community visits across Kansas.
The Allen County community visit will include activities to engage with, listen to and learn from Kansans in the Humboldt and Iola regions.
K-State leaders and Connected 'Cats students will lead several events, including community conversations, recruitment activities and events to highlight university partnerships and K-State Research and Extension relationships. The Connected 'Cats students include Allison Heim, senior in human development and family science, Moran, and Brody Nemecek, senior in animal sciences and industry, Iola.
Karen Works, Humboldt, will serve as the local host for the Allen County community visit.
The keystone event includes a community open forum from 5:30-7 p.m. on Wednesday, Oct. 4, at B&W Trailer Hitches, The Hub, 1216 Hawaii Road, Humboldt. The community open forum is free and open to all Kansans: community members, leaders, families, current and future students and parents. The event also will include free K-State Call Hall ice cream.
People can RSVP for the community open forum at k-state.edu/allen-county.
Other events throughout the two-day visit will focus on community development, student engagement and housing. View a schedule with full details for the Oct. 4 and 5 Allen County community visit.

"We will be putting a spotlight on the good work in Allen County and looking for ways to deepen K-State's partnerships in the area," said Tim Steffensmeier, K-State assistant vice president and director of engagement and outreach.

The K-State community visit initiative focuses on the people of Kansas and their communities. K-State is visiting multiple communities throughout the state to listen to and learn from the Kansans who live there. Learn more about the community visit initiative.
The community visits are an important part of the K-State 105 initiative, which is Kansas State University's answer to the call for a comprehensive economic growth and advancement solution for Kansas. The initiative leverages the statewide K-State Research and Extension network to deliver the full breadth of the university's collective knowledge and solution-driven innovation to every Kansan, right where they live and work. Additionally, K-State 105 forges the connections and partnerships that create access to additional expertise within other state institutions and agencies, nonprofits and corporations — all part of an effort to build additional capacities and strengths in each of the 105 counties in the state.