The 2022 Royal Purple yearbook staff wins national Pacemaker award for Best College Yearbook in the Country
March 27, 2023
The 2022 Royal Purple yearbook won the national Pacemaker award for best college yearbook in the country. The Pacemaker is considered the Pulitzer of college journalism.
The Associated Collegiate Press (ACP) announced the 2022 Royal Purple as one of 10 national finalists in the competition. Hallie Everett, who served as the yearbook's 2022 editor-in-chief, led a team of around 25 student writers, photographers, page designers and copy editors toward realizing their fullest potential.
"The entire 2022 staff worked very hard on this book, paying attention to every d
etail on each page. I couldn't be more proud of their accomplishment," Everett said.
The Royal Purple received the award at ACP's national conference in San Francisco in March. The Royal Purple is a publication of the Collegian Media Group, which also publishes the Collegian student newspaper and Manhappenin' lifestyle magazine.
In May 2022, CMG Director, David Levy, hired Everett full time to advise both the yearbook and magazine. "Hallie lives and breathes Royal Purple," Levy said. "I could not imagine anyone else leading the 2022-2023 and future yearbook staffs in the pursuit of continued excellence."
"What's important to me," Levy added, "is that students across all academic disciplines discover the value of joining CMG. Whether working for one of our publications or joining CMG's IT staff, students can apply the skill sets they need to
prepare for their careers." The Collegian is looking for both a talented page designer and website editor for the 2023-24 academic year. "Opportunities abound here," he said.
The Collegian newspaper also won Second Place for Best Newspaper at the College Media Association's National Spring Conference, in New York City, also in March. Manhappenin' magazine won an Honorable Mention. In April, CMG travels to Wichita for the state-wide Kansas Collegiate Media conference and awards banquet.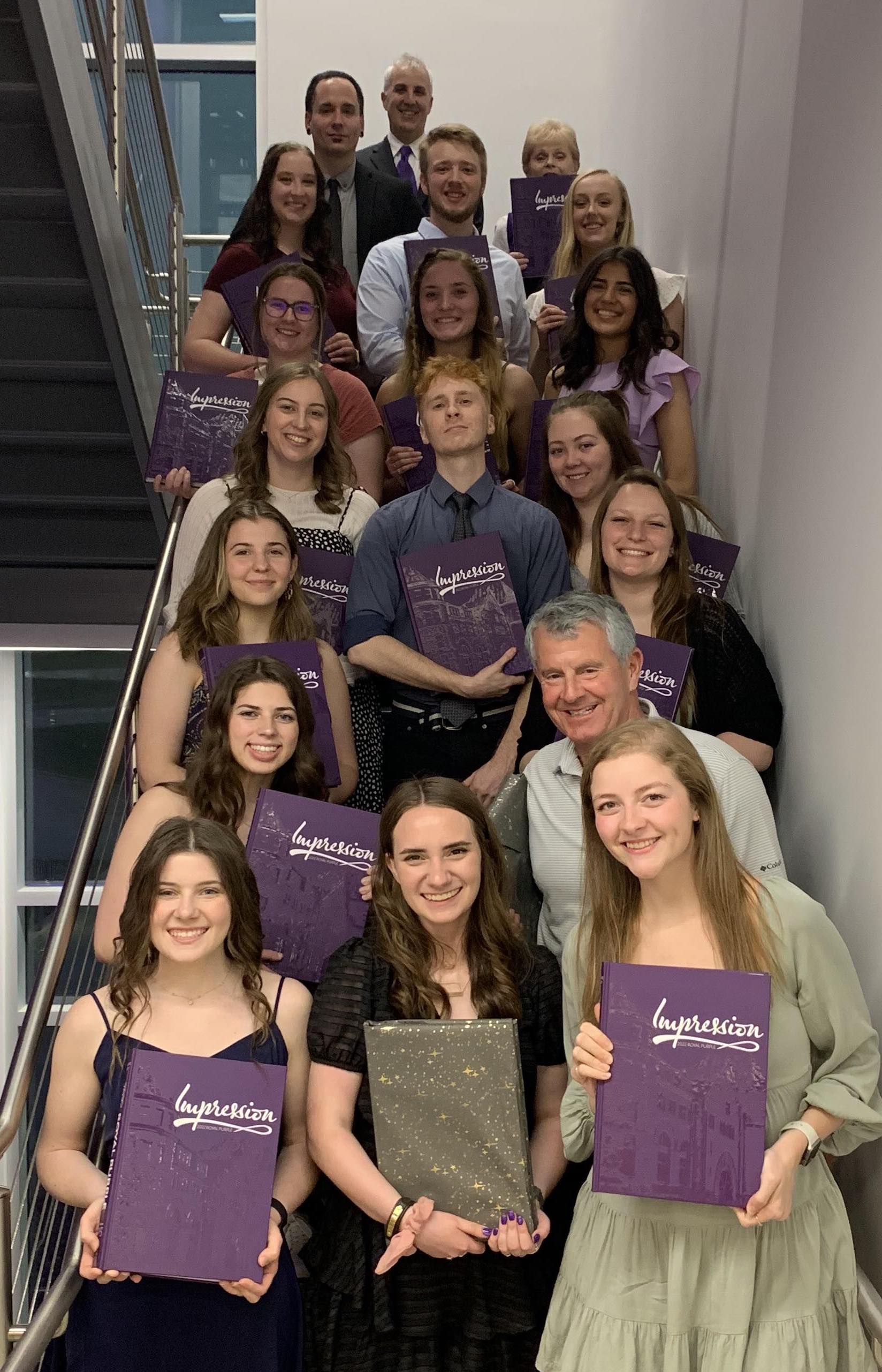 Staff members who published The 2022 Royal Purple yearbook pose at the book's reveal event in April 2022. Earlier this month, the Associated Collegiate Press awarded The Royal Purple a national Pacemaker for Best Yearbook in the country.
About Collegian Media Group
Collegian Media Group documents history and shares stories of Kansas State University and Manhattan with communities on and off campus. Founded in 1946 as Student Publications Incorporated and renamed in 2012, Collegian Media Group is a private enterprise overseen by a board of directors composed of university students, faculty, and community professionals. The business received non-profit status in 1947 and operates as a 501(c)3 under IRS rules. Most of CMG's revenue derives from student activity fees, advertising sales, yearbook sales, tuition from a summer workshop for high schools in Kansas, and other endeavors.