T.E.A.M. Mentor Information
The KS-LSAMP T.E.A.M. (Transfer Engagement And Mentoring) program is designed to help community college students make a successful transition from their two-year institution to K-State by connecting them with current K-State students.
The application deadline to become a T.E.A.M. mentor is September 7, 2020. You can find the form to apply under the Application section (bottom of the page).
Mentor Eligibility
Current K-State student who has transferred from a community college and will have completed at least one semesters at K-State
Currently majoring in a KS-LSAMP STEM major (see chart below)
Mentor Benefits
Compensation for participation
Opportunities to support the transfer of other students to K-State
Leadership Opportunity
Mentor Responsibilities
As a K-State student-mentor, you will be assigned to one community college mentee. As a mentor, our expectations are that you:
Be available to participate in the program from September 21 - November 13, 2020 (8 weeks)
Attend training session prior to the start of the program (1hour)
Attend monthly program meetings (2 total, 1 hr each)
Communicate with your mentee at least 30 minutes weekly throughout the semester (4 hours total)
Maintain a record of communication with your mentee
KS-LSAMP STEM majors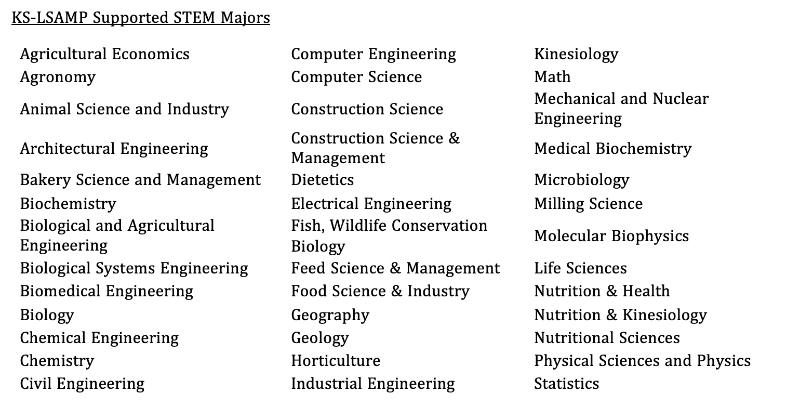 Application
You can fill out an on-line application here: HERE

Or a paper copy HERE. Completed applications should be sent to Brenee King, breneek@ksu.edu via email or can be delivered in person at 215 Fairchild Hall, Kansas State University.
The deadline for Fall 2020 is September 7, 2020.
Questions can be directed toward Brenee King at breneek@ksu.edu or 785-532-5385.