LGBT Facilities Resources
The LGBT Resource Center is currently working to advance the acknowledgement and need for gender neutral or all gender restrooms so all campus community members can be and feel safe when choosing to use a restroom on campus. Please keep an eye out for future changes as campus continues to renovate existing facilities and open new buildings.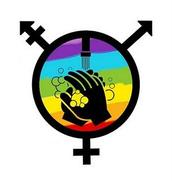 Why are Gender-Neutral Restrooms Important?
Gender-Neutral/All Gender Restrooms are important to students who may not identify with a traditional gender binary. These students may be Trans* or gender fluid. It is important to treat everyone with respect and kindness. Often when someone who identifies as Trans* uses a restroom that does not fit a gender binary definition, they are put at risk for harassment and assault. By having more accessible restrooms available on campus, we are building safety and acceptance for all students.
What do I do If I am harassed/bullied/physically harmed in the campus restrooms?
If you are in need of medical assistance due to injury call or need police assistance please call 911 immediately. Report an incident to Student Life, located on the first floor of Holton Hall or by email at stulife@k-state.edu or visiting http://www.k-state.edu/studentlife/. If you are experiencing a mental health emergency, contact Counseling Services at the Lafene Health Center or phone 785-532-6927 and speak directly with a counselor.
What do I do If I witness harassment/violence against another student in the Restroom?
If you witness bullying/harassment against a student you can call The Office of Student Life at 785-532-6432 or fill out a Student of Concern form.
Where can I go to find resources on campus if I identify as Trans*
Please visit LGBT Resource Office in Holton Hall 2nd floor if you are needing help finding information, resources in the community, or want to get involved in student organizations. If you need counseling resources please visit Counseling Services located in the Lafene Health Center.
The restrooms listed in the link above are single-stall/lockable doors. The list consists of "family" "Unisex" "Women" and "Men".