Brandon W. Kliewer, Ph.D.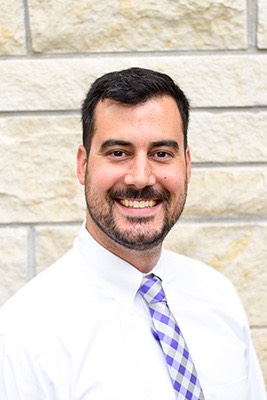 Associate professor
bkliewer@ksu.edu, View my CV
Strategic | Achiever | Learner | Input | Individualization
Campus office: 217 Leadership Studies Building
Teaching
I specialize in working with undergraduate and graduate students in the classroom to advance scholarship that explores how leadership activity can produce change in community, organizations and systems.
Current courses
LEAD 350: Culture and Context in Leadership
LEAD 405: Leadership in Practice
Leadership communication doctoral program faculty, LEAD 845: Approaches to Community and Public Engagement
Research and grants
A political theorist by training, my research interests consider how democratic and practice theory provide a lens to understand civic leadership, deliberative civic engagement and work/organization-based learning and development. My research is often situated from a critical, dialogic, and constructivist lens.
Civic leadership
Deliberative civic engagement
Theory and practice of democracy
Grant awards
Mandela Washington Fellowship for Young African Leaders Leadership in Civic Engagement Institute Grant, co-academic director
Awards
Faculty Recognition Award, XIX Chapter of Mortar Board Senior Honor Society, 2019
Finalist, Ernest A. Lynton Award for the Scholarship of Engagement for Early Career Faculty, 2017
Ubuntu Award, Kansas State University Black Student Union, 2016
Co-Volunteer of the Year, Konza United Way, 2015
Florida Campus Compact Graham-Frey Civic Award, 2013
The John Saltmarsh Award for Emerging Leaders in Civic Engagement, American Association for State Colleges & Universities, 2013
Responsibilities
I advance strategic partnerships with businesses and community organizations interested in designing personalized leadership development experiences connected to the Staley School's research agenda.
Publications
Kliewer, B. W. (2019). Disentangling Neoliberalism from Leadership Education: Critical Approaches to Leadership Learning and Development. New Political Science, 41:4, 574-587.
Kliewer, B. W., & Wanjiku Ndurangu, B. (2019). Advancing Reciprocity in Cross-Cultural Leadership Coaching. Journal of Leadership Education, 18(4), 179-187.
Kliewer, B. W., & Priest, K. L. (2019). Building Collective Leadership Capacity: Lessons Learned from a University-Community Partnership.Collaborations: A Journal of Community-based Research and Practice, 2(1), 16.
Hartlep, N. D., Lake, D., Purcell, J. W., Bush, A., Perry, L. G., Fleck, B., Kliewer, B. W., Janke, E. M., Markham, P., Orphan, C. M., & Saltmarsh, J. (2019). Toward an Innovative Civic Engagement Pedagogy. eJournal for Public Affairs, Article.
Priest, K., Kliewer, B. W., & Stephens, C. M. (2018). Kansas Leadership Studies Summit: Cultivating Collaborative Capacity for the Common Good. Journal of Leadership Education, Jul 17(3), 195-207.
Priest, K., Kliewer, B. W., Hornung, M., & Youngblood, R. J. (2018). The Role of Mentoring, Coaching and Advising in Developing Leadership Identity. New Directions for Student Leadership, 158, 24-35.
Gott, T., Kliewer, B.W., Priest, K.L., & Tolar, M.H. (2018). The Path Forward: A Case for Openness in Leadership Studies. Journal of Leadership Studies, 12, 56-59.
Education
Ph.D. in political science, The University of Georgia
M.A. in political science, Virginia Polytechnic Institute and State University
B.A. in political science, Virginia Polytechnic Institute and State University
A.A. in military science and general education, Marion Military Institute
More about me
I volunteer with BikeWalkMHK, an organization that enables safe and equitable active transportation on Manhattan's streets, sidewalks and trails through education and advocacy programs. I also serve on the Kansas Leadership Center's Civic Engagement Advisory Committee. Imagining what is required to revitalize civic life in Kansas energizes my work.