Modern Languages Ambassadors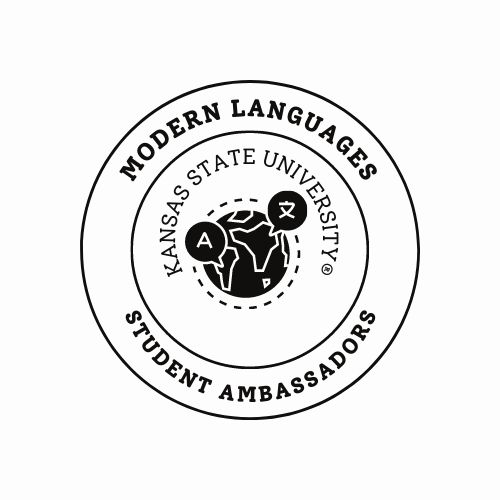 Meet our 2021-2022 Ambassadors!
Learn more about each one of our ambassadors here! They each have unique interests and they all represent a broad range of majors across K-State. Our ambassadors represent the department and each semester they visit MLANG classrooms in different languages to promote out programs!
Interested in becoming an MLANG Ambassador? Learn more here!
MLANG Ambassadors

are a small group of

enthusiastic

majors or minors - like yourself!- who represent our department at on-campus and off-campus recruitment events.

Modern Language Ambassador applications open soon! Students who are interested in becoming a Modern Languages Ambassador can fill out the form here.
There will be an informational meeting on September 23rd from 7 to 8 PM in Eisenhower Hall, room 125.
Applications are due by 5 PM on September 30th!

If you have any questions, contact Drs. Melinda Cro (macro@ksu.edu) or Angélique Courbou (angeli@ksu.edu)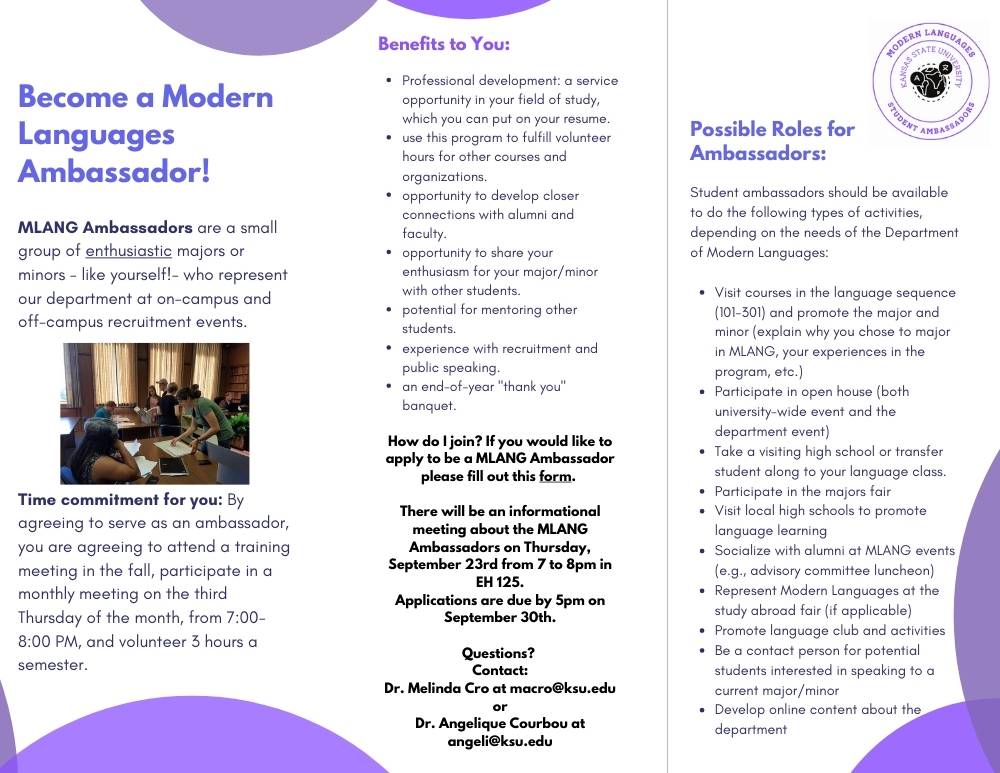 Benefits to you:
Professional development: a service opportunity in your field of study, which you can put on your resume.

use this program to fulfill volunteer hours for other courses and organizations.

opportunity to develop closer connections with alumni and faculty.

opportunity to share your enthusiasm for your major/minor with other students.

potential for mentoring other students.

experience with recruitment and public speaking.

an end-of-year "thank you" banquet.
Possible Roles for Ambassadors:
Student ambassadors should be available to do the following types of activities, depending on the needs of the Department of Modern Languages:

Visit courses in the language sequence (101-301) and promote the major and minor (explain why you chose to major in MLANG, your experiences in the program, etc.)

Participate in open house (both university-wide event and the department event)

Take a visiting high school or transfer student along to your language class.

Participate in the majors fair

Visit local high schools to promote language learning

Socialize with alumni at MLANG events (e.g., advisory committee luncheon)

Represent Modern Languages at the study abroad fair (if applicable)

Promote language club and activities

Be a contact person for potential students interested in speaking to a current major/minor

Develop online content about the department
Time commitment for you:
By agreeing to serve as an ambassador, you are agreeing to attend a training meeting in the fall, participate in a monthly meeting on the third Thursday of the month, from 7:00-8:00 PM, and volunteer 3 hours a semester.