Spring 2022 Events
Passport to the World event on April 27th, 5:15-7:15 p.m.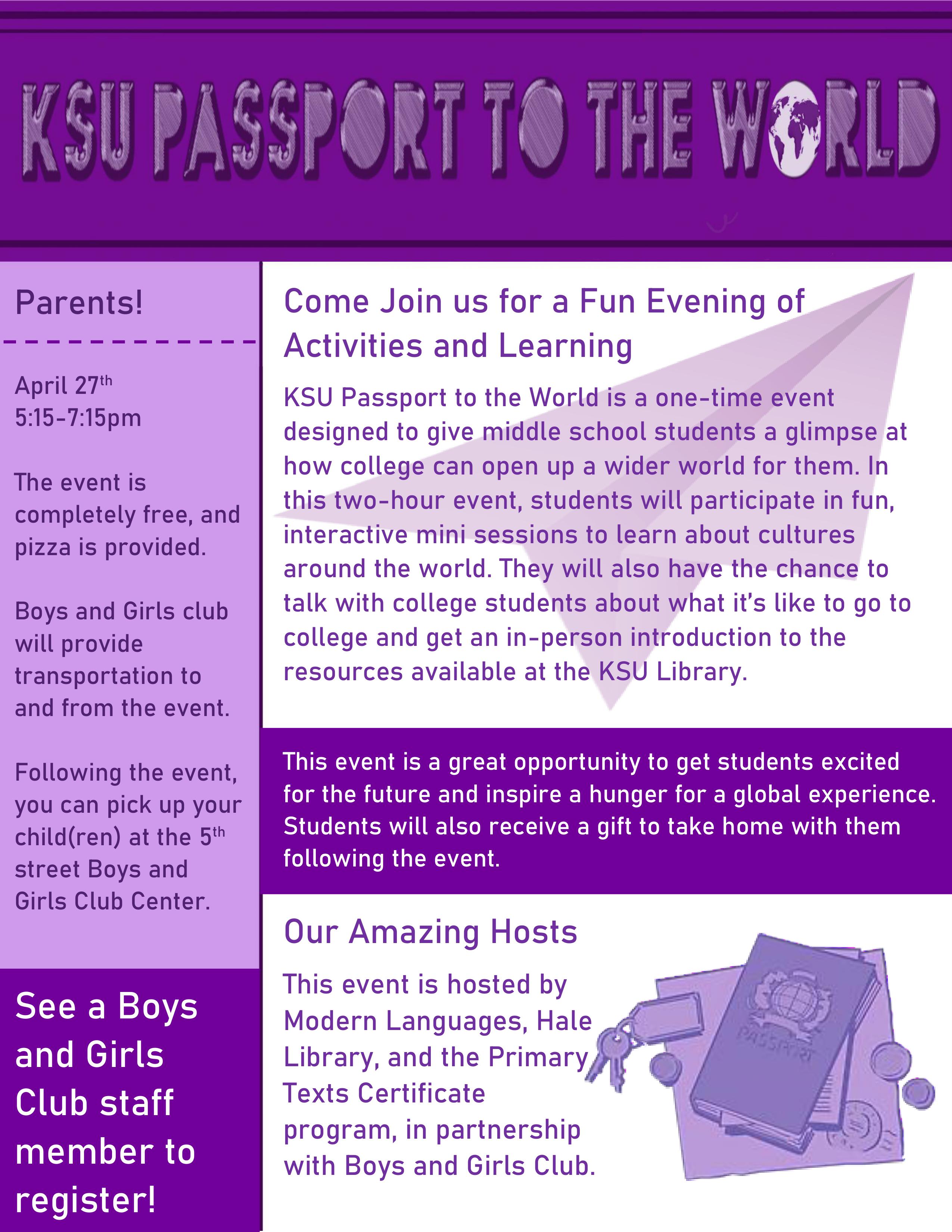 Are you curious to explore the world without leaving Manhattan? To discover new cultures through their languages, cuisine, music and books? Get ready to take off with K-State Passport to the World! This interactive event for 6th to 9th graders invites students to campus to meet faculty and students from K-State Modern Languages, Primary Texts and K-State Libraries to learn how K-State connects its students to a wider world. Participants will learn new songs, how to describe their feelings about music in another language, explore ancient graffiti, and participate in hands-on activities in the maker spaces of Hale Library. Join us on Wednesday, April 27 from 5:00-7:15 pm. We'll start things off with a global pizza party with K-State students to learn how they've explored the world through K-State, break into smaller groups to enjoy hands-on activities and engagement to create crafts projects that students will take with them, and K-State swag to take with you when you leave along with an atlas to continue your exploration of the world. If your child is interested in participating in the event, please register here. Also, please make sure that you have the waiver form completed. It can be scanned & emailed to modlang@ksu.edu or turned in on the day of the event..
Here is a map of campus detailing drop off and pick up areas.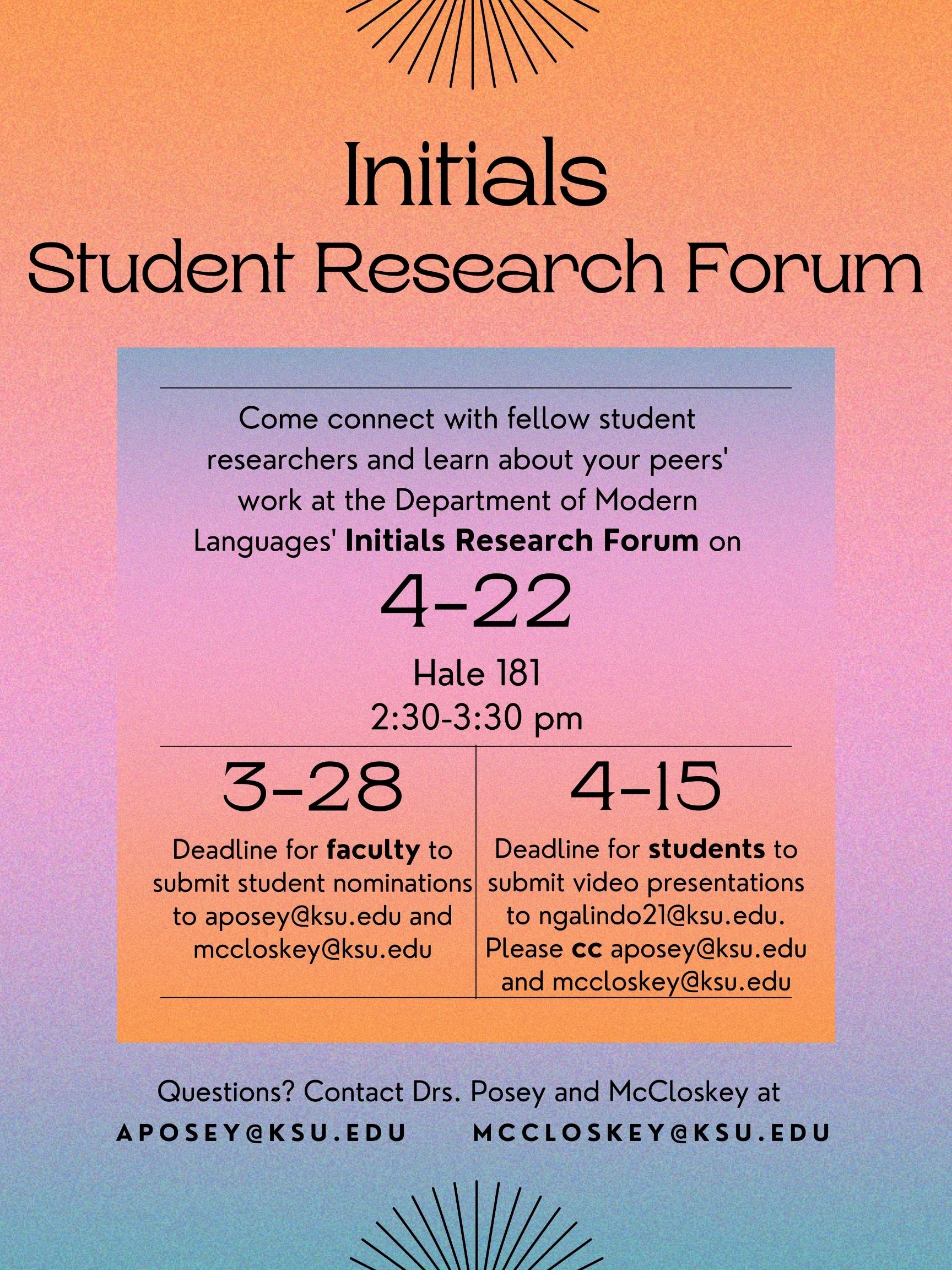 We want to extend our recognition and gratitude to all of our participants and the faculty members who nominated and supervised the academic projects that are showcased here. A conversation with the presenters to discuss their projects will be facilitated through the live roundtable on April 22.
Please watch our student researchers' videos, enter your questions by 5 pm on April 21, and come join us on Friday, April 22 in Hale 181 at 2:30 pm to hear their answers! Thank you for your interest! Check out our blog to learn more about our students' research!
K-State Theatre and K-State Department of Modern Languages are collaborating to celebrate the 400th birthday of famous French playwright Molière with an original adaption of his play "The Imaginary Invalid" or "Malade Imaginaire." The play will be presented at 7:30 p.m. April 21-23 and at 2:30 p.m. April 24 in the Mark A. Chapman Theatre in Nichols Hall. Read more about the play here.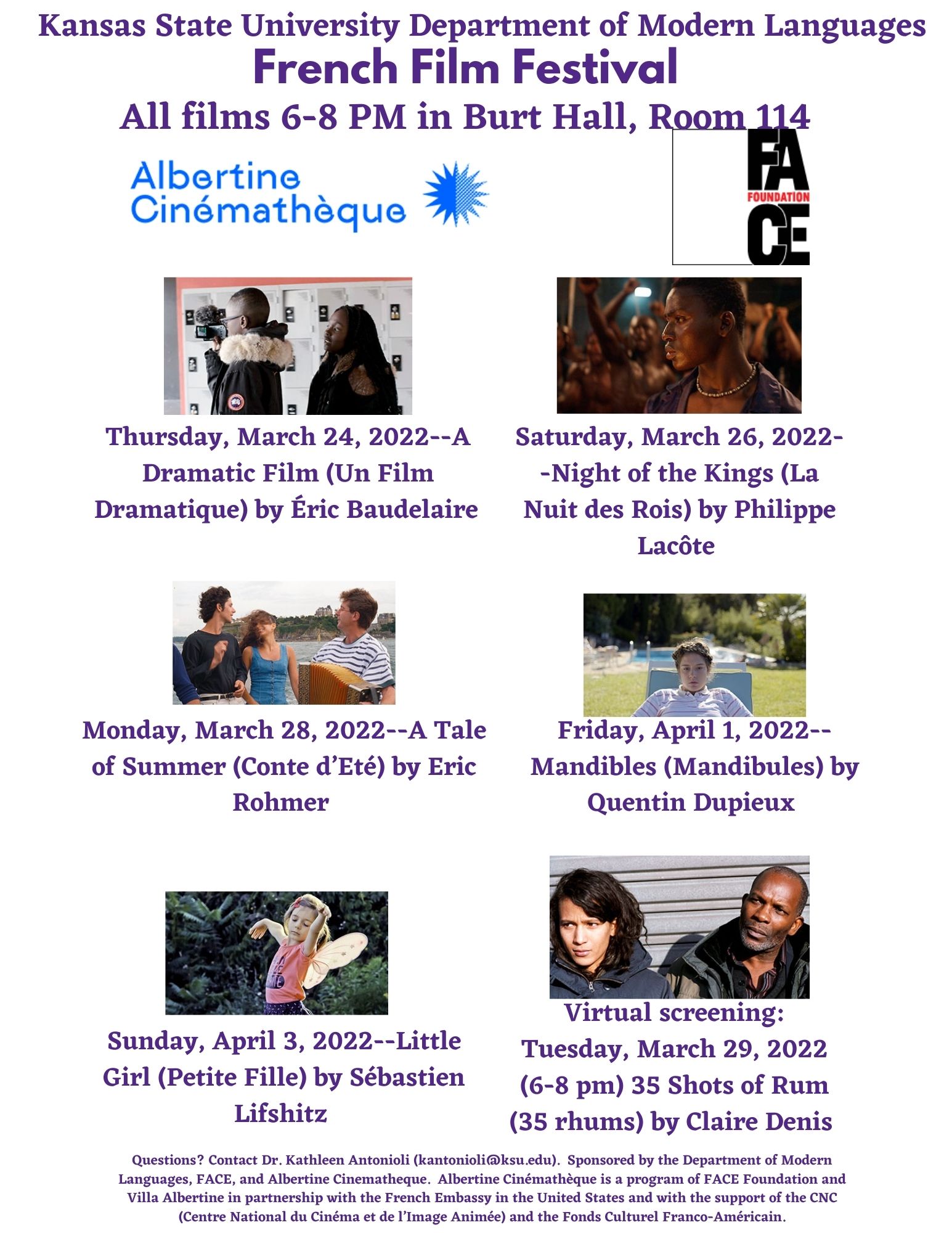 The Kansas State University Department of Modern Languages will sponsor the French Film Festival. These movies will be screened in Burt Hall from 6-8 pm in room 114. There will be a virtual screening on Tuesday, March 29th, 6-8 pm. We hope to see you there!
Language Conversation Tables - Eisenhower Hall, 2nd Floor Lounge
Interested in practicing your French, German, Spanish, or Japanese, in a relaxed, fun environment? Do you already speak these languages and want to come chat with Modern Languages students and faculty? Open to EVERYONE on campus who speaks these languages, not only students! Join us for informal conversations, coffee, and light snacks.
Japanese Table - Thursdays 4:30-5:30pm
French Table - Le Table Française: Fridays from 11am-12pm.
German Table - Kaffestunde: Fridays 12:30 PM- 1:30 PM
Spanish Table - Café Olé: Wednesdays 2:00 PM- 3:00 PM