Robert Gates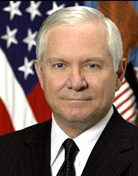 U.S. secretary of defense
"K-State's Landon Lecture Series has a long history of bringing the nation's top military leaders to campus, so we're pleased that Defense Secretary Gates will continue that tradition," said Charles Reagan, chair of the lecture series.
Recent Landon Lecture speakers from the Department of Defense have include the man Gates replaced, Donald Rumsfeld, and K-State alum Gen. Richard Myers, who went on to serve as chairman of the Joint Chiefs of Staff.
A Kansas native, Gates became secretary of defense Dec. 18, 2006, after serving as president of Texas A&M University since August 2002. He served as director of the CIA from 1991-93, and was assistant to the president and deputy national security adviser for President George H.W. Bush from 1989-1991.
Gates joined the CIA in 1966, serving nearly 27 years as an intelligence professional. His tenure at the CIA included nine years at the National Security Council where he served four presidents.
His many honors include the National Security Medal and the Presidential Citizens Medal. He is a two-time recipient of the National Intelligence Distinguished Service Medal and a three-time recipient of the CIA's highest award, the Distinguished Intelligence Medal.
Gates also is the author of the memoir "From the Shadows: The Ultimate Insiders Story of Five Presidents and How They Won the Cold War," which was published in 1996.
Gates earned his bachelor's degree from the College of William and Mary; a master's from Indiana University; and a doctorate in Russian and Soviet history from Georgetown University."
Robert Gates
Landon Lecture
Nov. 26, 2007