April 25, 2022
APDesign commemorates 70th anniversary of Frank Lloyd Wright's visit to K-State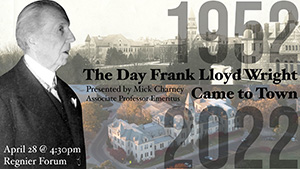 The College of Architecture, Planning & Design will commemorate the 70th anniversary of world-renowned architect Frank Lloyd Wright's visit to the K-State campus with a talk presented by W. Mick Charney, associate professor emeritus of architecture. This special lecture will take place at 4:30 p.m. Thursday, April 28, in Regnier Forum in Regnier Hall.
Within the annals of architecture, perhaps no other modern architect's name is better known to the general public than that of Frank Lloyd Wright. After serving an apprenticeship with the Chicago School architect Louis Sullivan, Wright opened his own independent practice in 1893. Sixty years later, he was still going strong. He was the originator and foremost practitioner of the prairie school-style of domestic architecture at the start of his career and then, in 1936, the architect of one of modern architecture's most iconic works, Fallingwater, the famed house built over a waterfall.
When Wright visited K-State in April 1952, he still had other groundbreaking commissions ahead of him, most notably the Guggenheim Museum in New York. Wright was both lionized and demonized by other architects and critics throughout his lifetime. He still proved to be that very same controversial figure when he spoke to K-Staters and Manhattanites.
Charney's talk, "The Day Frank Lloyd Wright Came to Town," will present the results of his research conducted intermittently over the last 20 years. Charney has learned why the master builder was invited to K-State, what Wright had to say about the town and the college when he arrived, where he went and what he did while in Manhattan, and how it was that he had a personal connection to Manhattan. The talk will also discuss events leading up to and following his visit, for Wright came to town in the midst of a critical period in the history of both the city and the college alike.
Charney's earliest scholarship on Wright dates back to his graduate student days when he was able to reattribute a long-lost Frank Lloyd Wright building, the W. Irving Clark house, back to that world-famous architect after years of dispute among scholars about its authenticity. Charney's scholarly record also includes more than 200 articles, essays, book contributions, book reviews and conference papers, as well as workshops, panel discussions, keynote addresses and other invited lectures delivered in venues that span the globe from Honolulu to Anchorage, from Vancouver to London, from Singapore to Germany. And through the years, he has served as a consultant to other historians, preservationists, architects, authors, editors, and publishers.
Charney taught architectural history and theory classes for 45 years, the last 34 years at K-State. He received his doctorate in art history from Northwestern University and had earlier earned both his Bachelor of Science and Master of Architecture from the University of Illinois, Urbana-Champaign. On six separate occasions, Charney has taught architecture seminars and design studios in semester study abroad programs in Tuscany.
Acknowledged for his teaching with numerous awards and citations, Charney was named a K-State's Coffman Chair for Distinguished Teaching Scholar in 2014. In 2010, Charney was designated an honorary Walt Disney Imagineer.