January 22, 2021
Ted Cable named park and recreation 'Legend'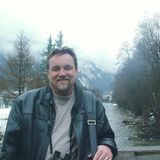 The American Academy for Park and Recreation Administration has named Ted Cable, professor emeritus of park management and conservation a "Legend" in the field of parks and recreation. The Legend Award recognizes distinguished practitioners and scholars who have made significant contributions to the advancement of the park and recreation field.
The academy's Legends Program is the only visual history of individuals involved in parks, recreation and conservation efforts in the United States. Through one-on-one interviews, these Legends share stories about their contributions to the profession as well as their professional insights, advice and philosophical beliefs.
Over his long career, Cable authored 15 books and more than 250 articles, and he received numerous awards for teaching, advising, mentorship and scholarly activities. In naming Cable as a Legend, the academy noted "his humble and caring approach to education and research that strives for benefit of others over his own personal reward" and his "passion, enthusiasm, deep wealth of knowledge, and perhaps most importantly, his jovial and fun-loving approach to education which has made a profound impact on our profession."