Terrance Simien & The Zydeco Experience livestream show added to McCain Connected
Friday, Jan. 22, 2021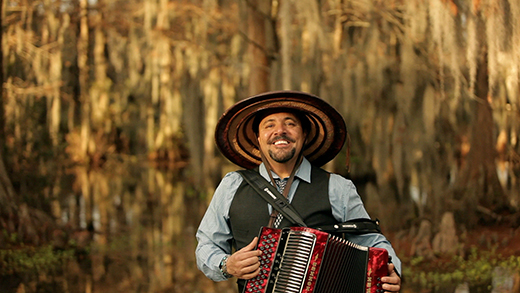 Catch the sounds of Creole country through a livestream performance of Terrance Simien & The Zydeco Experience offered through McCain Connected at 7:30 p.m. Saturday. Feb. 13. | Download this photo.
MANHATTAN — Mardi Gras in New Orleans may be on hold this year, but that's not stopping the McCain Connected series at Kansas State University from sharing the music and culture of Creole country through a livestream performance by Terrance Simien & The Zydeco Experience.

The performance by the two-time Grammy Award-winning artist and Zydeco icon Simien will be livestreamed at 7:30 p.m. CST Saturday, Feb. 13. Livestream single tickets are $15, or choose the $35 option to receive performance merchandise. Ticket buyers are granted 48-hour access to the stream in case they can't join the show live. All ticket sales will end 10 minutes into the performance. Tickets are available through Mandolin at https://boxoffice.mandolin.com/collections/terrance-simien?oid=25&affid=51. Tickets are not available through McCain Auditorium.

"McCain is proud to partner with Zydeco icon Terrance Simien to bring access to a special Mardi Gras livestream performance," said Todd Holmberg, McCain Auditorium director. "A portion of each ticket sold will benefit McCain Auditorium."

For 38 years, Simien, an eighth-generation Louisiana Creole, has been shattering the myths about what his indigenous Zydeco roots music is — and is not. Leading his Zydeco Experience bandmates – longtime members Danny Williams on keyboards, Stan Chambers on bass, Lance Ellis on saxophone and Curtis Watson on trumpet, and newest member Ian Molinaro-Thompson on drums — Simien has become one of the most respected and accomplished artists in American roots music today. He and his bandmates have performed over 9,000 concerts in more than 45 countries.

Follow Simien on social media at @ZydecoRocks.