October 21, 2020
Do you have a peroxide forming chemical? Check out the EHS list and other safety information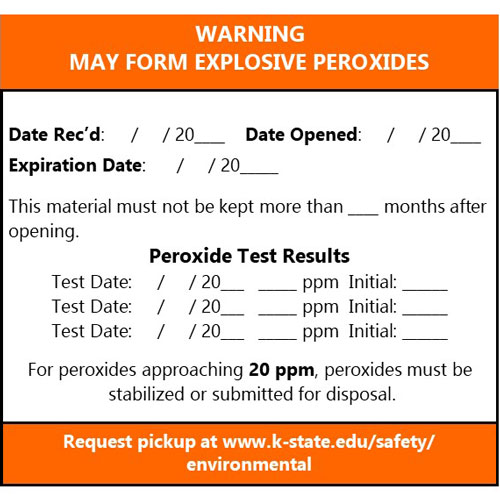 Do you have a peroxide forming chemical? You may not know by reading the Safety Data Sheet. The Safety Data Sheet may not say directly that it is a peroxide former and it may not give any indication in the storage information that your chemical may become unstable over time. See our list in the Lab Safety Manual.
Management of these chemicals is very important for safety and disposal reasons. Environmental Health and Safety continues to find old, abandoned peroxide formers that are dangerous and have high disposal costs. It is very important to turn in peroxide formers before they expire and if you're testing them, turn in before they reach 20ppm.
EHS has helpful management information in the Lab Safety Manual. The manual includes:
A list of peroxide forming, or potentially peroxide forming, chemicals. The list does not contain every chemical that can form peroxides.
Storage information — stored in sealed, airtight, light-resistant containers.
A container label to help you track important information: When testing, submit a Waste Pickup Request before it reaches 20 ppm. If it's over 20 ppm it may be dangerous and require a costly hazardous waste disposal process.
Safety information — inspect containers for increased viscosity, crystal formation, stratification and age before use as these signs indicate an elevated explosion risk.
Suspect containers — contact EHS at 785-532-5856 when you discover a suspect container, one of unknown age or that has evidence of peroxide formation, as listed above, do not open the container. Mark the container storage area or shelf with the words "Danger: Peroxide Hazard."
Disposal information: Submit a waste disposal request.
If you need assistance or have questions please call EHS at 785-532-5856 or email safety@k-state.edu.