September 9, 2019
First NCAA D1 transgender athlete to speak at K-State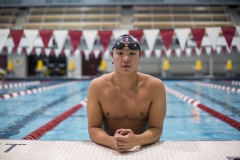 Schuyler Bailar, the first transgender athlete to compete on any NCAA Division 1 men's team, will speak at 7:30 p.m. Tuesday, Sept. 10, in the Wildcat Chamber in the K-State Student Union. His talk has inspired many to achieve their dreams while also finding comfort and grounding in who they are.
All K-Staters, friends and colleagues are invited to join for an uplifting and engaging evening.
Since being recruited for the Harvard men's swim team in 2015 as the first transgender athlete to compete on any NCAA D1 men's team, he has told his story across the country in more than 100 appearances, including on "The Ellen Show," "60 Minutes," at the CIA, the NCAA, as well as scores of conferences, companies and schools.
More information is available on his Tour Page and his Facebook Events page, a story on The Olympic Channel and his Wiki page.
Please register for the event through the Facebook links so we know how many to expect. This is part of his 2019 Graduation "Give-Back" Tour and the events are free and open to the public.
The event is sponsored by the K-State Gender Collective, a departmental student organization, and the LGBT Resource Center. Contact kstategendercollective@gmail.com for more information.
Photo: Schuyler Bailar by Sydney Claire Photography @sydneyclairephotography
(9/21)