May 17, 2019
Seven K-State professors teaching summer classes at Jilin University in China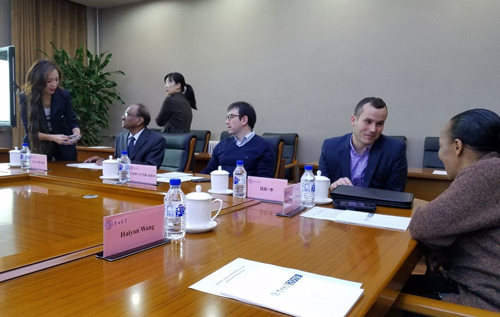 Starting this week, seven K-State professors from six different departments will teach three-week long summer courses at Jilin University, K-State's Chinese partner. This is part of the exchange and collaborative programs the Confucius Institute has been promoting between K-State and Chinese universities. Jilin University covers all expenses for participants in addition to paying a stipend.
The seven professors and their courses are Pablo Martinez Diente, assistant professor of modern languages, Spain Today; John Harrington, professor emeritus of geography, Climate and Climate Change; Chance Lee, assistant professor of leadership studies, Introduction to American Leadership Concepts; Nancy Muturi, professor of journalism and mass communication, International and Intercultural Public Relations; Bimal Paul, professor of geography, Disaster Management; Haiyan Wang, professor of statistics, Parallel Computing in R for Big Data; and Dean Zollman, university distinguished professor emeritus of physics, Visual Quantum Mechanics.
In addition to teaching, the K-State professors also will have a chance to meet their peers at Jilin University, present their research, and of course see the country.
"I wanted to teach a summer course at Jilin because I have visited the university before and was impressed by the quality of its faculty and students," Wang said. "In fact I know the students there are very good because Jilin is one of the top universities in northeast China. The course I am teaching is about a very new topic. I hope teaching it there can spark some interesting future collaborations."
Harrington said what motivated him to teach there includes a chance to share a message from an American about climate and the need for us to address ongoing climate change, an opportunity to travel to a part of the world that he had not been to before, and the possibility of developing collaborative research with a Jilin University faculty member.
Jilin University has been working with the University of Kentucky, Rutgers University, Queen's University in Canada and several British Universities on its international summer teaching program. This is the second time K-State is participating in the program.
In 2015, K-State established its Confucius Institute in partnership with Jilin.