May 7, 2019
K-State's chapter of Kappa Alpha Psi is the best in the Midwest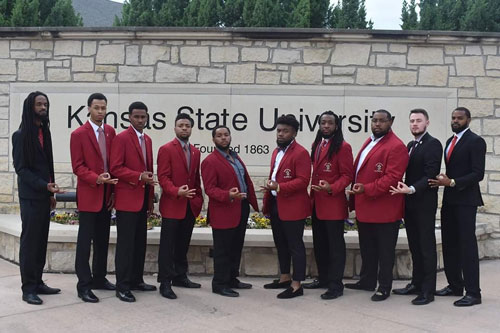 The Kappa Alpha Psi chapter at K-State is the best in the Midwest. The fraternity has received the 2018-2019 Midwest Provincial Chapter of the Year.
Kappa Alpha Psi Fraternity Inc. was founded at the University of Indiana in 1911 and is dedicated to the principles of achievement through a truly domestic fraternity. The Provincial Chapter of the Year award is the highest honor Kappa Alpha Psi gives to a chapter in its Midwest province, which includes Kansas, Oklahoma, Colorado, Missouri, Nebraska and part of Arkansas. The chapter is now eligible to compete for Kappa Alpha Psi's National Chapter of the Year award, which is awarded in July. Last time the chapter received such award was in 2013.
The fraternity has participated in many service events on the Kansas State University campus and in the Manhattan community throughout the year, which helped to earn the Provincial Chapter the Year honor. Members have hosted study sessions and school supply and toy drives, participated in community cleanups and provided mentoring at the Douglass Community Center and the Manhattan Boys and Girls Club, among other activities.
Members of Kappa Alpha Psi at Kansas State University include:
Marking Daniels, December 2018 graduate in social sciences, Coffeyville.
From Kansas City: Christopher Hullaby, senior in psychology; Aaron Moore, senior in civil engineering; and Stephen Taylor, December 2018 graduate in fine arts.
Lyndon Breckenridge, December 2018 graduate in finance, Wichita.
From out of state: Jonah Haas, senior in communication studies, Kansas City, Missouri; Leonard McFadden, junior in mechanical engineering, Omaha, Nebraska; Dan Harris, December 2018 graduate in sociology, and Samuel Wilson, December 2018 graduate in vocal performance, both from Fort Worth, Texas; Sequille Franklin, senior in sociology, Dallas, Texas; and Jared Sterling, junior in finance, Houston, Texas.