February 18, 2019
Minton, Wiley honored at Wallace Kidd Memorial Diversity Award Reception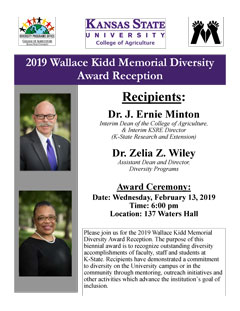 The K-State MANRRS chapter has awarded J. Ernie Minton, interim dean of the College of Agriculture and interim director of K-State Research and Extension, and Zelia Wiley, assistant dean and director for diversity, with the 2019 Wallace Kidd Award.
The purpose of this biennial award is to recognize outstanding diversity accomplishments of administrators, faculty, staff and students at Kansas State University. Recipients have demonstrated a commitment to diversity on campus or in the community through mentoring, outreach initiatives and other activities which advance the institution's goal of inclusion.
The award was established in memory of Wallace Ray Kidd. Kidd was a family man, community leader and the first African-American graduate from the entomology department. He set an example for everyone, students, adults, faculty, community, black and white. The award is truly a fitting commemoration of his legacy and commitment.
For more information about upcoming events or to collaborate with the College of Agriculture Diversity Programs Office, call 785-532-5793 or contact graduate assistant Lonnie Hobbs Jr. at lhobbs@k-state.edu or Wiley at zwiley@k-state.edu.