July 30, 2018
2018 graduate wins ARCC/King Student Medal for Excellence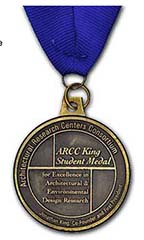 Abigail Reese, Springfield, Missouri, a 2018 graduate of interior architecture and product design in Kansas State University's College of Architecture, Planning & Design, or APDesign, received the prestigious ARCC/King Student Medal for Excellence in Architecture and Environmental Design Research.
Reese's master's project, "Prescription Housing," was submitted for consideration for the King medal award. Professors Vibhavari Jani and Ryadi Adityavarman, department of interior architecture and product design, submitted the winning nomination. In her project, Reese used an evidence-based approach to design "prescribed" transitional housing for the homeless in Phoenix, Arizona, addressing chronic health and wellness issues in the homeless community with an alternative to hospitalization.
The ARCC/King Student Medal for Excellence in Architecture is named in honor of the late Jonathan King, co-founder and first president of the Architectural Research Centers Consortium, or ARCC. The award is given to one student per member college. Selection is based on criteria that acknowledge innovation, integrity and scholarship in architectural and/or environmental design research. One student/project was nominated from each of the college disciplines. The 2018 King medal panel of reviewers included Thomas Bell, associate professor from K-State Libraries; Beth Montelone, senior associate vice president for research and professor of biology; Marcellus Caldas, assistant provost/associate professor, international programs.
After graduating, Reese started a career as an assistant interior designer/space planner for Burns & McDonnell — a full-service engineering, architecture, construction — environmental and consulting solutions firm, based in Kansas City, Missouri. The firm of 5,700 includes engineers, architects, construction professionals, planners, estimators, economists, technicians and scientists, representing virtually all design disciplines.