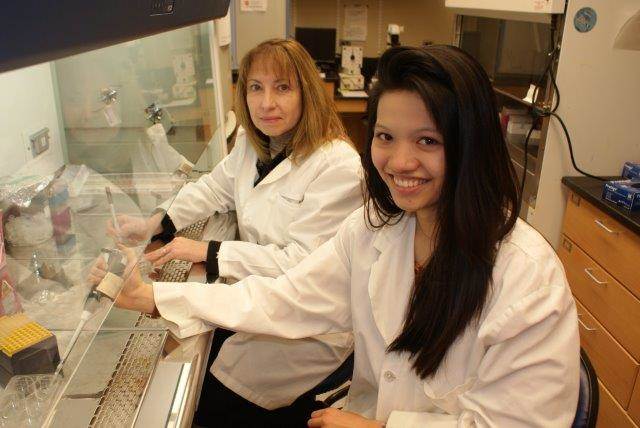 Kathlyn Gomendoza, Biology/Pre-Medicine, with research mentor, Dr. Lorena Passarelli, Professor of Biology. Kathlyn is a UHP student and participant in the prestigious Developing Scholars Program. She was recently recognized nationally as a 2017 Goldwater Honorable Mention.
Welcome
Are you intellectually curious? Do you enroll in challenging courses? Do you have lofty ambitions and career plans? If so, please consider applying for admission to the University Honors Program (Apply to join the UHP).
The University Honors Program, or the UHP, encourages academic, scholarly, and intellectual growth. Through honors course work, honors students learn from experienced faculty and talented peers, and, in so doing, they become members of a highly stimulating and diverse scholarly community. Through various selected co-curricular experiences--such as study abroad, undergraduate research, teaching assistantships, internships, and participation in learning communities --honors students enrich and refine their undergraduate experience and prepare themselves for graduate and professional school as well as for competitive professional employment.
Through individualized learning, such as via faculty-mentored honors projects, honors students tailor their studies to meet distinctive goals and produce tangible expressions of their scholarly interests and academic abilities. Naturally, honors students receive targeted benefits and privileges which are designed to facilitate engagement and maximize learning opportunities. In return, they work to meet a high standard for academic achievement, leadership, and service to others. We are very proud of our honors students and their accomplishments, and we welcome you to consider joining their number.
The University Honors Program Abroad
Honors Students in Italy
The UHP and KSU in Italy have partnered to offer an Honors study abroad option for the Summer of 2019. Students will have the opportunity to travel to Orvieto, a historic hill town in central Italy, and earn 6 hours of Honors credit by taking ANTH 399 and one other course option. For Application Deadline information, course options and cost estimates, please check out this informational flyer.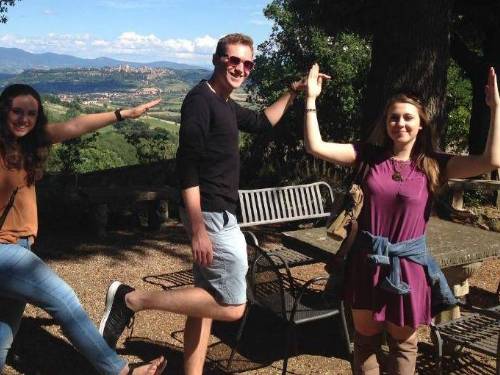 K-State Students demonstrate their school spirit while studying in Italy.
Honors Students in Ecuador
Earn up to six hours of Honors credit in Summer 2019 with Ecuador: Biology, Creative Writing, and Geography. This interdisciplinary program will underscore the vital importance of making connections between disciplines. Join Profs. Elizabeth Dodd, Martha Smith-Caldas, and Marcellus Caldas for this exciting opportunity from May 21 to June 3. Read more at Biology, Creative Writing, and Geography in Ecuador.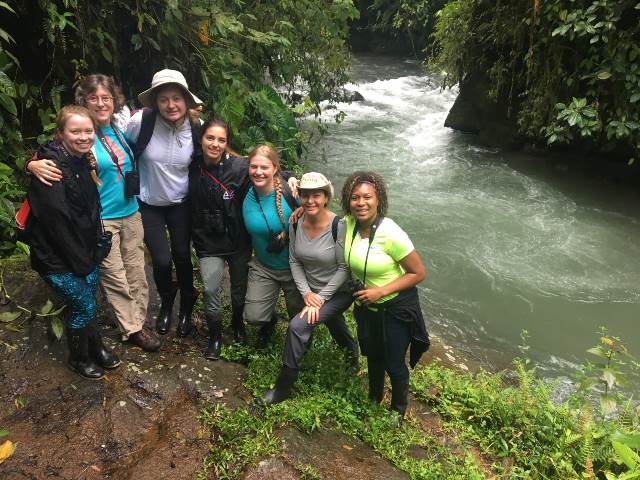 Students from the 2017 K-State Ecuador/Galápagos Study Abroad Program are pictured in the Maquipucuna Cloud Forest in Ecuador.
Non-UHP students can participate in both the KSU in Italy and Galapagos and Ecuador programs (so drafting friends into coming with you is encouraged).