News Archive
March 2022: The Civil War Weekend public outreach event at Virginia Tech was a success! It drew about 100 attendees who came to learn and interact with scholars, and some went on a field trip to Harpers Ferry. A new initiative to "teach the teachers" was launched. Ginette Aley spoke about her current project, "Land of Lincoln, Land of Women."
March 2022: The Russian Invasion of Ukraine - Roundtable Discussion: Discussing the history of events that lead up to the Russian-Ukrainian conflict and what to possibly expect next - Presented by the Security Studies program, along with the Departments of Political Science and History. If you missed it, check out the recording.
March 2022: Black Perspectives features graduate student Kenneth Smith's essay, "Tuskegee's Civilizing Mission": "This essay looks at how Tuskegee educators and supporters promoted Booker T. Washington's Hampton-Tuskegee model of education in Africa during the age of American and European imperialism from the Berlin Conference of 1884 until the opening of the Booker Washington Institute in Kakata, Liberia, in 1929. The push for a Tuskegee Institute in Liberia indicated a coordinated diasporic effort to mobilize resources and institutionalize Black uplift. In the current age of Black Lives Matter, understanding the diasporic history of Black peoples is important to understanding how African Americans and Africans connect with each other in an era of continued discrimination and exploitation." https://www.aaihs.org/tuskegees-civilizing-mission/
February 2022: The History Department congratulates doctoral student Billy Croslow, who has landed a position as Command Historian for the US Army Aviation Center of Excellence at Fort Rucker, Alabama. His main responsibility will be to teach military history to Army Aviation officers. Billy successfully passed his preliminary exams in Fall 2021, and is now in the process of researching and writing his dissertation that focuses on Japanese-American military service during World War II. It's looking like Billy has some busy, busy days in his immediate future. Congratulations, Billy Croslow!
January 2022: PhD student Hannah Palsa recently had a paper/presentation nominated for two awards by the Northeast Popular & American Culture Association (NEPCA) from their Fall 2021 conference. Hannah's presentation at the October 2021 conference was titled "Tommy and His Dog, Hurry: War Dog Children's Books, Films, and Cartoons of World War II." In the presentation, she spoke about how media produced for children in the form of cartoons, literature, and film taught children about Dogs for Defense, Inc. and why their dogs were valuable to the war effort. In examining children's literature, she also spoke about how books taught children about racism and patriotism through the use of fictional war dog platoons and their missions. This topic was based on a paper that Hannah wrote as a Masters student and her presented topic for the Kansas Military History Seminar at K-State in the Fall 2021. The topic was nominated for two prizes - the Carol Mitchell Prize and the Amos St. Germain Prize. Congratulations, Hannah!
January 2022: The History Department is proud to announce that Dr. Ginette Aley has been invited as a speaker at the Civil War Weekend held at Virginia Tech in March 2022. She will speak on a panel of former Prof. James Robertson's students and on her work on Lincoln and Midwestern home front women. More information about the event is HERE.
OLDER POSTS:
2021 Posts
October 2021: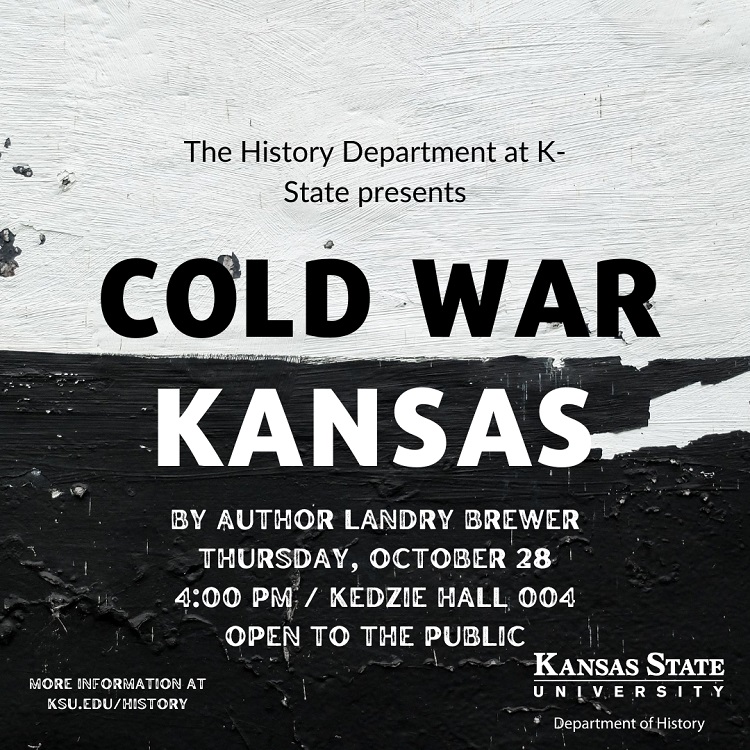 ________________________________
September 2021: Dr. Oweidat participated in a virtual event hosted by the Wilson Center on Thursday, September 9, commemorating 9/11 and the 20th anniversary. Watch the video recording HERE.
________________________________
July 2021: Congratulations to Assistant Professor Nadia Oweidat on being named on the list of 2021/2022 Wilson Center Fellows! Dr. Oweidat was picked as one of only 21 others to continue her research while in residence at the Wilson Center in Washington, D.C. during the Fall 2021 and Spring 2022 semesters. For more information, click HERE.
________________________________
July 2021: The Department wishes to congratulate recent PhD graduate Dr. Scott Moseman on accepting a position of Assistant Professor at the Command and General Staff College (at the U.S. Army Training and Doctrine Command) at Fort Leavenworth. He will work for the Department of Joint, Interagency and Multinational Operations, using 20 years of experience in the navy to teach staff groups of senior Army captains and junior majors. Congratulations Dr. Moseman!
________________________________
June 2021: The Department of History congratulates the Fall 2020 and Spring 2021 graduates in History and Security Studies, both undergraduate and graduate. See the full list HERE.
________________________________
June 2021: The History Department recognizes Professor Marsha Frey, who will retire after the Spring 2021 semester, for her forty-eight years of service. Professor Frey specializes in the history of early modern Europe, with expertise in European diplomacy. In collaboration with her sister, fellow historian Professor Linda Frey, Professor Frey published fourteen books and more than 100 articles and book chapters. Their works have been translated into Spanish, French, Dutch, and Hungarian. She also established herself as a committed and dedicated teacher whose courses on European history inspired many generations of students in her nearly five decades at Kansas State University. Read more about Professor Frey's career in the History Department's e-newsletter, Historical Archives & Events, HERE.
The History Department also recognizes Professor Mark Parillo, who will retire after the Spring 2021 semester, for his twenty-nine years of service. Professor Parillo specializes in US military history, with particular expertise warfare in the industrial age with a special focus on World War II. His scholarship has explored many aspects of World War II, while his commitment to teaching has influenced a generation of undergraduate and graduate students that have come through our program since he joined the faculty in 1992. Read more about Professor Parillo's career in the History Department's e-newsletter, Historical Archives & Events, HERE.
________________________________
June 2021: An MA alumni and a current PhD student are presenting at the upcoming World War II Emerging Scholars Symposium. Hannah Palsa will present on Monday, June 1 and MA alumni Jorden Pitt (2019) will present on Tuesday, June 2. Congratulations to you both!
________________________
May/June 2021: PhD student Hannah Palsa has published a new article, called "Topper's GI Benefits, Good Homes, and Vivisection Fears: The Treatment of World War II War Dog Veterans" in the peer-reviewed historical blog Nursing Clio. To read the full article, click HERE. Congratulations on the published article, Hannah!
________________________
May 2021: The History Department congratulates the undergraduate scholarship recipients for the 2021-2022 academic year! Click HERE to see the full list of winners.
________________________
May 2021: The History Department congratulates the graduate student award recipients for 2021! Click HERE to see the full list of recipients.
________________________
May 2021: Congratulations to Ashton Hess, majoring in both History and Geography, for being awarded the Dean of Student Life Outstanding Graduating Senior Award! Read more about the award from the K-State Today article HERE.
________________________
April 2021: Bob Linder passed away April 4, 2021
Memorial contributions may be made to the Kansas State University Foundation Robert D. Linder History Scholarship.
The funeral home has published a very nice and very thorough obituary as well: http://www.ymlfuneralhome.com/obituary/6682
Here is the original notice of Bob's passing.
____________________________
April 2021 Parrish Lecture - "Neolithic to New World: Global Histories of Plague" - Dr. Monica H. Green
The History Department held the 2021 Parrish Lecture April 13, from 7:00 - 8:30 PM via Zoom, featuring independent historian Dr. Monica H. Green talking about global histories of plague. The recording link is available on the Parrish Lecture page.
____________________________
February 2021: Statement in Support of the University Press of Kansas
The Department of History at Kansas State University issues this statement in support of the University Press of Kansas. Closure of the press or significant cuts to its operating budget would be a devastating blow to public education in the state. The press plays a critical role in disseminating research on Kansas and is deeply respected in academic publishing circles for its record of publishing excellent scholarship on military history, Presidential history, Civil War history, environmental history, and the history of Indigenous peoples. It is our responsibility as educators, public intellectuals, and authors to produce scholarship in these fields, particularly at a time when critical examinations of history are so essential to a functioning civil society. We often assign UPK books in our undergraduate and graduate courses, and students at KSU--whether history majors or not--directly benefit from its continued existence.
UPK's potential closure would significantly undermine our ability, and that of our colleagues, to assign and publish work that contributes to both the scholarly canon and Kansans' knowledge of their own diverse history and culture. If UPK is not publishing this scholarship, who will?
A selected list of books by current or former department members, published or under contract with UPK, includes:
The Russian Army in the Great War: The Eastern Front, 1914-1917 (Modern War Studies) by David Stone (2015)
Fighting Foreclosure: The Blaisdell Case, the Contract Clause, and the Great Depression by Derek S. Hoff and John A. Fliter (2012)
John Brown to Bob Dole: Movers and Shakers in Kansas History edited by Virgil W. Dean (2010)
Red Earth: Race and Agriculture in Oklahoma Territory by Bonnie Lynn-Sherow (2004)
Watering the Valley: Development along the High Plains Arkansas River, 1870-1950 by James Sherow (1991)
Kansas Governors by Homer E. Socolofsky (1990)
The Presidency of Benjamin Harrison by Homer E. Socolofsky and Allan B. Spetter (1987)
American Crossroad: Kansans and their Histories by Kristen Epps and Jim Leiker (under contract)
The Press' mission is intimately tied to the success of public education in the Sunflower State. We ask the Board of Trustees of the Press to consider how to fully support UPK and ensure its survival.
Respectfully,
The Department of History
Kansas State University
Manhattan, Kansas
2020 Posts
November 2020: Dr. Mike Hankins defended his dissertation at K-State in Spring 2018 and is now working at the Smithsonian's National Air and Space Museum in Washington DC. He recently sent word that he has signed a contract with Cornell University Press for the book based on his dissertation. Now it's officially "forthcoming." We congratulate Dr. Hankins on this fine accomplishment!
________________________________
October 2020: Nadia Oweidat, assistant professor and expert in the history of Islam, was awarded a Discourse Initiative Research Grant for the amount of $15,000 from the Institute for Humane Studies. The grant will support her efforts to complete her first book, "Reform and Its Perils in Contemporary Islam: The Case of Nasr Hamid Abu Zayd." Learn more HERE. Congratulations, Dr. Oweidat!
________________________________
Dr. Daniel T. Gresham, who earned his PhD in Spring 2019, has published a new article in the journal Agricultural History on the Farmer's Independence Council. This article explores the ideology of the leaders of the Farmers' Independence Council of America (FIC) in order to understand why they created a conservative front group. Read and download the full JSTOR article here: https://www.jstor.org/stable/10.3098/ah.2021.095.1.104
________________________________
Congratulations to Dr. Phil Tiemeyer, as his research was cited in the documents of the recent Supreme Court case that outlawed workplace discrimination against transgender, as well as lesbian, gay, and bisexual citizens.
____________________________
The Department of History would like to congratulate PhD student Scott Moseman for his most recent published article. The Journal of Intelligence History published Moseman's article "Truman and the Formation of the Central Intelligence Agency". Moseman wrote this paper for Dr. Mrozek's HIST928 seminar "United States 1945-1960" three years ago. It's an e-print, so there are 50 free reads before it goes to an abstract page.
https://www.tandfonline.com/eprint/BZMIZJRYHJ4JVVVAWYAK/full?target=10.1080/16161262.2020.1774233
Congratulations on the publication, Scott!
________________________________
The Department of History would like to officially announce the hiring of Associate Professor Kristen Epps, an historian of slavery, the sectional conflict, and the Civil War in the West. She will also serve as Managing Editor of Kansas History: A Journal of the Central Plains. Her first book, Slavery on the Periphery: The Kansas-Missouri Border in the Antebellum and Civil War Eras, was published in 2016 by the University of Georgia Press as part of the Early American Places series. Kristen earned her Ph.D. at the University of Kansas in 2010, where she received the Marnie and Bill Argersinger Graduate School Award, awarded to the best dissertation across the university. She completed her master's degree at The College of William and Mary and her bachelor's degree at William Jewell College. She has taught at the University of Central Arkansas, Colorado State University-Pueblo, and the University of Kansas. She has also held positions at the Kansas Historical Society, The Journal of the Civil War Era, and the Omohundro Institute of Early American History and Culture. More information about her work can be found at https://www.kristenepps.com/. She can be reached via email at kkepps@ksu.edu. Welcome to K-State, Dr. Epps!
________________________________
Congratulations to our undergraduate scholarship recipients and to our graduate award winners! We will miss celebrating you in-person as we usually do this year, but we still want to acknowledge your hard work and dedication to your chosen studies.
________________________________
We congratulate PhD student Hannah Palsa as she was a recent guest speaker in a new podcast, speaking about her research into the use of animals in wartime. Listen to the audio of the podcast HERE.
________________________________
Congratulations to Heather McCrea! She has been selected as the Department of History's new Kenneth S. Davis Professor of History. The Kenneth S. Davis Professorship is supported by an endowment established by the late Kenneth Davis (1912-1999). A Kansas native and 1934 graduate of Kansas State College, Davis became an award-winning historian whose biographies of Franklin Delano Roosevelt, Charles Lindbergh, Adlai Stevenson, and Dwight Eisenhower earned wide acclaim. He created the endowment to recognize a faculty member of KSU's History Department who has compiled an overall record of professional excellence while demonstrating special success in teaching. In her fourteen years at Kansas State University, Heather McCrea has compiled just such a record. Her expansive involvement in both undergraduate and graduate education has entailed teaching courses that encompass many different geographies, cultures, and peoples from the ancient times through the modern era. Professor McCrea has enjoyed considerable success in inspiring her students' interest by using innovative and interdisciplinary teaching strategies, which incorporate active learning methodologies that often integrate her own ongoing historical research into participatory activities. It is a record befitting of Kenneth Davis' wishes that the person holding this chair "show an appreciation of the 'connectedness' of human experience, have a sense of the world that is comprehensive and broad, and display and imaginative gift devoted in substantial part to teaching." In earning this honor, Heather McCrea succeeds the late Al Hamscher, who was named the first Kenneth S. Davis Professor of History in 2008 and held the chair until his death in 2019.
________________________________
Charles W. Sanders Jr., associate professor of history, will retire on May 17 after 20 years of teaching, research and service to the department. He taught many American history courses and had a talent for making history come alive. Read the full article HERE.
James Sherow, university distinguished professor of history, will retire June 9. Sherow has spent the last 28 years at Kansas State University, teaching Environmental History and Kansas History, his signature course, among others. Read the full article HERE.
________________________________
On this day in the History Department history: 2 years ago, May 4, 2018, we celebrated the retirement of Dr. Robert Linder, after 53 years of influential teaching for the Department, with the planting of a tree right next to Hale Library's ground floor entrance. If you missed the ceremony, or want to relive that special day (and see Hale Library pre-fire) then take half an hour and watch the recording of the ceremony HERE.
________________________________
Congratulations to Dr. Benjamin McCloskey (modern languages and history appointments) and Dr. Mary Elizabeth Walters on winning a Faculty Enhancement Grant for 2021! View the full article in K-State Today.
________________________________
Congratulations to Mary Elizabeth Walters on her new podcast! "Humanitarian Ops: Opportunities, Challenges and Pitfalls" is now available for download and online listening HERE. The podcast discusses the question "When should the United States execute humanitarian operations and what questions should be asked and answered before it begins?"
________________________________
Congratulations to Dr. Mary Elizabeth Walters on a new article published in the Marine Corps History journal, entitled "Tree Hugging Work: The Shifting Attitudes and Practices of the U.S. Marine Corps Toward Peace Operations in the 1990s". Check out the full article (scroll to pg. 54) and the rest of the journal issue HERE.
Violent Death: Homicide in Global Perspective
Presenter Philip Dwyer, Visiting Fulbright Scholar & Professor of History, University of Newcastle, Australia
This talk looks at two interrelated questions. First, why do homicide rates vary so dramatically from one country to another over time? And second, why have homicide rates remained relatively high in the United States in comparison to the rest of the Western world?
Join us Tuesday, November 12, from 3:30 - 5:00PM in the K-State Student Union, Room 207, to explore the answers to these questions.
Sponsored by:Fulbright Australia, Oz to Oz Australian Initiative, Office of International Programs, Office of the Provost and Executive Vice President, College of Arts and Sciences, Department of History
________________________________
History Club RELAUNCH!
Want to meet other History majors? Get to know History professors? Think about historical topics that come up in the news, on TV, and in the movies? History Club is there for you! The group has been inactive this semester, but we're going to change that! Join us for a brief brainstorming meeting on Tuesday, Nov. 12 at 3 pm near the fireplace in the Union (main floor). We'll gather ideas about activities people think would be fun for the rest of the semester and for the spring.
And for those who want an immediate dose of history, we can then go to the talk that is sponsored by the History Department. Details listed above.
________________________________
View our Spring/Summer 2019 newsletter.
Featuring:
Prof. Al Hamscher Memorium, new faculty members, faculty retirements
Faculty/staff awards and honors
Alumni spotlight
Recent publications
Kansas Association of Historians annual meeting
And so much more!
_____________________________________
New Job Opening: An Assistant/Associate professor of History position has just opened, to start in the Fall 2020. Apply today, or share with your colleagues in the field. Apply by October 31 for top consideration. View the position description and application: https://careers.k-state.edu/cw/en-us/job/508200/assistant-associate-professor-history
________________________________
The Department of History is very saddened to share that our friend and colleague Professor Al Hamscher passed away on June 6, 2019 after a short battle with cancer. A native of Philadelphia, Professor Hamscher had been a member of the History Department since 1972. Contact the History Department office at 785-532-6730 for condolence information. Memorial contributions in Professor Hamscher's memory may be made to either the T. Russell Reitz Animal Shelter (https://cityofmhk.com/288/Adopt-a-Pet) or the Kansas State University Foundation for the Florence Hamscher Fund (https://www.k-state.edu/history/alumni/donations.html).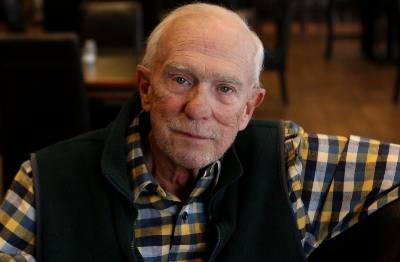 _____________________________________
The History Department congratulates undergraduate scholarship winners and graduate award recipients for the 2019-2020 academic year. To view the pictures of our Scholarship and Award Ceremony held on May 17 in Calvin Hall, visit our Facebook page.
_____________________________________
The KSU Department of History is delighted to announce the hiring of Mary Elizabeth Walters (PhD forthcoming from University of North Carolina). She's a US military historian who specializes in humanitarian interventions with a particular emphasis on the 1999 Kosovo Refugee Crisis in Albania. Professor Walters currently has a fellowship at the University of Texas' Clements Center for National Security. You can learn more about her and her scholarship by clicking HERE.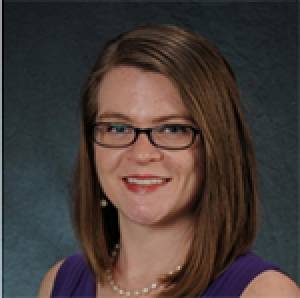 _____________________________
The History Department congratulates undergraduate scholarship winners and graduate award recipients for the 2019-2020 academic year. To view the pictures of our Scholarship and Award Ceremony held on May 17 in Calvin Hall, visit our Facebook page.
_____________________________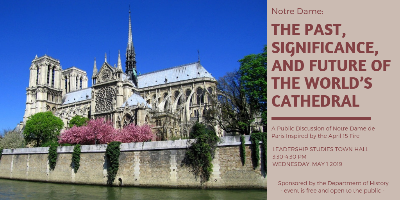 _____________________________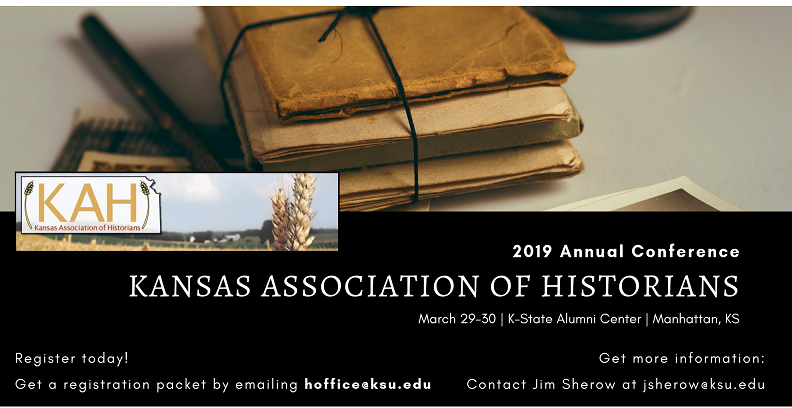 Dr. Charles Sanders, Associate Professor in History, was named Professor of the Week! The recognition is coordinated by Faculty Senate, the president's office, K-State Athletics and the Division of Communications and Marketing. Read more about Dr. Sanders and the nomination HERE.
_____________________________
The History Department would like to warmly congratulate our fantastic academic advisor, Kathy Lillich, on winning the William L. Stamey Award for Advising! Kathy will be honored at the Fall 2018 KSU Arts and Sciences graduate ceremonies on Saturday, December 08, in recognition of the award. Congratulations on all your hard work, Kathy!
You can read more about the award and other awardees HERE
_____________________________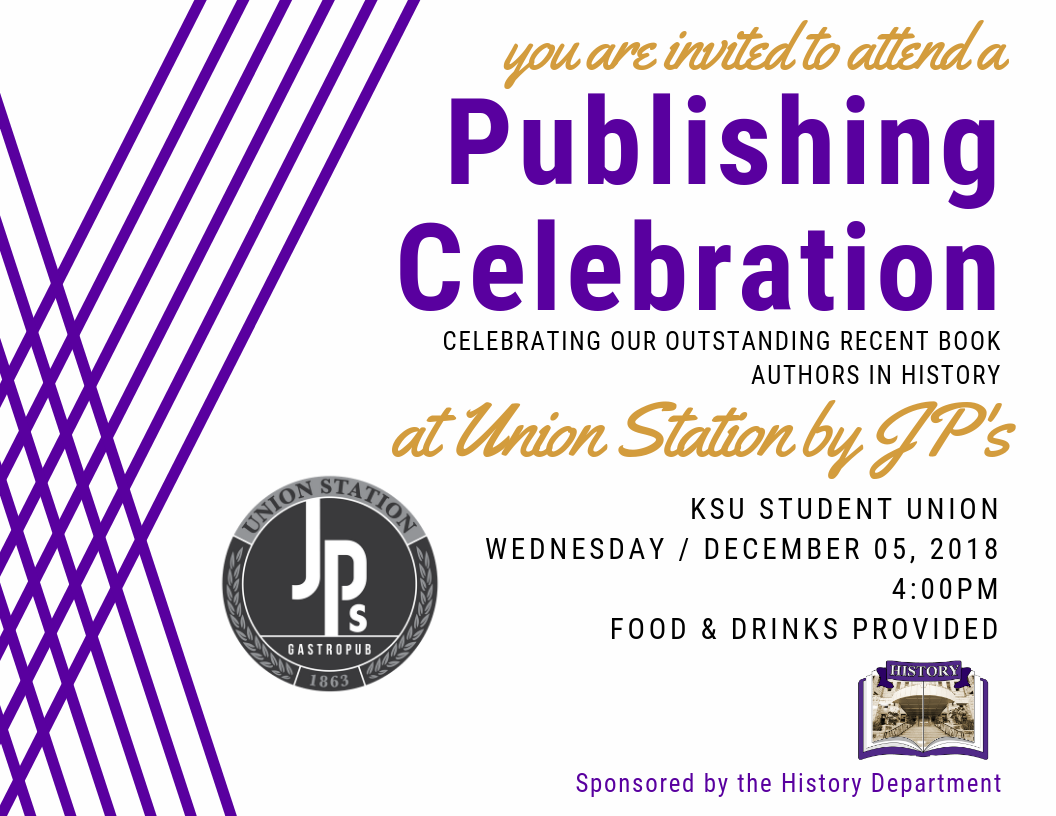 _____________________________
Two of our own History faculty present research at June NOAA workshop. Jim Sherow and Bonnie Lynn-Sherow shared their research related to community members' responses to drought in the American West. You can read the full article in K-State Today, linked HERE.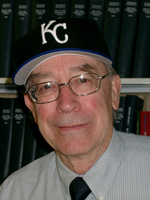 On May 4, 2018, the History Department held a tree planting and retirement reception for Dr. Robert Linder, a University Distinguished Professor, who retired in Spring 2018 after starting in 1965 - 53 years of continuous service to the History Department. The reception was well-attended; if you missed the reception, please feel free to take half an hour to watch the video. Congratulations, Dr. Linder, on your retirement!
The video can be viewed HERE.
___________________________________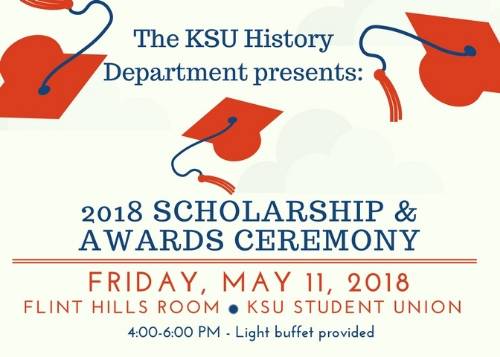 ___________________________________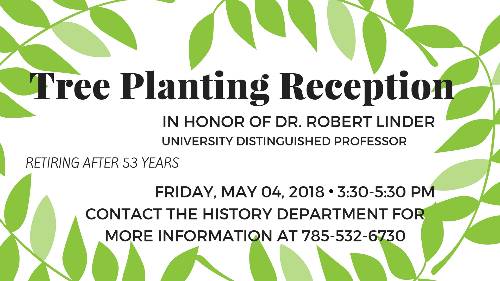 ___________________________________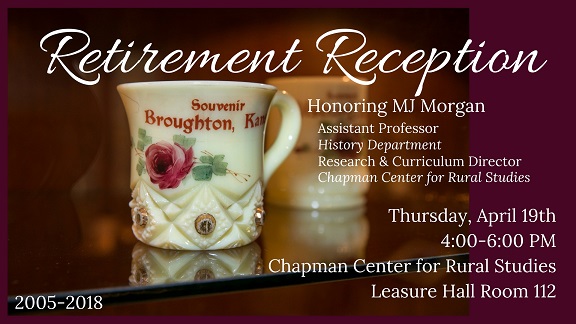 ___________________________________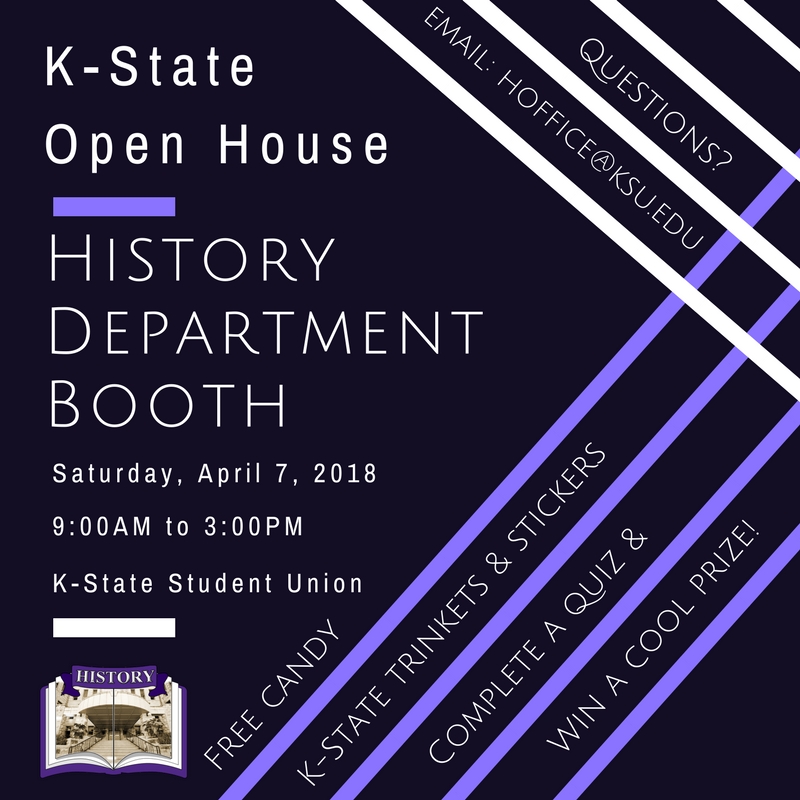 ___________________________________
April 03, 2018: Our very own Bonnie Lynn-Sherow was quoted in an article for the Kansas City Star! The article, "Only 17 Kansas counties have grown in this decade. What does this mean for the state?" is about changing growth patterns in Kansas counties. Check out the full article here.
___________________________________
Congratulations to Robin Ottoson, who successfully defended her PhD dissertation on Friday, March 9, 2018. We are proud of you, Robin!
___________________________________
"Politics of the Pantry: Housewives, Food, and Consumer Politics in 20th Century America"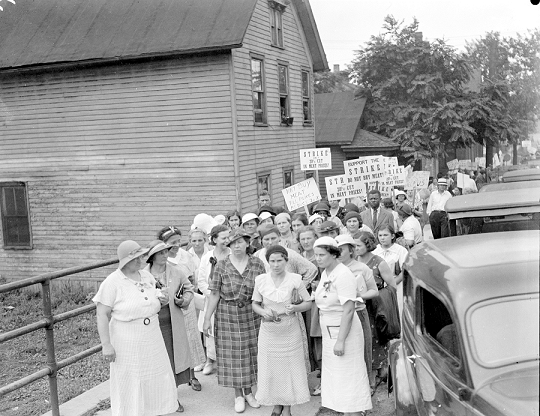 Talk hosted by Emily E. LB. Twarog, PhD, Assistant Professor at the University of Illinois at Urbana-Champaign.
Wednesday, January 31, 2018 from 1:30-3:00 PM
Hemisphere Room, Hale Library, 5th floor
A Diversity Lecture Series Event sponsored by the Department of History & the Consumer Movement Archives at K-State.
Everyone welcome!
______________________________________
On November 30, 2017, The History Department hosted Dr. Michael Poliakoff, President of ACTA, to come and speak on the freedom of speech in ancient Athens. Dr. Poliakoff was well received, and his speech was well attended. He was in town for two days, and in that time met with various professors, students, and members of the community. If you missed his talk, below is a recording of it for your pleasure. Please feel free to share this lecture with your students and staff. The History Department wishes to thank Professor Marsha Frey for coordinating the visit, the Fred C and Mary R Koch Foundation and the Kansas Association of Scholars for their joint sponsorship of Dr. Poliakoff's visit.
To view the video recording (YouTube), click HERE.
Please join us in celebrating one year in Calvin Hall!
Dean Amit Chakrabarti and the College of Arts and Sciences cordially invite you to the
Dean's Holiday Open House
Thursday, December 7, from 11:00 AM to 2:00 PM
Calvin Hall, third floor reception area
Take a break from studying, see our new space, and enjoy warm beverages and comfort food, courtesy of the Dean. Also enter to win an Arts and Sciences Prize Basket!
__________________________________
Lecture: "Athens and Beyond: Freedom of Speech, Freedom of the Intellectual"
Lecture presented by Professor Michael Poliakoff, President of ACTA and renowned classicist
Join us on Thursday, November 30, 2017
Calvin 208 at 8:00 AM
For more information, contact Marsha Frey (host): mfrey@ksu.edu
Sponsored by the Fred C and Mary R Koch Foundation, the History Department and the Kansas Association of Scholars
__________________________________
Fall 2017 - The History Department would officially like to congratulate Brad Galka and Katherine Goerl on achieving their Masters in History. Good job, Brad and Katherine!
__________________________________
History Club goes to the Museum!
Join Professors Maner and McCrea for a talk and tour of the exhibit Borderlands in History and Art, at the Beach Museum of Art. Professor McCrea will give a brief talk about why historians are so interested in borderlands and frontiers. Then we'll tour the current exhibit and explore the perspectives that history and art offer.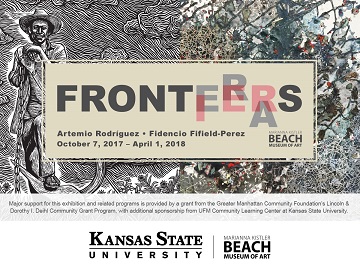 Meet at the Museum on Tuesday, November 28, 2017 at 3:30 PM for a fun and educational afternoon!
Contact Brent Maner at maner@ksu.edu for more information.
__________________________________
The Department of History will be CLOSED in observance of the Thanksgiving holiday Wednesday, November 22 to Friday, November 24. We will reopen for normal business on Monday, November 27, 2017.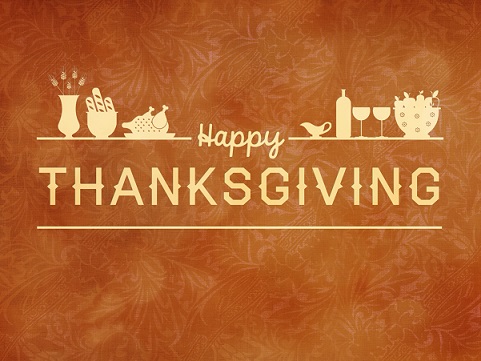 __________________________________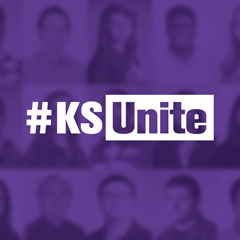 All students, faculty and staff are encouraged to unite together to reaffirm who we are, what we value and what we stand for as the K-State family.
Tuesday, Nov. 14, 2017
1-1:30 p.m. - Walk to Anderson Hall lawn
1:30 p.m. - Reaffirm our values with university and community leaders during the KSUnite program
Join conversations about inclusive education, reflection and action in the K-State Student Union following the program
Everyone is encouraged to wear purple. The event will take place rain or shine.
Students, faculty and staff may walk from their own buildings/locations to Anderson Hall lawn or may choose to walk from one of the following designated meeting points on campus:
College of Business Building (south door)
Derby Dining Center (south door entrance near Derby Bakery)
Dole Hall (east door)
Kramer Dining Center (Wefald Hall main entrance)
K-State Student Union (ground floor courtyard)
Nichols Hall (north door)
__________________________________
Enrollment time has come again! Enrollment for the Spring 2018 term began October 23, 2017.
To look at History courses for the spring, view our Course Schedule. Please note that these classes are still subject to change. You may use the course schedule for planning purposes but have a backup in mind.
For advising appointments, either with Kathy Lillich or your faculty advisor, please contact the History main office at (785) 532-6730 to schedule an appointment. History students may also schedule an appointment with Kathy Lillich through the Student Success Collaborative (SSC) website; after login, follow the advising links to Kathy's calendar, choose a date and time, and book the appointment.
Two things to keep in mind:
Please DO NOT email Kathy directly regarding an advising appointment, as you will not receive a timely answer. Either call the History Office or use the Student Success Collaborative to set up your own appointment.
Please DO NOT schedule your appointment

any more than one week before

your enrollment period begins; your enrollment date can be found in your personal Student Center in KSIS.
__________________________________
Hey History lovers! Check out our new e-newsletter post!
Historical Archives & Events is our re-imagined collection of History events and Department news that we can't wait to share with our friends! Over the next few months we will be updating the look of the e-newsletter and adding fresh content that we hope is relevant and fun.
If you have an event coming up that you would like to share, or a spotlight on a student, faculty member, or historical figure you want to share, let us know by emailing us. Until next time, please enjoy the Spotlight on Graduate Teaching Assistant Brad Galka!
-History Department
__________________________________
Dear Majors and Minors,

Are you wondering about what happens after graduation? Would you like to avoid the second-semester senior panic about "what am I going to do"?

We're here to help!

LEARN TO TELL THE STORY OF YOU
Friday, Oct. 27th, 3:30-5:00 PM, Davis Theater, Berney Family Welcome Center (East Stadium)
* For all humanities students
* Learn to tell the story of you
* Study and respond to real job ads
* Identify gaps you want to fill prior to graduation
* Refreshments from Arrow Coffee

RSVP by Oct 25th HERE
Event sponsored by the Humanities Career Collective: Departments of Communication Studies, English, History, Modern Languages, Philosophy and by the Chapman Center for Rural Studies, by Hale Libraries, and by the Career Center.
__________________________________
Hey History lovers! Check out our new e-newsletter post!
Historical Archives & Events is our re-imagined collection of History events and Department news that we can't wait to share with our friends! Over the next few months we will be updating the look of the e-newsletter and adding fresh content that we hope is relevant and fun.
If you have an event coming up that you would like to share, or a spotlight on a student, faculty member, or historical figure you want to share, let us know by emailing us. Until next time, please enjoy the Spotlight on Graduate Teaching Assistant Brad Galka!
-History Department
__________________________________
Romanticism at the movies!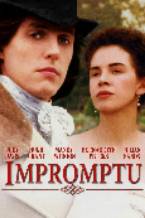 Join the History Club for a viewing of "Impromptu." Chopin (Hugh Grant) with a Dracula-like accent and George Sand (Judy Davis) as a cross-dressing schemer spice up this story about love and music set in 1820s France.
A short introduction by Professor Brent Maner
Free pizza and drinks!
Tuesday, September 26 at 6 pm in Calvin 102
_______________________________
A total eclipse of the sun will happen on Monday, August 21, 2017, which also happens to be the first day of classes for Fall 2017.
The Provost has issued a statement regarding the attendance policy changes for that day only-read about the change HERE. For those interested, the last time a total solar eclipse was visible to anyone in the United States was back in 1991, and only in Hawaii. Read more about past total eclipses HERE.
_______________________________
Kansas History journal gets significant mention in July 13 issue of RSCAD News!
For the weekly newsletter, Research, Scholarly and Creative Activities, and Discover News, the Office of the Vice President for Research highlighted Peter Dorhout writing about the 150th anniversary of the Chisholm Trail and its connections to K-State, from an article in Kansas History, a journal co-published by the Kansas Historical Foundation and the History Department. Read the full RSCAD article HERE.
__________________________________
The Chapman Center was mentioned in the June 28 issue of K-State Today!
"History of Kansas FFA, rural life being preserved with help of Kansas State University undergraduate researchers". Read the full story HERE.
__________________________________
Immediate Job Opportunity! **If you are a graduate student or ABD who would benefit from our vacancy which has only just occurred, please contact:
Dr. Joyce Pigge
Professor of Political Science
Chair, History/Political Science Department
Bethany College
Lindsborg, Kansas 67456
785-227-3728 (home)
785-404-9499 (cell)
785-227-3380 x8215 (office)
Benefits:
Salary range for MA ($32,000-35,000), ABD ($35,000), PhD ($35,000 to 38,000).
If student enrollment is up, as expected, all faculty will enjoy a 3% raise in October 2017.
The college contributes to TIAA on behalf of all faculty. Faculty are not required to match or make any contribution in order to receive this benefit. I have not verified whether, or not, first-year-hires receive this benefit (2% of salary). This will increase by 1 to 2% in February if we hit our budgeted enrollment target for spring 2018. As soon as I know the facts regarding this benefit, I will let you know.
_____________________
Congratulations to Eric Dudley! He just accepted a full time faculty position at Hutchinson Community College. He starts in the Fall. Way to go, Eric!
_____________________
The History Department is pleased to heartily congratulate Assistant Professor Andrew Orr on the release of his book, Women and the French Army During the World Wars, 1914-1940. Orr's book examines women's critical roles as civilian employees of the French Army during the world wars and shows that they were essential to the army's ability to win the First World War and to function in the interwar era. Women's long service as civilian employees set the stage for their direct participation in the military as soldiers in the Free French Forces during World War II. The book is available at Amazon.com and through the Indiana University Press. Congratulations Dr. Andrew Orr!
_____________________
Congrats to Kate Tietzen! She recently won the 2017 Adams-Collins Dissertation Grant from the John A. Adams '71 Center for Military History & Strategic Analysis at the Virginia Military Institute. The annual grant supports a doctoral candidate working on a Cold War history project of exceptional merit. Ms. Tietzen's dissertation on Iraqi-Soviet military and foreign relations addresses an important gap in the existing Cold War literature—and promises to deepen our understanding of the past, present, and future of the Middle East. The grant will support her work at the Hoover Institution, Stanford University, during the summer of 2017.
_____________________
On Monday, April 24, the History Department hosted Chris Dixon, Professor in the Department of Modern History, Politics and International Relations at Macquarie University in Sydney, Australia. He delivered a paper entitled "Australian Vietnam Veterans and the Mythology of a Lost War". The talk was held in Calvin 301 at 3:30PM.
_____________________
Congrats to Claudio Innocenti! Claudio has won a Bradley Research Fellowship from the Omar Bradley Foundation, which will fund him conducting archival research at three sites in Italy as part of his MA thesis on the evolution of the Italian Army late in World War I and in the interwar era.
__________________
Congrats to Tim Gresham! He won best paper award at this year's Missouri Valley History conference (March 2-4, in Omaha, Nebraska). Tim presented "Today Mr. Packer is hailed as the Holiest of Holies': Memory and the Meat Packer's Capture of the Kansas Livestock Association in the Interwar Period." Well done, Tim!
_____________________
Launching Your Career—a preparation for the job market for History majors
Friday, Feb. 17, 2017 from 3:30-5 PM at the Berney Family Welcome Center
The event will help you prepare for career events and interviews for internships and jobs. It will help you:
* translate your academic skills into job-speak
* talk with a prospective employer
* think about what an interviewer might ask
Additionally, we'll tour the Career Center and learn about the services they provide to K-State Students.
_________________________
NEW BOOKS by Prof. David Graff and History doctoral alum Brian Laslie, each about "ways of war." Read more about their work here.
James Sherow, a professor of history who has taught and researched at Kansas State University for more than 20 years, received the Hamlin Garland Prize, with John Charlton for their book "Railroad Empire Across the Heartland: Rephotographing Alexander Gardner's Westward Journey." The award was presented Oct. 21 at the annual meeting of the Midwestern History Association in St. Paul, Minnesota. Read more here
EISENHOWER LECTURE OCTOBER 23, 2013 AT 3:30 P.M.
Please join us on Wednesday October 23, when the History Department will be hosting Yanek Mieczkowski, who is delivering a special lecture in the Eisenhower Lecture Program. Dr. Mieczkowski's talk will be entitled "Eisenhower and the Cold War Prestige Race: Sputnik, Satellites, and Men on the Moon." The lecture will be held at 3:30pm in Eisenhower Hall, Room 226.

Yanek Mieczkowski, professor and chairperson of the History Department at Dowling College in New York, is the author of "Gerald Ford and the Challenges of the 1970s" (2005) and "Eisenhower's Sputnik Moment: The Race for Space and World Prestige" (2013).
JUAN COLE "EGYPT'S REBELLION AGAINST POLITICAL ISLAM"
One of the nation's best known historians of Islam and Middle East history and politics will deliver the biennial Fred L. Parish Lecture and Colloquium in Religious History, sponsored by the history department at Kansas State University.

Juan R. Cole will present "Egypt's Rebellion Against Political Islam" at 8 p.m. Thursday, Oct. 17, at the K-State Alumni Center. Cole is the Richard P. Mitchell collegiate professor of history at the University of Michigan. The lecture is free and open to all.

Read more...
PROFESSOR SHEROW'S "MANHATTAN"
The Department of History at KSU proudly announces the publication of Professor James Sherow's new book, Manhattan, now available online and in local bookstores.

Manhattan is part of the popular "Images of America" series from Arcadia Publishing. It features a collection of 199 photographs and illustrations chosen from various local archives, including the Riley County Museum, the Special Collections Department at Hale Library, and the City of Manhattan. Gleaned from the thousands available, these carefully selected and arranged photographs provide a visual history of a unique and vibrant city nestled in the Flint Hills of Kansas.

Read more...
GUEST LECTURE WITH SOUTHERN CHEYENNE ARTIST EDGAR HEAP OF BIRDS
Students, faculty, and community members are invited to attend a lecture with Southern Cheyenne artist Edgar Heap of Birds on Wednesday, September 18 at 3:00 p.m. on the K-State campus in Justin Hall room 109.
CONGRATULATIONS TO PROFESSOR DEREK HOFF - Winner of the PCB Book Award from the American Historical Association - Pacific Coast Branch
September 2013--The American Historical Association Pacific Coast Branch's PCB Award is given to the best first book in history. Professor Hoff received this year's award for The State and the Stork:The Population Debate and Policy Making in US History (Chicago: University of Chicago Press, 2012).
MUNICH ISN'T JUST FOR OKTOBERFEST!
Professor Heather McCrea has received a prestigious fellowship from the Rachel Carson Center in Munich, Germany. Professor McCrea will be at the Center from January to July 2014 to work on her second book project called "Gulf of Disease: Environment, Medicine, and State-Building in Cuba, Mexico and Panama 1880-1940." The RCC hosts scholars from around the world and from a variety of scholarly disciplines to work on projects, collaborate and comment on each others' work. The RCC was founded in 2009 as part of a joint initiative of Munich's Ludwig-Maxilimilians-Universität. For more information, see the Center's website at: http://www.carsoncenter.uni-muenchen.de/index.html.
M.A. Student Participates in U.S. Holocaust Museum Seminar
July, 2013: Sara Swanzy, M.A. student in History, has received a stipend to attend the "Introduction to Holocaust Studies" seminar at the United States Holocaust Memorial Museum in Washington, D.C. from July 15 to 19, 2013. Participants in the seminar will learn to use the records of the International Tracing Service, which are archived at the USHMM. This service documents the fates of more than 17 million people who were subject to incarceration, forced labor, displacement, or death as a result of World War II. The seminar provides an excellent background for Sara's M.A. thesis on the place of the Holocaust in public memory and in school curricula in the United States.
Demchak - Boren Fellow

June 5, 2013: Congratulations to Tony Demchak, doctoral student in history, who has been awarded a 2013 David S. Boren Fellowship to explore archives in St. Petersburg and Moscow for 11 months.
Demchak will be reviewing documents that have recently become declassified and are only available in Russia. The documents are important to learning how Russian and Soviet Union naval decisions were made from 1905 to 1940, specifically importing foreign naval technologies.
History Professor in the NY Times

April 17, 2013: K-State's economic historian, Professor Derek Hoff, wrote an editorial on America's population, birth-rates, and current immigration debate that appeared in the April 17 edition of the New York Times.
"It's good to see this important issue finally being discussed again in the mainstream media," Hoff said. "I was contacted out of the blue by the New York Times, which was great -- it's always nice when an academic book gets noticed."
Read Dr. Hoff's op-ed article "The False Alarm Over U.S. Fertility"
Find details about Dr. Hoff's book The State and the Stork
Eight History Majors Elected to Phi Beta Kappa
March 2013: We are proud to announce that eight history majors have been chosen for Phi Beta Kappa this year. Congratulations to Janet Adam, Crayton Caswell, Haley Claxton, Yi Ge, Lauren Kimbell, Whitney Madsen, Kristina Miller, and Allison Skees.
Career Workshop on Friday, March 29, 2013
On Friday, March 29 at 12:30 p.m. in Union 207, the Graduation Student Professionalization Committee will be holding a session on preparing for the academic and non-academic job markets. This is a process that should begin as soon as you arrive on campus and continue until you get a job. Angela Hayes from Career and Employment Services will speak about the many services her office provides to help you build the best possible c.v. and give yourself the best chance on the job market. Professors Defries, Kazemi and I will speak about what you need to do to prepare yourself for different kinds of academic positions as well as non-academic positions.
Phi Alpha Theta Students Make History in Omaha
Congratulations to Crayton Caswell, Allison Skees, and Janet Adam, three undergraduate members of our Phi Alpha Theta chapter who presented papers at the Missouri Valley History Conference in Omaha on March 8-9. Crayton spoke on "Politics and the Plowshare: PL480 – Food for Peace – in the 1970s." Janet's paper explored "Kansas Eleemosynary Institutions: Giving the Proper amount of Care, 1860-1950." And Allison informed with "We the People and We the States: Liberalism and Republicanism in Antifederalist Amendments." Congratulations to all three for their participation in this event, and Crayton placed third in the undergraduate paper competition!
University's sesquicentennial and land-grant roots find prestigious place at presidential inauguration luncheon
MANHATTAN -- An essay by two Kansas State University historians will be part of a special gift that President Barack Obama, Vice President Joe Biden and a select group of 200 dignitaries receive at a luncheon following the president's inauguration speech Monday, Jan. 21, in Washington, D.C.
Jim Sherow, professor of history, and Bonnie Lynn-Sherow, associate professor of history, are the authors of one of the 10 essays in a commemorative portfolio that will be given to attendees of the inauguration lunch, which is hosted by the Joint Congressional Committee on Inaugural Ceremonies at the U.S. Capital. The committee is responsible for the 2013 presidential inaugural ceremonies.
Stone Spends Month in Madison, WI on Russian Revolution Project
David Stone, Pickett Professor of Military History, spent July at the University of Wisconsin, Madison as part of an international team assembling a major project to commemorate the centenary of Russia's experience in World War I, the Russian Revolution, and the Russian Civil War. "For the Russian Empire, the outbreak of the First World War in 1914 began seven years of social and political upheaval," Stone said. "The goal of this project is to gather and assess the state of our knowledge on those momentous events."
She Told Me Stories
Our own Sue Zschoche co-directed "She Told Me Stories," a documentary that showcases multicultural Kansas histories and the stories of several Manhattan residents, including Rosa Hickman and Geraldine Baker Walton. The film premiered in June 2012 and has been screened across the state. It was created as a joint project by faculty members from the Kansas State University women's studies and history departments and received support from from the Kansas Humanities Council.
Read praise for the film from the Garden City Telegram
Hoff Off the Presses!
Professor Derek Hoff released one and a half books this fall: The State and the Stork: The Population Debate and Policy Making in US History, and Fighting Foreclosure: The Blaisdell Case, the Contract Clause, and the Great Depression.
Death on the Radio
Kenneth S. Davis Professor of History, Albert M. Hamscher, was interviewed August 30th on Wisconsin Public Radio's At Issue with Ben Merens. The topic of the hour was death: our changing attitudes toward mortality, the creation of bucket lists, the way we design our cemeteries, and the role of religion. Hamscher's popular class HIST 520 Death and Dying in History, as well as his published articles on the subject,prompted WPR's invitation.
Lost but not Forgotten
by Corene Brisendine of the Manhattan Mercury
"We started calling it an initiative at first because it was new and uncharted territory," said M. J. Morgan, research director of the Chapman Center for Rural Studies. "Now, it is pretty solid and is a major part of what we do at Chapman; I would call it a goal."
K-State Hosts Agricultural History Society
As the first operational land grant university in the nation, Kansas State University was an easy choice for the upcoming meeting of the Agricultural History's Society, to be held June 6-9 in the new Manhattan Conference Center adjacent to the Hilton Garden Inn. Anyone can register for the conference, which will include an exclusive evening at the new Flint Hills Discovery Center and a Keynote address by Dr. Richard Bushman of Columbia University. Here is the program and registration form (PDF), and you may also visit the website of the Agricultural History Society: http://www.aghistorysociety.org.
Four Majors Elected to Phi Beta Kappa
The department congratulates Chelsie Bonds, Jeff Kuhlman, Andrew Lewis, and Tyler Rudder, history majors who have been invited to join Phi Beta Kappa, the oldest and the most prestigious honorary society in the nation. Phi Beta Kappa was founded in 1776 and includes among its members luminaries like Ralph Waldo Emerson, Mark Twain, and all nine members of the current U.S. Supreme Court.
Chapman Center Celebrates First Anniversary with Open House and Reception
The Chapman Center for Rural Studies will celebrate our first anniversary in our new home in Leasure Hall on February 24, 2012. The Center will host an Open House from 9am to 5pm. A formal program will begin at 3pm with a poetry reading from Mary Swander, Poet Laureate of Iowa, followed by remarks from KSU President Schultz and Mr. Mark Chapman, a new film by alumni of the Center, and a cake reception. More for information please visit the Chapman Center's webpage, its Facebook page, or Rural Telegraph, the Center's blog. All are welcome and encouraged to attend.
For more info on Mary Swander, please visit www.maryswander.com
Professor McCulloh to Deliver Plenary Address at Medieval Conference
On February 25, 2012, KSU will host the 36th Annual Mid-America Medieval Association Conference. This year's theme, chosen to honor the career of our own Professor John McCulloh (who is retiring at the end of this academic year), will be "Encountering the Other." Professor McCulloh will also deliver the plenary address on "St. William of Norwich as/and the Medieval Other." This year's theme inspired scholars from a variety of disciplines, including literary studies, history and religion, and the conference program includes over fifty papers in nineteen panels divided into three sessions. We hope that many of you can attend the conference, and we will post more details and a conference program as we get closer to February 25.
MA student to present research in Topeka
History MA student Theresa Young was named one of the top ten researchers at the Research and the State graduate student poster session on October 31, 2011. The poster session aimed at showing the link between graduate student research and the state of Kansas. Young explained that her MA thesis, "Living Tools: Tree Use in the Nineteenth Century," examines land use and the human impact on the Kansas ecosystem. She reports, "The face of Kansas has changed since 1861; the relatively treeless expanses that dominated three-fourths of the state are all but gone. Click here to read more...
PhD Student Wins Cold War Essay Contest
The History Department is happy to announce that graduate student James Young has placed second in the 2011 John A. Adams '71 Cold War Essay contest.
Recent PhD Margaret Bickers Wins National Dissertation Award
Phi Alpha Theta, the history honorary society, in conjunction with the Westerners International, offer an annual national award to a graduate student for the best dissertation in Western U.S. History. Margaret Bickers, a recent doctoral graduate in the department, won the award this year for her "Three Cultures, Four Hooves and One River: The Canadian River in Texas and New Mexico, 1848-1039." Judith Austin, the chair of the award committee said, "It was a very tight competition this year, and all of us [serving on the committee] were delighted at the quality and creativity (I mean that positively!) of the entrant's work."
Professor James Sherow, Margaret's major advisor at K-State, said: "This award will be announced at the annual conference of the Western History Association this October in Oakland. It is the only award given for a Ph.D. dissertation at this conference, and it represents competition with submissions from all of the major universities that have a Western History Ph.D. emphasis. I am, of course, exceptionally pleased with this outcome, and excited for Margaret."
Lost Kansas towns are found again with $400,000 gift to K-State's Chapman Center
Mark Chapman, Cat Spring, Texas, has played a pivotal role in providing Kansas State University with the resources to research, preserve and share the history of rural Kansas -- including towns which no longer exist -- through the Chapman Center for Rural Studies in the K-State department of history, a project he initiated two years ago. Click here to read more …
Professor Hoff Appears on PBS's "Need to Know"
On Friday, July 15, Professor Hoff was interviewed extensively on PBS's TV news magazine "Need to Know" during a story on the disappearance of the late 1960s "zero population growth movement" in the United States. Professor Hoff talks most about President Richard Nixon's concerns about population growth. Paul Ehrlich, professor of biology at Stanford University and author of the famous 1968 book "The Population Bomb," also appears in the story.
You can watch the full segment online at: http://www.pbs.org/wnet/need-to-know/environment/video-standing-room-only/10477/
In addition, you can read and comment on Professor Hoff's corresponding editorial at:http://www.pbs.org/wnet/need-to-know/voices/
Dynamic Duo Race the Amazon (.com)
History Professors Michael Krysko and Heather McCrea both have new books, and their Amazon listings appeared within a few days of one another! (They assure us the close timing was purely coincidental and had nothing to do with the fact they are married.) Professor Krysko's American Radio in China: International Encounters with Technology and Communications, 1919–41 (Palgrave-MacMillan, 2011) explores how US radio initiatives in East Asia often heightened the international tensions that pitted Americans against Chinese nationalists and Japanese imperialists in the years before the Pacific War. Professor McCrea's Diseased Relations: Epidemics, Public Health, and State-Building in Yucatan, Mexico, 1847–1924 (University of New Mexico Press, 2011) examines the politics of postcolonial state-building through the lens of disease and public health policy in order to trace how indigenous groups on the periphery of power and geography helped shape the political practices and institutions of modern Mexico. Congrats to each on the milestone of their first book, and be sure to pick one up today for your summer reading
Click here for Michael Krysko's Book...
Click here for Heather McCrea's Book...
Apply for Chapman Center New Faculty Development Grants
The Chapman Center is now accepting application for its new faculty developments grants.
Undergraduates, Apply for Chapman Center Internships!
Internship applications are due May 13, 2011.
Chapman Center for Rural Studies is open!!
The Chapman Center for Rural Studies had its grand opening on January 28th, 2011. Click here for photos …
Hot off the Press!!!
M. J. Morgan recently published Land of Big Rivers: French and Indian Illinois, 1699–1778 (Southern Illinois University Press, 2010). Professor Morgan offers an on-the-ground study of environmental change in the tiny French settlement area in southern Illinois, where five French villages and three Illinois Indian communities once defined the region that would later be known as the American Bottom. Morgan recreates a long-disappeared landscape that was itself always changing on the shores of the Mississippi River. Click here to see the cover of Dr. Morgan's new book...
Department To Host Eisenhower Graduate Conference
The department welcomes all to a public conference Friday, Dec.3 2010, in the Hemisphere Room in Hale Library, during which KSU graduate students will present new research on the Eisenhower Era.
Dwight D.Eisenhower Lecture on War and Peace, FREE - Open to public
Date: October 11, 2010
Time: 7:30 PM
5 History Majors Elected to Phi Beta Kappa
Five of the department's best undergraduates — Chelsie Bonds, Hannah Hartsig, Patrick Michael Kirk, Tana Smith, and David Zeller — were recently elected to Phi Beta Kappa, the nation's oldest and most prestigious academic honor society (founded in 1776). Click here to read more …
Department Invades Oregon
The department had an excellent showing at the recent joint meeting of the American Society for Environmental History and the National Council on Public History in Portland, Oregon. Click here to read more …