Andrew Orr
Office: 201A Calvin Hall
Email: aorr1@ksu.edu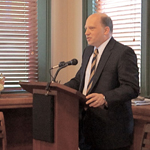 I am a specialist in French military history. In particular, I study the political and social history of the French Army during and after the First World War. My first book will examine the integration of women into the French Army as civilian employees during and after the First World War and the effect they had on the Army's culture and politics. My second project studies French military intelligence operations in the Middle East between the World Wars.

In addition to my work in European Military History, I also teach Modern African history at KSU. I have worked with the Université de Bamako (now Bamako II and IV) on international educational cooperation and volunteered with a project to improve civilian control of the armed forces in the Central African Republic.
Select Publications
"'We Call You to Holy War': Mustafa Kemal, Communism, and Germany in French Intelligence Nightmares, 1919-1923" Journal of Military History, October 2011.

"'The consequences would certainly be fatal': Voting Rights and the French Army 1920-1928" Proceedings of the Western Society for French History, Summer 2013.
Courses Taught
Undergraduate:
HIST 102 – Western Civilization: The Modern Era
HIST 112 –World History since 1450
HIST 510 – World War I
Graduate:
HIST 911 – Historical Approaches to Security Studies
HIST 980 – Topics in European History