Graduate Student Ambassador Program
Calling all K-State graduate students!
If you enjoy meeting new people, sharing your experiences as a K-State graduate student and interested in developing your leadership potential, then we have the best opportunity for you!
The Graduate School is searching for current students to be Graduate Student Ambassadors. We want students who are eager to share their academic graduate story to future Wildcats and excited to explain what the K-State culture is all about!
We are looking for graduate students who are proud and passionate to be a K-State student and are able to communicate the importance and value of K-State graduate student education.
Be part of the K-State Family, become a Graduate Student Ambassador.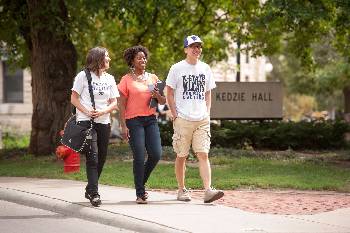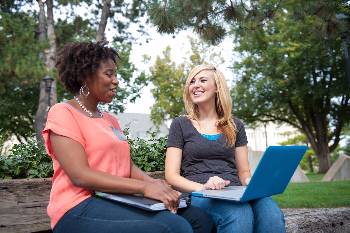 Kansas State University Graduate Student Ambassadors are current graduate students who come from a variety of disciplines and backgrounds and are selected to serve as official student representatives. Ambassadors will support prospective, new and current students by providing campus tours, interacting with students through email or assisting at graduate student events. Ambassadors also serve as liaisons between their department and the Graduate School. Enjoy writing with a marketing focus? They will also help promote graduate student opportunities through blogging.
Requirements
Must be currently enrolled graduate student and have completed at least one semester at Kansas State University and remain in good academic standing.
Must have excellent communication skills.
Ability to represent Kansas State University effectively to numerous constituents.
Must be able to commit 1-2 hours (max) per week of volunteer work and attend a training prior to your appointment.
Have a positive, enthusiastic attitude about K-State and strong customer service skills.
Roles and responsibilities of Graduate Student Ambassadors
Graduate Ambassadors are selected representatives from colleges and disciplines across Kansas State University. These students are to represent their department, the Graduate School and Kansas State University in a professional and positive manner at all times. Graduate Ambassadors will go through a training to become familiar with Graduate School related information.
Expected responsibilities of a graduate ambassador include but are not limited to the following:
Student ambassadors provide campus tours to prospective, newly admitted and current graduate students. Tours could last approximately one hour.
Answer emails and questions from prospective and newly admitted students about graduate studies, the department, the curriculum or share your own personal experiences as a K-State graduate student.
Meet with prospective students within their college or program during campus visits.
Assist with Graduate School events during the academic year
Fall and Spring Welcome and Orientation Fair
Be responsible for blogging with a marketing focus.
Application Deadline: January 26, 2018