About
Mission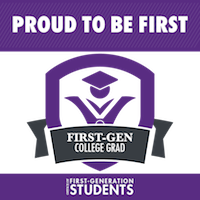 The Office of First-generation Students supports students who are first in their families to graduate from a four-year college by connecting them to campus resources, coordinating efforts across the University to serve them and fostering a first-generation community. A program within the Office of Student Success, we support university wide SEM goals and K-State 2025 Visionary plan goals by establishing and tracking objectives related to retention, degree completion, and academic achievement.
Vision
As the state's land grant University, K-State strives to be recognized as the lead first-generation student friendly institution in the state, providing easily accessible information, assistance, resources and programming to students, and serve as a model for other universities across the nation. We hope to regain our strong base of first-generation student enrollments from 24% to 30%. Concurrently, our goal is to close the achievement gap between first-generation and continuing-generation students.
History
First-generation students are defined as those whose neither parent or guardian earned a four-year degree, and make up more than 25% of the undergraduate population at K-State. Funded through a generous donation from the Suder Foundation in June of 2018, the Office offers support to first-generation students by coordinating efforts across campus to close the achievement gap to degree completion at K-State. The Office works closely with the Higher Learning Commission Quality Initiative Committee (HLC) which serves in an advisory role with the goal of increasing the recruitment, retention and graduation rate of first-generation students.
The office serves as a model for universities across the country — informed and inspired through a unique partnership with the NASPA Center for First Generation Student Success, another key program funded by the Suder Foundation. K-State was designated to be a First Forward Institution in recognition of demonstrated commitment to improving experiences and advancing outcomes of first-generation college students. Furthermore, K-State was assigned an advisory and leadership role within the First Forward Midwest Regional Community comprised of eight other institutions.
The Office of First-generation Students supports students whose neither parent or guardian completed a four-year college by connecting them to campus resources, coordinating efforts across the university to serve them and fostering a first-generation community.
The Office developed an advisory group community, goals, and action plans that will help build the strategic next steps for sustainability and advancement of first-generation student success. We formed an inaugural Steering Committee in the fall of 2020. We established a diverse and representative group that includes individuals from across the institution including an undergraduate and graduate student.
We ensured that committee representation from campus partners included Academic Affairs, Student Life, Student Success, and undergraduate and graduate students. We evaluated how the committee is positioned within the university and how the work is communicated.
The committee met two times in the fall and in the spring and have all the meetings scheduled for the remainder of the academic year and into the spring of 2023. There is engagement and commitment to assist the OFGS in charting course and strategy. The committee originally met for one hour, and, in the fall of 2021 we extended the meeting times to one hour and a half to be more productive.
We have developed university buy-in and have built partnerships across the university. We have instituted and scaled two university signature events that promise to become institutionalized. Campus partners and students reach out to the office with questions, requests and support. We have built visibility and momentum to build on best practices for first-generation student success. A clear result of support from university leadership is the creation of the steering committee with representation from university key leaders and essential partners. Many of the steering committee members were first-generation students while in college, thus, making their investment more meaningful.
The Inaugural Office of First-generation Students is on its fourth year. As we set goals and reflect on our outcomes, keeping in mind that we started the office from scratch, we learned that we accomplished much and we still have many opportunities for growth and development.