Wendy Matlock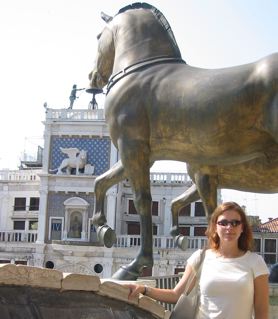 Associate Professor / Graduate Faculty / Literature Track Head
Ph.D. 2003, Ohio State University
Email: wmatlock@ksu.edu
Office: English/Counseling Services Bldg. 127
Phone: (785) 532-2152
Fields of interest:
Medieval Literature and Culture, Critical Theory, Cultural Studies, Humanities, Linguistics/English Language, Poetry, Women's Studies, Feminism/Gender/Sexuality.
Having earned her B.A. from Northwestern University, her M.A. from the University of Wyoming, and her Ph.D. from the Ohio State University, Wendy Matlock spent five years on the tenure track at California State University, Sacramento, before joining the K-State English Department in 2008. Her fields of interest include poetic disputations; domestic, religious, and political issues in late-medieval culture; and modern appropriations of the medieval.
Matlock's research considers the cultural significance of poetic disputes from the thirteenth through fifteenth centuries, and she is completing a monograph that draws attention to how often households provide both site and fodder for controversy in Middle English poetry. Just as recent federal legislation has redefined marriage and the family from the heteronormative standards of the past, so did late medieval urban practice transform the Roman model of the familia (which included everyone living under one roof) to the modern English idea of family as blood kin. Domestic concerns—things like childrearing, household composition, and housekeeping—recur in works like The Owl and the Nightingale, The Canterbury Tales,and the Disputacione betwyx the Body and Wormes, revealing how contested that transition was. She also has an article in progress that analyzes Disney on Ice as a fairy tale adaptation.
Her teaching interests range from medieval literature to contemporary medievalism. She regularly teaches Introduction to Literary Studies, British Survey I, Old English, and Graduate Studies in English as well as courses on the Development of the English Language, Robin Hood, Romances and Fairy Tales, The Culture of The Canterbury Tales, and a study of Dragons, Damsels, and Death. Matlock's teaching has garnered awards including K-State's Presidential Award for Excellence in Undergraduate Teaching and the Student Association of Graduates in English (SAGE) Graduate Faculty Distinguished Teaching Award.
Selected Publications
"Belligerent Mothers and the Power of Feminine Speech in The Owl and the Nightingale." Medieval Feminist Forum, vol. 54, no. 1, 2018, pp. 79-93. https://ir.uiowa.edu/mff/vol54/iss1/7/.
"Reading Family in the Rate Manuscript's Saint Eustace and Sir Isumbras." The Chaucer Review vol. 53, no. 3, 2018, pp. 350-373. Project MUSE, muse.jhu.edu/article/698335.
"Reworking the Household in The Debate of the Carpenter's Tools." English Studies, vol. 95, no. 2, 2014, pp. 109-130. https://doi.org/10.1080/0013838X.2014.882112.
"The Feminine Flesh in the Disputacione betwyx the Body and Wormes." The Ends of the Body: Identity and Community in Medieval Culture, edited by Jill Ross and Suzanne Akbari, University of Toronto Press, 2013, pp. 260-282. (Selected November 2012 Feminae Article of the Month).
"Talking Animals, Debating Beasts." Rethinking Chaucerian Beasts, edited by Carolynn Van Dyke, Palgrave MacMillan, 2012, pp. 217-231.