Internships: Broadcasting
Intern: Zach St.Clair, Junior, English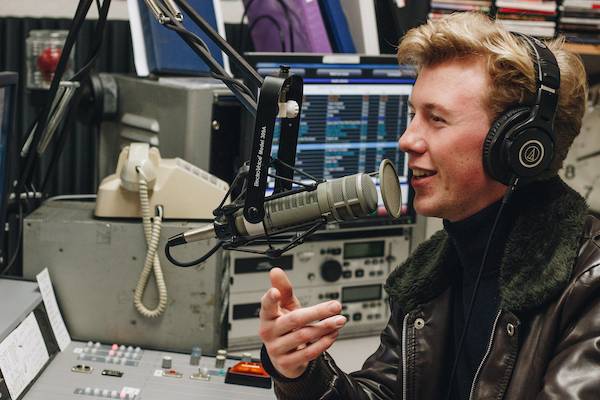 Faculty Supervisor: Cameron Leader-Picone
Course: ENGL 495

Semester: Fall 2018
Working for K-State's College Radio Station 91.9 KSDB, Zach is hooked and knows that he wants to pursue a future career in broadcasting. The opportunity to intern at Manhattan Broadcasting Company brought him one step closer to that goal.
During the internship, Zach wrote news stories for broadcast every day. The station, which reports local and regional news, sports, weather, and entertainment, begins live newscasts at 6 a.m. every weekday and Saturday morning, so stories have to be written the day before to be aired the following morning. The stories Zach wrote ranged from local events, to interviews from specialty shows on the station, to K-State Radio Network Research and Extension content.
Initially, the internship felt challenging to Zach. "I have a lot of freedom, and it took some adjustment to set myself onto a regular schedule and create content daily," Zach said. The job was also fast-paced, forcing Zach to learn to adjust and make quick decisions. "On my second day on the job, I was the only person at the station when the Hale Library fire was unfolding. I began contacting various officials and coordinating information for our reporter who went to the scene to cover the event." Things happen fast in radio, and that makes the work exciting.
This internship gave Zach practical experience in an area of broadcast he wasn't as familiar with. To pursue a broadcast career, Zach shared, it is important to have a diverse set of related skills, so this internship was definitely a step in the right direction.
Cameron, Zach's internship faculty supervisor, agreed. "With his internship, Zach was able to delve into the day-to-day operations of the radio station, laying the groundwork for his future career path. Zach was able to do really exciting work bridging text, audio, and video, developing new and important skills in broadcasting."
When asked what advice he wants to give to fellow English students about internships, Zach said "Look into various things that may be of interest to you, even if it doesn't seem explicitly English related. The skills you develop in an English major and through an English internship can be applied in innumerable ways to many places, so do not restrict yourself to internships that fit a pre-imagined mold exactly. Pursue what internship engages your passions, and incorporate English into it from there."