The Words and the Bees
Undergraduates in the Research for All program conducted interdisciplinary arts-based research combining entomology and poetry. Students visited the K-State Insect Zoo; ate a few (chocolate-dipped) bugs; read published poetry about insects and arachnids; and wrote their own original works of poetry featuring their observation of or facts about insects.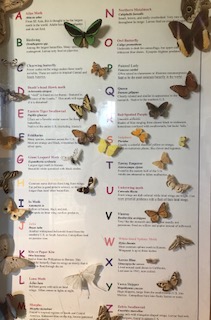 Arts-Based Research
Arts-based research is carried out by artists, designers, writers and musicians – who, through their practice of their creative inquiry generate new knowledge within a field or fields. Their creative approaches contribute new concepts, models, and methodologies towards the production of original knowledge.
Arts-based research is by nature interdisciplinary, which often requires collaboration and diverse approaches the communication, methods and modes of collaboration.
Guiding Questions
For each of the poems students read, they considered the following questions:
What is the insect a metaphor for?
What is the writer's attitude towards insects?
What is the balance between research and aesthetic principles
Methods
Students read poems by poets such as: Tommye Blount, Lucille Clifton, Camille Dungy, M. Brett Gaffney, Ross Gay, Lynda Hull, Tom Lux, Kathryn Nuernberger, Mary Oliver, Matthew Olzmann, and Michael Schmidt
Students then discussed the major thematic elements, as well as the project's guiding questions. They also wrote poems using the rhetorical structures of one of the poets and workshopped the pieces to consider insects as metaphors and how to balance research and aesthetic principles.
Results
Please check out the work of Rylee Bergh and Madi Leierer!