Michal Zolkiewski, Ph.D., Professor
Department Head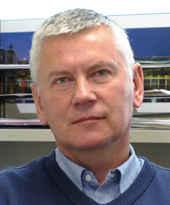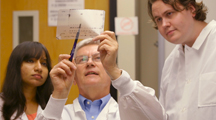 Research Video
Contact information
Office: 141 Chalmers Hall
Phone: 785-532-6121
Fax: 785-532-7278
E-mail: michalz@ksu.edu
Education
B.S., University of Warsaw, Poland
M.S., University of Warsaw, Poland
Ph.D., Institute of Physical Chemistry, Warsaw, Poland
Areas of specialty
Protein structure and function
Protein folding, misfolding and aggregation
AAA+ ATPases
Molecular chaperones
Nearly every process in a living cell is carried out by protein complexes with highly organized structure. Among sophisticated protein machines, the AAA+ superfamily of proteins has recently attracted attention of researchers. AAA stands for "ATPases associated with a variety of cellular activities", which implies that these proteins use energy from ATP and perform a variety of functions. Our laboratory performs basic research oriented towards understanding molecular mechanisms underlying the function of AAA+ proteins. We use a combination of biological, biochemical and biophysical experimental approaches to study interactions between proteins, protein localization inside living cells, and structural changes in proteins and protein complexes.
Selected publications
Zolkiewski, M. and Wu, H.-C.: "Emerging Area: TorsinA, a Novel ATP-Dependent Factor Linked to Dystonia" in Witt, S. N. (ed.), Protein Chaperones and Protection from Neurodegenerative Diseases, Wiley, 2011.
Nagy, M., Guenther, I., Akoyev, V., Barnett, M. E., Zavodszky, M. I., Kedzierska-Mieszkowska, S. and Zolkiewski, M.: "Synergistic cooperation between two ClpB isoforms in aggregate reactivation", J. Mol. Biol. 396, 697-707, 2010.
Nagy, M., Wu, H.-C., Liu, Z., Kedzierska-Mieszkowska, S. and Zolkiewski, M.: "Walker-A threonine couples nucleotide occupancy with the chaperone activity of the AAA+ ATPase ClpB", Protein Sci. 18, 287-293, 2009.
Zolkiewski, M.: "ClpB: a chaperone for protein disaggregation", in Houry, W. (ed.), Molecular Chaperones: Principles and Diseases, The Biomedical & Life Sciences Collection, Henry Stewart Talks Ltd, London, 2007.
Doyle, S. M., Shorter, J., Zolkiewski, M., Hoskins, J. R., Lindquist, S. and Wickner, S.: "Asymmetric deceleration of ClpB and Hsp104 ATPase activity unleashes protein-remodeling activity", Nature Struct. Mol. Biol. 14, 114-122, 2007.
Nagy, M., Akoev, V. and Zolkiewski, M.: "Domain Stability in the AAA+ ATPase ClpB from Escherichia coli", Arch. Biochem. Biophys. 453, 61-67, 2006.
Zolkiewski, M.: "A camel passes through the eye of a needle: protein unfolding activity of Clp ATPases", Mol. Microbiol. 61, 1094-1100, 2006.
Barnett, M. E., Nagy, M., Kedzierska, S. and Zolkiewski, M.: "The Amino-Terminal Domain of ClpB Supports Binding to Strongly Aggregated Proteins", J. Biol. Chem. 280, 34940-34945, 2005.