Anna Zolkiewska, Ph.D., Professor
Undergraduate Advisor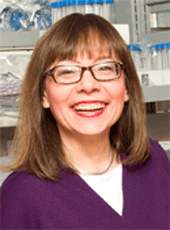 Contact information
Office: 177 Chalmers Hall
Phone: 785-532-3082
Fax: 785-532-7278
E-mail: zolkiea@ksu.edu
Education
M.S. 1984, University of Warsaw, Poland
Ph.D. 1988, Nencki Institute of Experimental Biology, Poland
Areas of specialty
My current research is focused on the role of metalloprotease ADAM12 in breast tumor development, metastasis, recurrence, and response to therapy. ADAM12 belongs to a family of cell surface or secreted proteins, which in human includes 12 catalytically active ADAMs. ADAM12 expression is tightly regulated: ADAM12 is briefly expressed during embryonic development, then it is expressed at very low levels in healthy and non-injured tissues, but it is re-expressed in diseases accompanied by fibrosis and in several cancers, including breast cancer. Our research on ADAM12 is focused on two areas:
1. ADAM12 in breast tumor initiating cells
Using bioinformatics approaches and analysis of gene expression datasets, we observed that ADAM12 is the only ADAM that is specifically up-regulated in the "claudin-low" molecular subtype of breast cancer. This subtype represents aggressive tumors with poor prognosis, molecular features of epithelial-to-mesenchymal (EMT) transition, and gene expression signatures characteristic of breast tumor initiating cells (BTICs), also referred to as cancer stem cells (CSCs). BTICs are resistant to radiation, chemotherapy, and endocrine therapy, and they are believed to be largely responsible for tumor recurrence and metastasis. Consistently, while claudin-low tumors represent only ~5% of newly diagnosed breast cancers, a majority of residual tumors after therapy have features of claudin-low tumors, including an increased expression of ADAM12, due to the selective survival of BTICs after treatment. Currently, definitive cell surface markers for BTICs are lacking, and there are no approaches to specifically target and eliminate BTICs.
The up-regulation of ADAM12 expression in claudin-low tumors suggests that ADAM12 may be specifically induced in BTICs. This hypothesis is further supported by several observations. First, in mammary epithelial cells cultured in vitro, ADAM12 expression is induced by the known inducers of EMT: Transforming Growth Factor beta (TGFbeta), transcription factors Twist and ZEB1, Notch signaling, and knock-down of microRNA-200b/c or microRNA-29a/b/c. Second, ADAM12 is highly enriched in breast cancer cells grown in suspension in serum-free media as tumorspheres, a surrogate assay for the tumorigenic potential of cells. Third, we observed that cancer cells surviving sub-lethal doses of paclitaxel (taxol), a chemotherapeutic drug used in the clinic, show increased expression of ADAM12. We also showed that in patients with estrogen receptor-negative tumors, high expression of ADAM12 is predictive of resistance to neoadjuvant chemotherapy. Based on these results, we are now testing the hypothesis that ADAM12 may serve as a marker for BTICs. We are also investigating whether ADAM12 may be used as a target in future therapies against BTICs.
2. ADAM12 in triple negative breast cancers
Triple negative breast cancers (TNBCs) are characterized by the absence of estrogen receptor (ER) and progesterone receptor (PR) expression and the lack of Human Epidermal growth factor Receptor 2 (HER2) amplification. In the absence of HER2 overexpression, TNBC critically rely on Epidermal Growth Factor Receptor (EGFR) to convey the growth signals and stimulate cell proliferation. EGFR, unlike HER2, requires ligand binding for activation. Ligands are synthesized as transmembrane precursors that need to be cleaved and shed by an ADAM protease to generate soluble, biologically active molecules. In cells cultured in vitro, several different ADAMs are capable of generating soluble EGFR ligands. The identity of the ADAM that is primarily responsible for ligand release and activation of EGFR in TNBCs is not clear.
We analyzed prognostic values of all catalytically active ADAMs in lymph node-negative breast cancer patients who did not receive any systemic treatment using publicly available gene expression data at the Gene Expression Omnibus. We observed that ADAM12 was the only ADAM for which high expression levels in TNBCs was associated with significantly lower DMFS (distant metastasis free survival) rates. Strikingly, the ADAM12 expression level did not have any prognostic value in HER2-positive or ER-positive tumors. This result suggests that ADAM12 may activate EGFR via the cleavage of EGFR ligands, and this function is masked or irrelevant in the presence of HER2 overexpression. We further demonstrated that ectopic expression of ADAM12 increased EGFR phosphorylation in vivo in a mouse intraductal xenograft model of breast cancer. Finally, we detected strong correlation between the level of ADAM12 and phosphorylated EGFR in human breast tumors using tissue microarrays and immunostaining. We are currently developing a project, in which the role of ADAM12 in the activation of EGFR in TNBC will be studied by using in vitro approaches and in vivo mouse models.
Selected publications
Leutert, M., Menzel, S., Braren, R., Rissiek, B., Hopp, A. K., Nowak, K., Bisceglie, L., Gehrig, P., Li, H., Zolkiewska, A., Koch-Nolte, F., Hottiger, M. O. (2018) Proteomic characterization of the heart and skeletal muscle reveals widespread arginine ADP-ribosylation by the ARTC1 ectoenzyme. Cell Rep. 24, 1916-1929
Wise, R., and Zolkiewska A. (2017) Metalloprotease-dependent activation of EGFR modulates CD44+/CD24- populations in triple negative breast cancer cells through the MEK/ERK pathway. Breast Cancer Res. Treat. 166, 421-433
Duhachek-Muggy, S., Qi, Y., Wise, R., Alyahya, L., Li, H., Hodge, J., and Zolkiewska, A. (2017) Metalloprotease-disintegrin ADAM12 actively promotes the stem cell-like phenotype in claudin-low breast cancer. Molecular Cancer, 16:32
Wise, R., Duhachek-Muggy, S, Qi, Y. Zolkiewski, M., and Zolkiewska, A. (2016) Protein disulfide isomerases in the endoplasmic reticulum promote anchorage-independent growth of breast cancer cells. Breast Cancer Res. Treat., 157(2):241-252
Duhachek-Muggy S, Zolkiewska A. (2015) ADAM12-L is a direct target of the miR-29 and miR-200 families in breast cancer. BMC Cancer, 15:93
Qi, Y., Duhachek Muggy, S., Li, H., and Zolkiewska, A. (2014) Phenotypic diversity of breast cancer-related mutations in metalloproteinase-disintegrin ADAM12. PLOS ONE, 9(3):e92536
Duhachek-Muggy, S., Li, H., Qi, Y., and Zolkiewska, A. (2013) Alternative mRNA splicing generates two distinct ADAM12 prodomain variants. PLOS ONE, 8(10):e75730 doi:10.1371
Li, H., Duhachek-Muggy, S., and Zolkiewska, A. (2013) Metalloproteinase-disintegrin ADAM12 is associated with a breast tumor-initiating cell phenotype. Breast Cancer Res. Treat. 139, 691-703
Li, H., Duhachek-Muggy, S., Qi, Y., Hong, Y., Behbod, F., and Zolkiewska, A. (2012) An essential role of metalloprotease-disintegrin ADAM12 in triple-negative breast cancer. Breast Cancer Res. Treat., 135, 759-769.
Chen, J., and Zolkiewska, A. (2011) Force-induced unfolding simulations of the human Notch1 negative regulatory region: possible roles of the heterodimerization domain in mechanosensing. PLoS One 6(7):e22837.
Li, H., Solomon, E., Duhachek-Muggy, S., Sun, D., and Zolkiewska A. (2011) Metalloprotease-disintegrin ADAM12 expression is regulated by Notch signaling via microRNA-29. J. Biol. Chem. 286, 21500-2151.
Fukada, S., Yamaguchi, M., Kokubo, H., Ogawa, R., Uezumi, A., Yoneda, T., Matev, MM., Motohashi, N., Ito, T., Zolkiewska, A., Johnson, RL., Saga, Y., Miyagoe-Suzuki, Y., Tsujikawa, K., Takeda, S., and Yamamoto, H. (2011) Hesr1 and Hesr3 are essential to generate undifferentiated quiescent satellite cells and to maintain satellite cell numbers. Development 138, 4609-4619.
Solomon, E., Li, H., Duhachek-Muggy, S., Syta, E., and Zolkiewska, A. (2010) The role of SnoN in transforming growth factor beta1-induced expression of metalloprotease-disintegrin ADAM12. J. Biol. Chem. 16, 285, 21969-21977.
Sun, D., Li, H., and Zolkiewska, A. (2008) The role of Delta-like 1 shedding in muscle cell self-renewal and differentiation. J. Cell Sci. 121, 3815-3823.
Dyczynska, E., Syta, E., Sun, D., and Zolkiewska, A. (2008) Breast cancer-associated mutations in metalloprotease disintegrin ADAM12 interfere with the intracellular trafficking and processing of the protein. Int. J. Cancer 122, 2634-2640.
Zolkiewska, A. (2008) ADAM proteases: ligand processing and modulation of the Notch pathway. Cell. Mol. Life Sci. 65, 2056-2068.
Dyczynska, E., Sun, D., Yi, H., Sehara-Fujisawa, A., Blobel, CP., and Zolkiewska, A. (2007) Proteolytic processing of Delta-like 1 by ADAM proteases. J. Biol. Chem. 282, 436-444.