Michal Zolkiewski, Ph.D., Professor
Department Head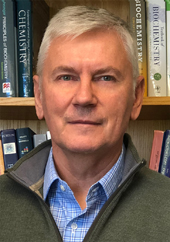 Contact information
Office: 141 Chalmers Hall
Phone: 785-532-6121
Fax: 785-532-7278
E-mail: michalz@ksu.edu
Education
B.S., University of Warsaw, Poland
M.S., University of Warsaw, Poland
Ph.D., Institute of Physical Chemistry, Warsaw, Poland
Research video
Areas of specialty
Protein structure and function
Protein folding, misfolding and aggregation
AAA+ ATPases in cellular physiology and pathogenesis
Molecular chaperones
Development of novel antimicrobials
Nearly every process in a living cell is carried out by protein complexes with highly organized structure and undergoing dynamic transformations. Our research is focused on the AAA+ superfamily of proteins. AAA stands for "ATPases associated with a variety of cellular activities", which implies that these proteins use energy from ATP and perform a variety of functions. Our laboratory performs basic research oriented towards understanding molecular mechanisms underlying the biological function of AAA+ proteins. We use a combination of biological, biochemical and biophysical experimental approaches to study interactions between proteins, protein localization inside living cells, and structural changes in proteins and protein complexes.
Selected publications
Ranaweera, C. B., Glaza, P., Yang, T., and Zolkiewski, M.: "Interaction of substrate-mimicking peptides with the AAA+ ATPase ClpB from Escherichia coli", Arch. Biochem. Biophys., 655, 12-17, 2018.
Kuczynska-Wisnik, D., Cheng, C., Ganta, R. R., and Zolkiewski, M.: "Protein aggregation in Ehrlichia chaffeensis during infection of mammalian cells", FEMS Microbiol. Lett., 364 (6): fnx059, 2017.
Zhang, T., Kedzierska-Mieszkowska, S., Liu, H., Cheng, C., Ganta, R. R. and Zolkiewski, M.: "Aggregate-reactivation activity of the molecular chaperone ClpB from Ehrlichia chaffeensis", PLoS ONE 8(5): e62454, 2013.
Nagy, M., Guenther, I., Akoyev, V., Barnett, M. E., Zavodszky, M. I., Kedzierska-Mieszkowska, S. and Zolkiewski, M.: "Synergistic cooperation between two ClpB isoforms in aggregate reactivation", J. Mol. Biol. 396, 697-707, 2010.
Zolkiewski, M.: "A camel passes through the eye of a needle: protein unfolding activity of Clp ATPases", Mol. Microbiol. 61, 1094-1100, 2006.