Admissions representatives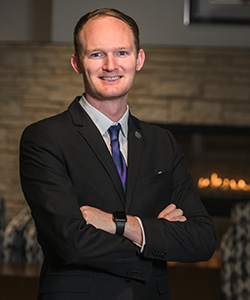 Scott LaMunyon
Email: kstate9@k-state.edu
Phone: 785-532-1521
My territory
Illinois
Call today to schedule your campus visit and get a glimpse of the K-State experience. We hope to welcome you soon as the newest member of our Wildcat family!
Fast facts
Major: Psychology and pre-law
Hometown: Towanda, Kansas
College activities: K-State Men's Club Volleyball, Acacia fraternity, K-State Education Abroad, College of Arts and Sciences ambassador, Pre-Law Executive Board, K-State Homecoming Committee, Collegian Media Group, Cadence A Cappella
My K-State experience
At K-State, being a family means constant support. Classmates, professors and just people around Manhattan are friendly and welcoming. No matter the issue, I can always find someone to help me with anything I need.
Learn more about Scott
What sealed the deal
In high school, I attended a few leadership events at K-State. Right away, I loved the campus. I only went on one official campus visit, and I was sold. The campus, atmosphere and people made me feel at home, which is what I wanted for my four years as an undergrad.
Defining moment
After my campus visit, I was able to go to a home football game in the student section. I was already sold on K-State, but feeling the game-day atmosphere, especially the year we won three Big 12 Championships, was a big moment for me.
How I share K-State
My favorite thing to show out-of-town guests is KS Hill. Manhattan Hill is incredibly popular, but a lot of people never go across town to the other side. KS Hill has one of the best views in Manhattan; it's perfect for a study break or a scenic overlook.
My K-State top three
A lot of things make K-State special, but the three that stick out for me are the family atmosphere, my community of friends and the town of Manhattan. Everywhere you go on campus or in town, you find K-State pride. Everybody is supportive, friendly and always wearing purple. The friends I have made during my time here are my friends for life.
Must-see spot
One place everyone should visit is Jardine Tower. The top floor is covered with windows, providing an incredible view of not only campus, but also Manhattan. You can see Manhattan Hill, Bill Snyder Family Stadium, the Anderson steeple and plenty of other spots.
My unexpected experience
I never imagined I would travel the world while at K-State, let alone still graduate on time. Because of K-State, I was able to spend a semester abroad without excessive cost or putting me behind academically. While living in London, I was able to explore England and Europe — the experience of a lifetime.
Value of a higher education
Higher education helps us to grow in our passions. K-State allows students to find their academic interests and hit the ground running for a career or graduate school. K-State helps you have a successful academic experience on campus and off.
Favorite student organization
My favorite student organization was K-State Men's Club Volleyball. I played almost every sport growing up, so not being on any team in college was difficult for me. Playing club sports at K-State allowed me to stay active, be involved in an organized team, and still balance with my work and school. We traveled all over for tournaments and even competed at nationals.
Getting involved on campus
Use your time on campus to truly find your passions. If you're interested in a club, organization or activity, just go for it! Don't limit yourself to things you're familiar with, though. Get out of your comfort zone, try new things and be outgoing. Don't just stick to what you know!
Connecting with professors
Professors and mentors are incredibly accessible at K-State. Go to every class, but don't just sit quietly in the back. Speak up in class discussions and get involved. Showing professors you're interested can help establish connections. Take advantage of their office hours and communicate with them so they remember your name, even when you're not in class.
Study and snack picks
My favorite study spot would definitely be Memorial Stadium on a nice day. Taking my work outside and sitting on the turf in the sun always seemed to make me more productive. As far as a favorite snack, I can never say no to a quick run to Radina's for coffee and a cookie.