Admissions representatives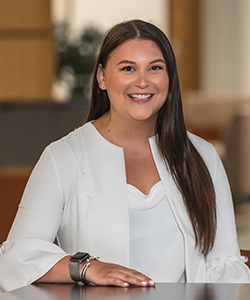 Mandy Marchesini
Email: kstate8@k-state.edu
Phone: 785-532-1521
My territory
Dallas-Fort Worth, Austin, Amarillo, Lubbock
Call today to schedule your campus visit and get a glimpse of the K-State experience. We hope to welcome you soon as the newest member of our Wildcat family!
Fast facts
Major:Marketing
Minor: Leadership studies
Hometown: Albany, New York
College activities: Blue Key Honor Society, K-State student ambassador, Alpha Delta Pi, Student Alumni Board, Wildcat Warm-up counselor, K-State Center for Risk Management Education and Research
My K-State experience
I chose K-State because I felt like I was wanted. Other universities I visited gave off the vibe that I was lucky to be there, but at K-State, I felt like I already belonged. I'm a fourth-generation K-Stater and I'm proud to be a Wildcat.
Learn more about Mandy
Defining moment
In high school, I visited K-State's Division of Biology twice: once during my sophomore year, and once during my junior year. The advisor I met with on my first visit was so invested when we spoke about my future. When I came back the second time, I was blown away when he remembered everything about our previous conversation. That's when I knew K-State was very different from other schools and that I would be taken care of in Manhattan.
The K-State difference
K-State is different because students truly care about the school and one another. One thing that is so unique about K-State is our K-State Proud student-run philanthropy. "Students helping students" isn't just a slogan on the back of the K-State Proud shirts; it's second nature. So far, K-State Proud has raised more than $1 million for fellow students!
How I share K-State
I love bringing my friends and family to K-State football games. Saturdays in Bill Snyder Family Stadium feel like a sense of community, both with people I've known forever and those I've just met. The atmosphere is amazing and it's always a fun time "Wabashing" and watching the 'Cats.
Must-stop location
Students and visitors should definitely visit Call Hall for the famous Purple Pride ice cream or my favorite flavor, cotton candy ice cream. The ice cream is made on campus and it is oh-so good!
Unexpected experience
I surprised myself my junior year when I ran for student ambassador, and I was even more surprised when I won. Running for such a prestigious position was definitely outside of my comfort zone and throughout the entire process I kept thinking "Am I actually doing this? Is this real life?" I owe it to my amazing friends for giving me the confidence and support to go for it!
Favorite student group
My favorite student organization was definitely the Blue Key Honor Society. I was so lucky to be surrounded by 15 driven, motivated, successful and incredible humans who pushed me to achieve my dreams. I can't imagine my senior year without them.
Getting involved on campus
Just jump in! I've found that many of my favorite activities or memories happened when I ignored my hesitations and just went for it. My attitude was: "I'd rather apply for it and not get it, than not apply and always wonder what if I had?" This allowed me to take many opportunities that I would've otherwise passed up.
Must-have item
A planner! Whether it's a hard copy or an app on your phone, figure out the best way for you to plan your time. This will help you organize your commitments so that you can fill your free time with fun!
Hidden talent
I'm a huge Kanye West fan and I can rap every word most of his songs.
Study and snack favorite
My favorite study spot is in a comfy chair by the upstairs fireplace in the Leadership Studies Building. My favorite snack spot is Radina's, which fortunately has a location inside the Leadership Studies Building. Their lemon bars are THE GREATEST.
In-town eats
I could eat El Mexicano tacos — with steak — from Taco Lucha for every meal of every day for the rest of my life and I would be completely content.