Admissions representatives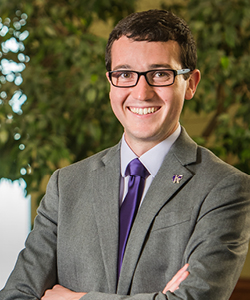 Landon Leiker
Email: kstate7@k-state.edu
Phone: 1-800-432-8270
My territory
Northeast Kansas, California, Kentucky, Indiana, Ohio, Tennessee and Wisconsin
Call today to schedule your campus visit and get a glimpse of the
K-State experience. We hope to welcome you soon as the newest member of our Wildcat family!

Fast facts
Major: Communication studies and a leadership studies minor
Hometown: Marion, KS
College activities: Acacia Fraternity, Student Alumni Board, Leadership Ambassador, Introduction to Leadership Concepts course leader, Concert Band, orientation leader and African Student Union member
My K-State experience
I was hooked on K-State after my first visit experience. Everyone I encountered — from my campus tour guide to my admissions representative — made me feel like I was already a part of the K-State family. I took a general education course in communication, and I enjoyed it so much that I knew it was the major for me.
Learn more about Landon
True colors
It's the people that really make K-State stand out from other schools. Professors have been known to show up at the library with pizza during finals week, and students raise more than $100,000 each year for fellow students as part of the K-State Proud campaign. Everyone is so genuine here.
Find the perfect path
At K-State, you are not just a number in a sea of students. Professors and staff at K-State do their best to help you excel. Experts are available to any student who needs guidance in academics or campus life, including the Academic and Career Information Center, counseling services or great programs for first-year students to get you on the right track, right away.
Sweet stop
You haven't had the full K-State experience until you've visited the Call Hall Dairy Bar. Students in the College of Agriculture make more than 30 different ice cream flavors. My personal favorites are the blueberry-flavored purple pride — I may be biased on the color — and caramel cash. But really, you can't go wrong.
Climbing higher
Getting a degree in higher education opens up so many opportunities, as well as networking and experiences. K-State provides these added benefits through extensive undergraduate research and teaching, executive mentor programs, and unmatched faculty support — combined with an amazing classroom education.
Organized effort
My favorite student organization was with K-State's Student Alumni Board. It brought together amazing, high-achieving students from across campus in many majors. My involvement helped me develop professionally through events such as hosting alumni in a skybox during a football game and recruiting prospective students.
Picture perfect
One of my favorite college hangouts was Top of the World, which is an overlook northwest of Manhattan where you get beautiful views of the city and campus. I loved going to Sonic to get a drink with friends, then head to the Top of the World and relax for the evening.
Don't lose sight
College is an amazing time to grow as a person and find out where you want to go. However, the secret to succeeding in college is remembering why you're here — to get an education. K-State provides you an opportunity to receive a world-class education. When learning is your priority, you will be proud of your GPA.
Making class count
The coolest class I took at K-State was Lead 212 Introduction to Leadership Concepts, which I took my freshman year. We were actively involved in the Manhattan community by helping a local nonprofit. Applying leadership concepts we learned in class, we were able to donate 150 hours of volunteer time and raised more than $350 for a local tutoring organization.
Learning curve
When I first came to K-State, I was really looking forward to the independence that came along with going to college and being away from home. However, I felt like I always needed to be in control of everything at once. I wish students knew that it's okay to ask for help and utilize K-State's many resources, including tutoring, counseling or mentorship. K-State cares about its students and wants you to be successful and comfortable.
Take a chance
Try something that you never imagined yourself doing, even if it means getting out of your comfort zone. I never would have thought I would join the African Student Union, but once I did, I met amazing people from around the world who helped me further understand culture and diversity.
Drop in
It's important to establish good relationships with professors. Within the first two weeks of classes, introduce yourself to your professors during their office hours, and check back in with them throughout the semester to ask questions. They will appreciate you taking initiative and you'll be set up for a great semester from the start.
Cheese please
If there were one meal around Manhattan I could eat forever, it would be the macaroni and cheese grilled cheese sandwich with bacon from the Varsity Food Truck in Aggieville. Add in a blueberry cake donut and a movie projected on the wall by the food truck with my friends, and I'll be the happiest guy around.