Admissions representatives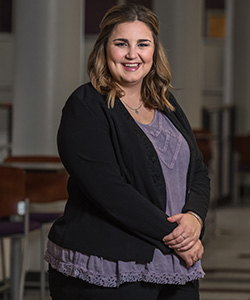 Morgan Isern
Email: kstate7@k-state.edu
Phone: 785-532-1521
My territory
Northeast Kansas, Illinois, Indiana, Ohio, Kentucky, Tennessee, and Wisconsin
Call today to schedule your campus visit and get a glimpse of the K-State experience. We hope to welcome you soon as the newest member of our Wildcat family!
Fast facts
Major: Business management with a human resources emphasis
Hometown: Great Bend, Kansas
College activities: K-State First Advisory Council, Orientation and Enrollment, New Student Services ambassador, Silver Key Sophomore Honorary, College of Business Administration ambassador and peer mentor, study abroad advocate, Panhellenic sorority
My K-State experience
On my first campus tour, a group of students in the Quad started doing the "K-S-U" chant as I walked by. At first, I thought it had to be preplanned. But after visiting multiple times for Junior Day, Senior Day, Scholarship Day and football games, I realized it was completely spontaneous. They didn't script it out; students just have that much passion and excitement about the university they love.
Learn more about Morgan
The K-State difference
If K-State had arms, they'd be wrapped around you in the biggest bear hug. Whether you're cheering the 'Cats on at Bill Snyder Family Stadium or walking to your next class, that K-State support is always there. I always felt genuinely cared for at K-State.
How I share K-State
I love taking my friends and family to the Konza Prairie Biological Station. This area showcases the beauty that Kansas has to offer — yes, Kansas does have hills. It's a fantastic way to spend an afternoon or to get some exercise outside.
What makes K-State special to me
The people. I met my best friends, mentors, biggest supporters and even my husband here. I can't thank K-State enough for providing me with some of the most special people in my life. K-Staters often say the K-State experience is something you can't explain but something you feel, and that couldn't be truer. Being on campus is a comfortable, welcoming environment that's difficult to explain until you feel it yourself.
My unexpected experience
I never would have believed that I would study abroad. I had never left the country, so taking the leap to study abroad in Italy was a huge step. I learned so much about myself, other cultures, and how to be more independent and self-sufficient. I definitely came back to the United States with the travel bug!
The value of higher education
Getting a higher education is more than just earning a degree. The experience teaches you about yourself, how to get along with others who may be different from you, how to manage your time, and even how to be away from family for the first time. College helps to shape you into the person you're meant to become, and K-State is definitely a great place to do that.
Favorite student organization
I loved working for New Student Services. I always joked that if I could become a professional tour guide, I would. Meeting new students and sharing my love for K-State has always been a huge passion of mine. Plus, you get quite a bit of exercise walking backward everywhere.
Favorite K-State class
My coolest class was Introduction to Anthropology. I learned so much about the world's population and different cultures. My favorite part, though, was the World Simulator that involved us getting to run around campus taking over different "territories" from the other groups. It was so neat to have experiences outside of the typical classroom setting.
Getting involved on campus
Attend the Activities Fair during the K-State Week of Welcome! K-State has more than 475 student organizations, including many you would never imagine existed. Walking around and seeing the passion members have for their group may inspire an interest you didn't even know you had.
Fun and free activities
I absolutely loved the events put on by the Union Program Council, or UPC. Each week there are different events that capture many different interests: comedians, magicians, spa nights, laser tag and more. I even had the chance to relive my grade school days and sit first row at "Bill Nye the Science Guy!"
Hidden fact
I've broken seven bones in my body — all at different times.
Crazy party trick
I can hula-hoop for more than an hour at a time.