Admissions representatives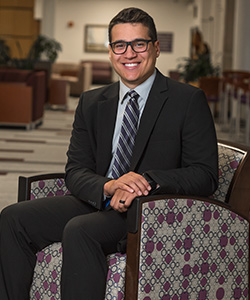 Chayce Wynn
Email: kstate6@k-state.edu
Phone: 785-532-1521
My territory
Johnson and Miami counties, KS; Greater Kansas City, MO, Florida, Georgia, North Carolina, South Carolina, Virginia and West Virginia.
Call today to schedule your campus visit and get a glimpse of the K-State experience. We hope to welcome you soon as the newest member of our Wildcat family!
Fast facts
Major: Biology
Minor: Leadership studies
Hometown: Kansas City, Kansas
College activities: Delta Sigma Phi fraternity, Developing Scholars Program, Edgerley-Franklin Scholar, and Goodnow Hall third floor vice president
My K-State experience
K-State is different from other schools in the way they view the student experience. They focus on making each student feel individualized and strive to help them get connected academically and socially to set them up for success.
Learn more about Chayce
How I chose K-State
It's ironic that I eventually became a tour guide, because my first day of class I couldn't find Willard Hall. Luckily, an upperclassman saw me staring at a campus map and took time to show me where to go. That was my "defining moment."
What makes K-State special
The friends you make here become your family. Students have so much pride not only for athletics, but for the university itself. Manhattan has a great small-town feel but you get a big-university experience. The community really rallies around the university, adding to the feeling of family.
Favorite college memory
After walking across the stage at graduation, I sat back down with my diploma folder. I thought to myself that everything I have done in college is represented by this piece of paper. I realizied that the diploma is more than just a representation of my academics, but also represents all my memories.
Must-stop spot
Everyone should visit the Bluemont Bell in front of Bluemont Hall. This bell is from the time K-State was known as Bluemont College. One of my favorite traditions was at the end of every semester, when after my last final I would ring the bell to signify the end of another semester.
The value of a K-State education
Getting a higher education allows you to master a craft while also improving on social and professional behaviors to prepare for the professional world. K-State adds value to this experience not only through its stellar academics but its focuses on connecting students to businesses for internships and future employment.
How I chose my major
I chose Biology because I have always loved science and nature. I realized I had chosen wisely when I had an opportunity to join the cadaver team for the Human Body course. Only 48 students a year get to have this experience, so it was an honor to be one of them.
Coolest class
My favorite K-State class was LEAD 212. It allowed me to get out into the community and actually make a difference through the community service event that my leadership group organized.
What to bring to campus
Don't forget to bring a set of professional clothes. My first semester, I had a formal event to attend but had no attire to wear. I showed up very under dressed and embarrassed. Always have a formal dress or suit to wear, just in case.
While in Manhattan
Hike the Konza Prairie when you feel stressed. It's absolutely beautiful scenery, great exercise and a way to relax your mind at the time.
Fun facts
I'm competitive in everything, whether it be building furniture or playing soccer or basketball. Also, I've played the harp since I was 7 years old.