Admissions representatives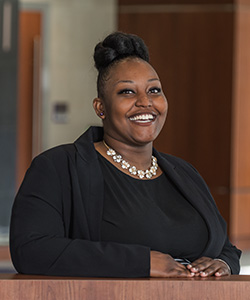 Emma Owens
Email: kstate4@k-state.edu
Phone: 785-532-1521
My territory
Shawnee and Wyandotte counties, KS; Greater Kansas City, MO; Connecticut, Delaware, Maine, Maryland, Massachusetts, New Hampshire, New Jersey, New York, Rhode Island, Pennsylvania, Vermont and Washington, D.C.
Call today to schedule your campus visit and get a glimpse of the K-State experience. We hope to welcome you soon as the newest member of our Wildcat family!
Fast facts
Major: Family studies and human services
Minor: American ethnic studies
Hometown: Kansas City, Kansas
College activities: Black Student Union, Multicultural Ambassador, United Black Voices Gospel Choir and Delta Sigma Theta Sorority Inc.
My K-State experience
When I visited K-State in high school, I felt like I was already a part of the Wildcat family. We were treated with so much hospitality and all my questions, comments and concerns were honestly answered.
Learn more about Emma
The defining moment
I knew K-State was right for me when I was introduced to all the resources it has to offer, including the Career Center, Writing Center, free tutoring, counseling, financial aid services and so much more.
The K-State difference
At K-State, the students, faculty, staff and friends create an atmosphere that makes you feel like you are welcomed and at home. When I first visited K-State I felt as if they felt happy and lucky to have me instead of just the other way around.
Where I take guests
I love introducing people to the Career Center. It has so much to offer and provides guidance to students who may or may not know what they would like to do regarding their future careers. I came to college without knowing what I wanted to major in and the Career Center helped me narrow my options down until I chose a major that I loved: family studies and human services.
Must-visit spot
Everyone should stop by Kramer Dining Center. It was recently renovated and looks beautiful. I love that all K-State dining centers have a little something for everyone, including vegetarians, vegans and other diets.
Unexpected experience
I never imagined that I would be part of the 19th-annual Miss Black and Gold Scholarship Pageant. It definitely took me out of my comfort zone but I gained confidence and the ability to publicly speak in front of individuals and crowds.
The value of higher education
One of the main values of higher education is that it cannot be taken away. When you open that door, so many more opportunities come your way with more chances to work in a field you love. K-State adds to this value by providing unbeatable resources to help students succeed and accomplish their goals.
Favorite student organization
One of my favorite organizations on campus was the Eta Gamma Chapter of Delta Sigma Theta Sorority Inc. We focus on community service, sisterhood and scholarship. The amount of knowledge, growth and leadership skills I developed within this sisterhood has pushed me to thrive and always put my best foot forward.
Getting involved on campus
I always tell students to take advantage of the activities carnival each semester. It gives students the ability to view all of the clubs and organizations that K-State has to offer. Also, check out the Union Program Council, which brings some amazing people and entertainment to campus — and many events are free!
How K-State has changed me
I can honestly say I am not the same person I was coming into K-State. I've stepped out of my comfort zone through leadership roles, competing in — and winning! — the Miss Black and Gold Pageant, and proving that hard work and dedication are key to success. Throughout my years at K-State, my mantra has become "fear not the challenge, challenge the fear," meaning never let your fears get in the way of chasing your dreams.
Favorite local meal
Hands down, it has to be Bourbon and Baker's chicken and waffles. Delish!