Admissions representatives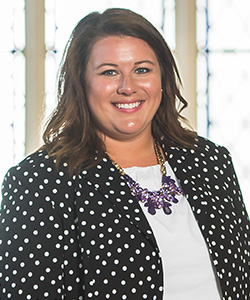 Courtney Hallenbeck
Email: kstate30@k-state.edu
Phone: 785-532-1521
My territory
I work with home schooled students.
Call today to schedule your campus visit and get a glimpse of the K-State experience. We hope to welcome you soon as the newest member of our Wildcat family!
Fast facts
Majors: Bachelor of Arts in Political Science with a secondary major in international studies
Hometown: Junction City, Kansas
College activities: Blue Key Senior Honorary, Student Foundation, Sigma Kappa Sorority, Panhellenic Council board of directors, Quest Freshman Honorary, College of Arts and Sciences ambassador, orientation leader, Wildcat Warm-up student director
My K-State experience
I chose K-State because it offers the total package in a university — dedicated faculty and exciting programs. The minute I walked on campus for the first time, I got 'the feeling,' the feeling that you get when you just know something is right.
Learn more about Courtney
All-inclusive
K-State offers the total package in a university. The academic programs are strong and well-rounded, faculty and staff are dedicated to promoting student success, and students have opportunities to take ownership of their university. I knew in my heart that I would be able to find a place at K-State and develop lasting friendships and memories.
Recognizable benefits
K-State is a well-known and recognized university, and many employers search for K-State graduates because they know these graduates have had an exceptional educational experience.
Jump in
Students can get involved on campus by attending the union's activities carnival, held the first week of classes each fall during the Week of Welcome. Hundreds of campus organizations are there with representatives ready to speak to you. Find a few activities you'd like to explore, then pick the ones you're most passionate about and run with them!
Memorable experience
During my senior year, I had the opportunity to meet the former chairman of the Joint Chiefs of Staff, Gen. Richard Myers, a very active alumnus of K-State. As a child of a military member, it was a wonderful opportunity to meet him and hear him share his life experiences.
Personalize your success
The transition from high school to college can bring a lot of uncertainty at first. The study load increases, class time decreases and freedom is often much greater than high school. The biggest hurdle is learning how to effectively study in college. Remember to utilize K-State's free tutoring, attend class and find a new favorite campus study spot.
Continued growth
My Introduction to Leadership Studies class, LEAD 212, continues to help me after college. I learned so much about myself, my goals and where I want to head in my future.
Setting the scene
I loved hanging out at Radina's in the Leadership Studies Building. While studying and relaxing, I would always run into someone I knew while enjoying one of Radina's famous iced teas. The coffee shop is right on campus, so you're never more than a few minutes walk to your next class.
Little do you know
One of the most surprising things about me is that I was a military child and spent my sophomore year of high school living in South Korea.
Quote to live by
"I've learned that people will forget what you said, people will forget what you did, but people will never forget how you made them feel." –Maya Angelou
Dreaming of adventure
I would love to be on "The Amazing Race." I have a passion for travel and discovering new places, and would love to have the opportunity to embark on an adventure like the participants do on this show.