Admissions representatives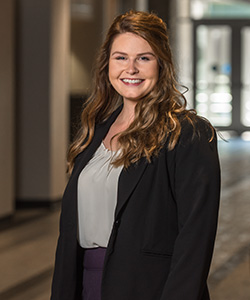 Hannah Reynolds
Email: kstate3@k-state.edu
Phone: 785-532-1521
My territory
Sedgwick, Harvey, Butler, Sumner, Reno, Rice and McPherson counties in Kansas; Oklahoma, Arkansas, Iowa, Michigan, South Dakota and North Dakota
Call today to schedule your campus visit and get a glimpse of the K-State experience. We hope to welcome you soon as the newest member of our Wildcat family!
Fast facts
Major: Agricultural education
Minor: Agronomy
Hometown: Newton, Kansas
College activities: Ag Ed Club, Collegiate Farm Bureau, Crops Judging Team, National Association of Agricultural Educators, Alpha Tau Alpha, student worker for the Agricultural Education Department
My K-State experience
It's pretty incredible that I can call almost 24,000 students from all 50 states and more than 100 countries my family. It is the K-State pride, spirit and family dynamic that makes it more than just a school, but also a place to call home.
Learn more about Hannah
Why I chose K-State
I was lucky enough to visit K-State's campus frequently in high school for FFA and 4-H events, and I always dreamed of becoming a Wildcat. It seemed like I always knew I wanted come to K-State, and then during my senior year I started to receive hand-written notes from students and advisors on campus. That's when I felt like a part of the Wildcat family.
The K-State difference
K-State is different from other schools because of its investment in your individual success. Every one of our 250 majors and programs are led by the most caring, dedicated and professional faculty out there. It is the pride that the faculty, staff and students take in our school that make K-State what it is today.
My favorite spot for guests
I'm a plant lover, so whenever I have out-of-town guests I love taking them to the K-State Gardens. Located at the historic K-State Dairy Barn, you can almost feel the history in the air, along with the floral fragrances of the garden. No matter how many times I go there, I always get swept away by the beautiful flowers and specialty plant collections.
My favorite memory
During my Block I education courses we developed a group mini-lesson. My group decided to teach about population density within ecosystems using a coyote simulation game to demonstrate. At the end of the lesson, my classmates yelped out a coyote howl, which turned into my signature teacher move. I heard coyote howls at the end of every class after that.
Must-see stop
Call Hall ice cream is a must for campus visitors. As if the beautiful limestone buildings and friendly smiles weren't enough, a scoop of Purple Pride is sure to leave you full of Wildcat spirit.
What I never imagined
I wouldn't have guessed that I would walk across a high wire during my time at K-State, but with a few safety ropes and a lot of encouragement from my classmates I managed to survive the high ropes at the K-State Challenge Course.
My favorite advice
It's okay to ask for help! Whether it's academics, personal or professional, it does not mean you are failing. I have learned this lesson several times, and I am thankful to have met the most patient and helpful professors, staff and classmates during my time at K-State.
The value of higher education
Being a student demands a commitment to hard work. However, the investment of time, money and effort it takes is invaluable for years to come. Seeking a degree at K-State means that you can study a subject you love at an advanced level. Your mind will be stretched and challenged to appreciate learning for its own sake, as well gaining knowledge for later life.
My favorite organization
I loved the Agricultural Education club because it combined my passion for agriculture and service, giving me the opportunity to serve FFA chapters and students across the state. Being involved gave me a chance to get to know my peers who shared the same interests as me.
Biggest mistake
I didn't take an internship I was offered. Because I did not push myself out of my comfort zone, I will never know the opportunities I missed. I would advise all students to challenge themselves and their comfort zones, and embrace the new surroundings that college brings.
What students should see
One of the best things about Manhattan is its proximity to Tuttle Creek and the Konza Prairie. The best way to experience "The Little Apple" is by getting out and enjoying it, which is easy to do with the Outdoor Rental Center at the Rec Complex! I loved picking up a tent, kayak or canoes and embracing the wilderness with friends for a weekend.
Preparing for success
Read the syllabus and don't procrastinate. Usually, major tests and projects are listed on the syllabus, so you be able to anticipate when you will need to devote more time to preparing or studying.
My hobbies
I am a plant fanatic, so naturally I love gardening, landscaping and anything else that allows me to get my hands in the soil. I also enjoy hanging out with my family, spending time outdoors and making crafts (or attempting to) from Pinterest ideas.
How K-State changed me
As a freshman, I would have been petrified to speak in front of a large crowd and recite a speech or teach a lesson. My senior year, I spoke at the National FFA Convention to more than 60,000 people gathered, and even more watching on TV. The personal and professional growth that I experienced at K-State is irreplaceable.
My favorite local meal
I could live off of fresh peaches from East and Westside markets. You haven't lived until you've tasted the "O'Henry" during peach season!