Admissions representatives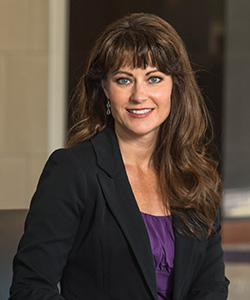 Deana Core
Email: kstate20@k-state.edu
Phone: 785-532-1521
My territory
I work with transfer students from eastern Kansas and all states to the north and east.
Call today to schedule your campus visit and get a glimpse of the K-State experience. We hope to welcome you soon as the newest member of our Wildcat family!
Fast facts
Major: Electronic journalism and public relations, with a concentration in human development
Hometown: St. Marys, Kansas
College activities: Golden Key Honor Society, Mortar Board, Women's Glee and Mixed Chorus, Smurthwaite Scholarship/Leadership House, Kappa Alpha Theta sorority, Conversational English partner
My K-State experience
My memories of being a student at K-State are some of the best memories of my life. I loved my classes, the leadership opportunities and the caring professors who wanted me to succeed. There were so many clubs and organizations to join, and I wish I could have done them all!
Learn more about Deana
Early draft
Since childhood, my family had me outfitted in all K-State clothing, so you could say I was brainwashed from birth! Actually, growing up near Manhattan allowed me to participate in conferences and school events on campus, so it just felt like the right place for me.
Continuing passions
I knew K-State was perfect for me when I visited campus. I got to talk with a music professor who told me I could participate in a vocal group, even if I wasn't planning to major in music. Music was a big part of my high school experience and I wanted to continue with it in college.
Power of purple
I had the opportunity to meet some amazing people while at K-State, including the first woman senator of Kansas, Nancy Landon Kassebaum, when I was working as a reporter for a radio station. It was so amazing to be in the presence of such a powerful woman. I also met Faith Hill when she was just a rising star on the country music scene.
A new journey
If I could, I would tell my freshman self to not be afraid to walk around that first day with your map! I thought I'd be cool and look like I knew everything, but ended up going to the wrong building because I didn't memorize my map well enough. It was so embarrassing showing up late to class.
Investing in your future
Getting a college education is the best investment you can make for yourself. No one can take it away. Employers recognize K-State and desire the work ethic that comes with a Midwest education.
Smart choices
I loved English and public speaking activities in high school, so being a broadcaster sounded like a fun and glamorous job. Through the advice of my advisor, I also double majored in public relations, so if NBC or CNN didn't work out, I'd have that to fall back on. Having the flexibility in my majors allowed me to look at other avenues, which led me to where I am today.
Personalized guidance
I was so afraid to ask for help my freshman year because I didn't want to appear stupid. Luckily, I got up the nerve to talk to my philosophy professor after failing two papers. He met with me each week to go over the readings and helped me understand the concepts before writing my papers. Without asking for help, I am sure I would have failed the entire class.
Around town
A Manhattan must-do is to take a study break and go to Pillsbury Crossing to swim or wade in the water on an unusually warm spring day!
An authentic path
As a graduate of the electronic journalism program, I wanted to be the next Katie Couric or Diane Sawyer, but when I took the admissions representative job at K-State Salina, I found a new passion that was much more personal and rewarding than news reporting. Working with college students and helping them make one of the most pivotal decisions of their lives is a great career.