Admissions representatives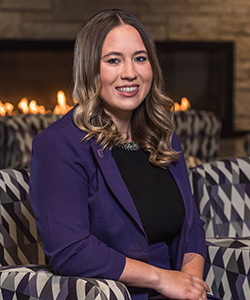 Jordyn Ross
Email: kstate2@k-state.edu
Phone: 785-532-1521
My territory
Southwest Kansas, Nevada, Alaska, Hawaii, Idaho, Washington and Oregon
Call today to schedule your campus visit and get a glimpse of the K-State experience. We hope to welcome you soon as the newest member of our Wildcat family!
Fast facts
Major: Hospitality management
Minor: Business administration and leadership studies
Hometown: Woodbine, Kansas
College activities: College of Human Ecology Ambassadors, Hospitality Management Society, Phi Eta Sigma Honor Society, Professional Event Management Society, Club Managers Association of America and Wildcats Forever
My K-State experience
The energy and excitement is contagious, especially at athletic events. Every time the "Wabash Cannonball" plays, you can hear the pride students have in their school. Throughout my time at K-State and beyond, my love for purple has never wavered. I even have a purple-only side of my closet. As soon as I arrived on campus, it was obvious that "family" wasn't just a word they painted on the stadium. I really believe K-State is the most special place on earth.
Learn more about Jordyn
What sealed the deal
The people I met on campus immediately made me feel at home. I had endless opportunities to learn, be involved and become successful in my own way. At K-State, I was more than just a number; I was an important member of the Wildcat family.
Sharing the love
When my friends and family visited, I loved taking them to the Great Room — aka the "Harry Potter Room" — in Hale Library. It's so unexpectedly beautiful when you enter the room as you are walking through the library.
Must-see spot
Everyone should visit Call Hall and get a scoop of K-State's famous ice cream. If you're visiting from farther away, you might want to get a carton to take home, because I guarantee you will crave it within a week!
My unexpected experience
I never would have imagined that I would take an improv class. One semester, I needed to take a humanities class and my advisor suggested I take improv because it can help you make quicker decisions and have stronger communication skills. I ended up loving the class and it really did help me work in groups and in high-stress situations.
Favorite hangout
I loved tailgating and being in the student section at football games. Game days are so exciting, and that energy was always the highlight of my week. Nothing compares to the atmosphere of Bill Snyder Family Stadium!
Important campus item
An umbrella! Keep it in your backpack so you aren't that person who shows up to class soaking wet with a ruined laptop. Invest in a strong one: Kansas is known for being windy.
Fun and free activities
The pancake feed at the beginning of the school year is the best thing ever. Free pancakes served by Dr. Bosco — it can't get any better than that.
Hidden talent
I'm pretty skilled at sewing. I even made myself a wool coat for a 4-H project. I'm also an expert at roasting s'mores! I have the entire process down to a science from building the fire, roasting, maybe singing a few campfire songs and safely extinguishing the fire. I can even cook them any way you like: golden brown, charred or lightly toasted.
Favorite study spot
My favorite place to study was Justin Hall in one of the sitting areas tucked away by the stairs. There is a "wordle," or word collage, with all the skills and experiences our professors hope we gain from K-State. It's a great reminder while I'm working on a tough assignment — I'm preparing to be successful.
How has K-State changed who you are and the professional you're becoming?
I'm much more confident when trying new things. My classes in leadership studies have made me more aware of the world around me, as well as more aware of my own skills and abilities.