Admissions representatives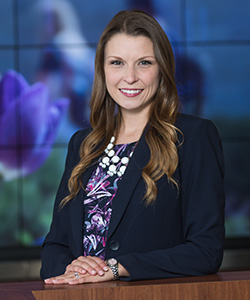 Lydia Barnhart
Email: kstate15@k-state.edu
Phone: 785-532-1521
My territory
Transfer students from Southeastern, Central and Northeastern Kansas; Nebraska, Missouri, California, Oklahoma, Texas, western states, military and returning students.
Call today to schedule your campus visit and get a glimpse of the K-State experience. We hope to welcome you soon as the newest member of our Wildcat family!
Fast facts
Major: Master of Education in higher adult lifelong education, Southern Arkansas University; Bachelor of Fine Arts in dance, Sam Houston State University
Hometown: Texarkana, Texas
College activities: Member of Chi Tau Epsilon Honor Society
The value of higher education
"Education is not preparation for life; education is life itself." – John Dewey.
A common misconception about a college degree is that it is supposed to get you a job. In fact, higher education is much more than job preparation — it motivates you to grow as a person. Kansas State University adds to that value by setting ambitious goals for itself and its students, enhancing learning opportunities and developing accomplished, determined alumni.
Learn more about Lydia
Favorite college hangout
My favorite college hangouts were the local coffee shops. They were great spots for studying or meeting with friends inexpensively. Plus, they offer free Wi-Fi and great music.
How I picked my major
I have a strong passion for dance and was very excited when I learned I could study it in college. Being a dance major was very motivating because I loved to dance, so it helped my college experience stand out, and I enjoyed every minute of it.
Getting involved on campus
I recommend joining at least one club or organization on campus. Find a group of students that share your passions and get involved!
Don't forget to bring…
Keep rain gear in your backpack at all times. There is nothing worse than getting caught in the rain while walking across campus.
Establishing relationships with professors
Use their office hours. Every professor has office hours that are open to all students to come study, get help with homework or just visit. This is the best way that I've found to establish good relationships with professors.
You may not guess…
I am an avid duck hunter. My husband introduced me to the sport a few years ago, and I quickly fell in love with it. I also enjoy baking, puzzles and spending time with my family. And, of course, dancing — I was classically trained in ballet for 18 years.
How has K-State changed you professionally?
Although I have not attended K-State as a student (yet!), it has already greatly impacted my career. I feel honored to have been selected for this position because of the standards Kansas State University holds not only its students but also its staff. This university motivates me to become the best student affairs professional as possible. I soon hope to continue my education at K-State and am excited to see how my career here will progress.
Favorite local meal
I would have no problem living off of Coco Bolo's fajitas. Growing up in Texas, I have had my fair share of Mexican food, but Coco Bolo's fajitas take first place by far. They are absolutely amazing!