Admissions representatives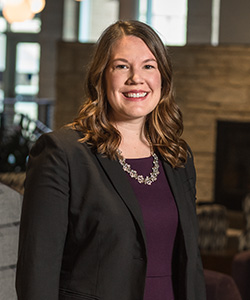 Taylor Krueger
Email: kstate13@k-state.edu
Phone: 785-532-1521
My territory
Colorado and Minnesota
Call today to schedule your campus visit and get a glimpse of the K-State experience. We hope to welcome you soon as the newest member of our Wildcat family!
Fast facts
Major: English literature and psychology
Hometown: Palco, Kansas
College activities: Strength's Advocates, Cat Crew, Kappa Alpha Theta sorority, K-State Up 'til Dawn, CASA volunteer, College of APDesign student assistant
My K-State experience
When I visited K-State, I was most influenced by the dedication to students. Everyone was excited to help me begin my story and seemed genuinely invested in my college experience.
Learn more about Taylor
What sealed the deal
I was born to be a Wildcat — my parents brought me home from the hospital in a K-State onesie. But I wanted to make sure I made the right decision for my college journey. When I visited, I was most influenced by K-State's dedication to its students. Everyone was excited to help me begin my story and seemed genuinely invested in my college experience.
The K-State Difference
K-State has the friendliest students in the nation. When you walk around on campus, you will see students smiling and engaging with one another. With programs like K-State Proud, a student-ran philanthropy that has raised more than $1 million in scholarships, you can tell that K-State students genuinely take care of each other.
Where I take guests
The "spot that I love full well" is Hale Library, and I especially enjoy bringing guests to the Great Room, a Harry Potter-esque room with beautiful stained-glass windows and a vaulted ceiling. It is the perfect spot to curl up with a good book and a cup of hot tea!
Must-see spot
Everyone should visit the K-State Gardens at least once during their college career. It is beautiful to see what our students and faculty can grow! I love to see it change through the seasons, grab some fresh air and let the bright colors lift my mood.
The value of higher education
Higher education opened doors that I never knew existed. Because of my college choice, I gained critical-thinking skills that have served me well in the professional world, became exposed to new cultures and learned more about my values. My K-State journey was so important because it allowed me to explore while still preparing me for the future.
Favorite off-campus hangout
Bluestem Bistro was my favorite spot to spend time in college. It's close to campus and the perfect place to study or take time to catch up with a friend. I may be biased, but their coffee is the best in Manhattan. Sunday brunch is the best time to go – you can find great food and fun jazz music in one place!
Coolest class
I took an English class titled Harry Potter in Context, and I loved discussing the culture and literature of all things Harry Potter. Not only did I learn more about J.K. Rowling's magical world, but I also expanded my literary horizons and investigated other related literature.
Getting involved
I would recommend attending the Activities Fair that K-State offers at the beginning of each semester. I went later in my college career and discovered that it's never too late to start exploring new activities on campus. Don't be afraid to try new things and talk to new people!
Don't forget to bring…
Don't be afraid to be a little old fashioned. I think every new student should bring a stack of thank-you cards to campus. Showing appreciation is a lost art, and I think a personal note is a great way to connect and show you care.
A little about me
I have an irrational fear of frogs. If one is in sight, I am quickly on the run. However, I have a newly found love for hiking and camping. It is so much fun to get outside and take some time to unplug. I love traveling and any type of new adventure, from live music to recently completing my first-ever fourteener!