Admissions representatives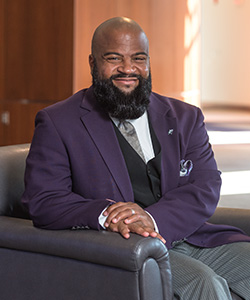 Bryon Williams
Email: kstate12@k-state.edu
Phone: 785-532-1521
My territory
Wyandotte county, Kansas and multicultural transfer students.
Call today to schedule your campus visit and get a glimpse of the K-State experience. We hope to welcome you soon as the newest member of our Wildcat family!
Fast facts
Major: Economics
Hometown: Kansas City, Kansas
College activities: Alpha Phi Alpha Fraternity, Black Student Union, National Pan Hellenic Council
My K-State experience
I was first recruited by K-State at an event in Kansas City called Festival of Nations. At the event I had the opportunity to meet with admissions representatives as well as current student ambassadors. It was really the interactions with the students that sealed the deal for me. Their passion for their university, as well as their honest belief that K-State has a place for everyone, was very inspiring.
Learn more about Bryon
Sharing the journey
This moment happened during the first weekend of school. I attended K-State's Black Student Union's Welcome Back Barbecue. It was there that upperclassmen, community members, faculty and staff really embraced me and showed me I had people around who wanted to see me succeeded. Any anxiety I had about being on my own and away from home for the first time disappeared after that event.
Spreading the word
The most common question prospective students ask is, "how can I get scholarships?" I think this is a great question and I love hearing it because it helps me to focus students on the things they need to do to be competitive for scholarship dollars.
Cast of characters
I believe the diversity of our student body surprises people the most about K-State. We have people from every county in Kansas and every state in the country. There are people from all races and ethnic background. You never know who you will meet at K-State.
Purple pride
I definitely own a lot of purple. I currently have about five purple shirts and 12 purple ties. A weird quirk of mines is naming my ties!
Growing through experience
My fraternity, Alpha Phi Alpha was crucial in my leadership development. It was through the fraternity that my public speaking was fine-tuned, my event planning skills were developed and my leadership was defined. Through the skills I learned with Alpha, I was able to impact all of my other organizations in a positive manner.
Laying the groundwork
Make an effort to connect with professors and mentors to build good relationships. They all want to be helpful but you must meet them in the middle. So please visit office hours, send emails, and stay connected. These relationships will be important for your professional life even after college graduation.
Painting the "Hat" purple
While at K-State, it's fun to participate in the homecoming activities that the campus and Manhattan community put on. The whole town turns purple to cheer on the Cats!
Fun and games
The Union Program Council always hosts great events and most of them are free. As a freshman, my friends and I went to UPC's After Hours programming every Friday. Laser tag, magic shows, grocery bingo and video game tournaments are just a few of the activities we participated in — all for free!
Roommate rules
Respect the space, opinions and ideals of those you live with. I personally never had a bad situation with my roommates because we all followed these rules.
Setting the scene
My favorite college hangout was Buffalo Wild Wings, because of the discounted wings on Tuesday and because they always play the basketball games I want to watch.